STORY HIGHLIGHTS
Author of fake @MayorEmanuel Twitter account reveals himself
Congressmen square off against "Jeopardy!" sensation Watson
Texas Gov. Rick Perry has trouble with geography
Washington (CNN) -- Politics is serious business -- but not all the time.
A big f------ deal
The Atlantic.com has a Twitter exclusive:
"It was the best fake Twitter account ever, deftly satirizing Rahm Emanuel, and elevating the Tweet and the f-word to the level of literature. But the mystery writer was never revealed - until now."
That man: Dan Sinker, founder of the Punk Planet 'zine, journalism professor and avid Chicago political watcher.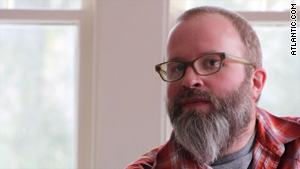 Chicagoan Dan Sinker is the man behind the @MayorEmanuel Twitter account.
Some @MayorEmanuel gems, slightly edited because it's not very family-friendly:
"Turns out crowdsurfing your way up to a stage takes a long f------ time. OK, victory speech--let's f------ do this"
"Driving around in Axelrod's Civic, doing loops around the block outside Chico's offices, my a-- hanging out of the missing window, laughing"
Geography 101
It appears that Texas Gov. Rick Perry is in need of a geography refresher course.
On Monday, the Republican governor told reporters that "Juarez is reported to be the most dangerous city in America," Politico reports.
The only problem? Juarez is a city in Mexico, across the border from El Paso.
Headlines of the day
ABC News: Can Charlie Sheen Deduct His Hookers?
USA Today: 1961 FBI memo claims Ted Kennedy sought to rent brothel
Wonkette: Sarah Palin Also Has a Secret Twitter Account So She Can Follow Herself
Time: Vladimir Putin's Billionaire Boys Judo Club
The Village Voice: Senator Chuck Schumer is Terrified of Hackers
New York Times: White House Sweats, and He's the Cause
I'll take Congress for $200, Alex
Four members of Congress took on the "Jeopardy!" sensation nicknamed Watson, the IBM-powered supercomputer that defeated two of the show's champions, CNN's Alison Harding reports.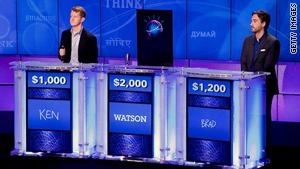 Watson the supercomputer challenges Ken Jennings, left, and Brad Rutter last month on "Jeopardy!"
So how did they do?
Badly -- with the exception of five-time "Jeopardy!" champ Rep. Rush Holt, D-New Jersey.
He "bested the machine," the Wall Street Journal notes.
No "Dancing" for Christine
ABC revealed the lineup for the upcoming season of "Dancing with the Stars," and one name was absent from the list: ex-Delaware Senate candidate Christine O'Donnell.
The Republican recently announced on her Facebook page that producers for the show asked her to be a contestant.
Maybe next time.
Find out here who did make the cut.
From the Twitterverse
@NellyFurtado In 2007, I received 1million$ from the Qaddafi clan to perform a 45 min. Show for guests at a hotel in Italy. I am going to donate the $
Quote board
"Everybody's saying we need to take control of Moammar Gadhafi ... we can't even control Charlie Sheen!" -- Jay Leno
"I have to say, though, that being passed over once again by the Academy of Motion Picture Arts and Sciences had me pretty irritated. I thought that my 'pivotal' role in Secretariat would finally do the trick." -- Ex-GOP Sen. Fred Thompson
FOLLOW THIS TOPIC