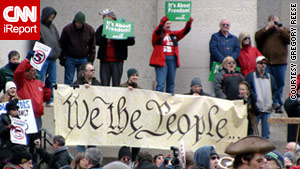 Crowds gathered at the Ohio statehouse on Friday, February 25, in solidarity with Wisconsin protesters.
STORY HIGHLIGHTS
NEW: The bill was be modified Tuesday with Republican-supported amendments
NEW: Senate lawmakers are expected to reconvene Wednesday morning
Protesters gather to protest budget bill that would curb collective bargaining
Ohio faces an $8 billion shortfall in the next two-year budget
(CNN) -- Thousands gathered in Columbus, Ohio, on Tuesday to protest a Republican-backed proposal that would curtail public workers' bargaining rights and strip their right to strike.
The measure, known as Senate Bill 5, is supported by Republican Gov. John Kasichin and would curb a 1983 Ohio state law that gave collective bargaining rights to public workers.
The near 500-page bill was modified Tuesday with 15 Republican-supported amendments, leaving Democrats to pour over the changes.
The modifications include new measures to settle workplace arbitration, limits on worker vacation and an end to their ability to negotiate health care and automatic pay raises based on seniority.
The amended version would also restore collective bargaining rights on wages, but ban strikes by all public sector workers.
"They just switched the words around a bit," argued Democratic state Sen. Joe Schiavoni. "They say we'll restore your right to bargain and then they take away our biggest bargaining chip -- the right to strike."
The measure would impose fines or terminate employment contracts of striking workers.
Democratic lawmakers called the move union-busting. Their GOP counterparts argue it's necessary to tackle an overreach of union power they consider a road block to serious fiscal reform.
"We're staying focused on reducing the cost of government and making Ohio competitive," said Republican State Sen. Shannon Jones. "The first place to start is with our own budgets."
Last week, Senate Democrats refused to put forth a single amendment to the controversial measure.
"We can't sustain the contracts that have clogged up the arteries of government for the last 30 years," said Jason Mauk, a spokesman for the Ohio Senate Majority Caucus. "We're allowing unions to negotiate terms that should be the employers' decision."
But Democrats argue the process has been flawed.
"They gave us 48 hours to add amendments to a 500-page bill that would have ended collective bargaining. Then they say we've abandoned the legislative process when we don't add amendments," Schiavoni said.
Ohio, often considered a battleground for presidential politics, faces an $8 billion shortfall in the next two-year budget.
Meanwhile, crowds of union supporters -- who last week surrounded the state capitol chanting, "Kill the Bill" -- again filled the city in protest.
The amended bill must first make its way out of the Republican-controlled Insurance, Commerce and Labor Committee, where GOP lawmakers hold 8-4 majority.
But Democratic Senate minority leader, Capri Cafaro, says she believes that Senate President Tom Niehaus will replace at least two Republican lawmakers in effort to cement committee support for the bill and ensure it reaches the Senate floor.
It is unclear if Senate Republicans who, despite their 23-10 majority, have the 17 votes necessary to pass the new measures.
Senate lawmakers are expected to reconvene Wednesday morning at 10a.m. ET.
CNN's Julian Cummings and Deb Feyerick contributed to this report
FOLLOW THIS TOPIC