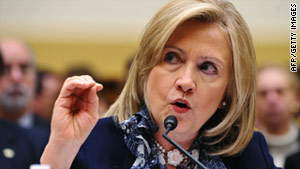 Secretary of State Hillary Clinton defends her department's $47 billion budget request in Congress.
STORY HIGHLIGHTS
Libya shows why foreign aid needed, secretary of state says
House bill cuts State, AID budget by 16%
"The stakes are high," Clinton says
Washington (CNN) -- With the Middle East in the throes of revolutions across the region, American leadership needs both resolve and resources, Secretary of State Hillary Clinton told a House panel Tuesday.
"The entire (Middle East) region is changing, and a strong and strategic American response will be essential," she told the House Foreign Affairs Committee, stressing American diplomatic and development efforts were just as important to U.S. national security as military readiness.
Defending President Barack Obama's $47 billion budget request for the State Department and the U.S. Agency for International Development amid calls by some Republicans for spending cuts in foreign aid, Clinton used the rebellion against Moammar Gadhafi's 41-year rule in Libya as an example of how the funding was critical to deal with crises abroad.
"In the years ahead, Libya could become a peaceful democracy, or it could face protracted civil war or it could descend into chaos," she warned. "The stakes are high. And this is an unfolding example of how we use the combined assets of diplomacy, development and defense to protect our interests and advance our values."
Clinton spoke a day after returning from Geneva, Switzerland, where she discussed Libya with other governments outraged over Gadhafi's violent attempt to put down the revolt against his regime.
The U.S. agency is sending humanitarian teams to Tunisia and Egypt to help provide food and medicine to Libyans fleeing across the borders, as the U.S. began moving warships and aircraft closer to Libya to assist in humanitarian aid and evacuations, and froze more than $30 billion in assets, stepping up pressure on Gadhafi to step down from power.
"We have joined the Libyan people in demanding that Gadhafi must go -- now, without further violence or delay -- and we are working to translate the world's outrage into action and results," Clinton said. However, she stopped short of saying the Obama administration was prepared to impose a no-fly zone over Libya that would prevent Gadhafi from using aircraft against his people.
Clinton also backed calls for a renewed investigation into Gadhafi's possible role in the 1988 bombing of Pan Am Flight 103 over Lockerbie, Scotland, telling the panel she would immediately ask FBI Director Robert Mueller and Attorney General Eric Holder to see how the Obama administration "could gather evidence and put together a case against Gadhafi and all those with whom he might have conspired" in launching the attack.
Foreign Affairs Committee Chairwoman Ileana Ros-Lehtinen, R-Florida, gave Clinton a letter from one of the victim's families asking her to revisit the case. Clinton said the issue was pressing "because there have been statements made in the last days by what are now former members of the Libyan government fingering Gadhafi, making it clear that the order came from the very top."
"I think we do need to move expeditiously," she told the committee in response to questions about how to get justice for the victims.
Obama's budget request came as the administration was still negotiating funding levels for 2011. Clinton warned the 16% cut to the State Department and the Agency for International Development included in a House-passed spending bill for 2011 last month would be "devastating to our national security."
She also stressed the United States could not abandon civilian efforts in Afghanistan or Pakistan because it would lead to long-term costs, as she said happened in Afghanistan when the United States "walked away" after Soviet troops left the country and the Cold War ended.
"We saved money in the short term. But those savings came at an unspeakable cost -- one we are still paying, 10 years later, in money and lives," she said. "Retreating from our civilian surge in Afghanistan -- with our troops still in the field -- would be a grave mistake."
FOLLOW THIS TOPIC