STORY HIGHLIGHTS
President Obama lets the world know his favorite movie song
Todd Palin comes in second in Alaska's Iron Dog competition
Former GOP Sen. Fred Thompson weighs in on Joe Biden's TelePrompTer use
Washington (CNN) -- Politics is serious business -- but not all the time.
Obama at the Oscars (sort of)
President Obama appeared in a taped clip during Sunday's Academy Awards show on ABC, letting the world know that his favorite movie song was "As Time Goes By."
The song by Dooley Wilson was featured in the classic "Casablanca."
CNN's Bonney Kapp reports that the song also ranked No. 2 on the American Film Institute's list of top film tunes.
Just like the Oscars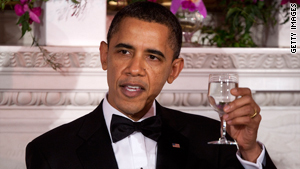 President Obama toasted the nation's governors at the White House on Sunday.
Obama, speaking at the 2011 Governors' Dinner in the state dining room of the White House on Sunday, was clearly in an Oscar state of mind.
"I want to welcome some of you back, and I want to welcome those who are here for the first time. I know some of you may be confused and think this is the Oscars," he said, drawing laughs, according to the press pool report. "There are some similarities. First of all, everybody looks spectacular. And the second thing is, if I speak too long the music will start playing. So I'm going to be very brief."
Todd Palin almost "Iron" Man
Alaska's former first dude came up short in Alaska's Iron Dog snowmobile race on Saturday, finishing in second place.
The Mat-Su Valley Frontiersman reports that Palin and his teammate, Eric Quam, "were actually in the lead coming down the homestretch into Fairbanks, but Palin suffered a mechanical issue that allowed (Tyler) Huntington and (Chris) Olds to pass them."
In case you were wondering, Alaska's ex-Gov. Sarah Palin cheered from the sidelines.
"Naked Chef" vs. Sarah Palin
Jamie Oliver, best known as the "Naked Chef," blasted Sarah Palin for taking the Obama administration to task over its healthy eating program, The Associated Press reports.
Oliver said Palin -- who has repeatedly criticized first lady Michelle Obama's "Get Moving" campaign -- "clearly on this issue is a Froot Loop."
The celebrity chef has been on a mission to tackle America's obesity problem. In 2010, he hosted ABC's "Jamie's Food Revolution," a show dedicated to helping a town in West Virginia eat healthier.
Quoteboard
"His name is Harry Baals. He was the mayor of Fort Wayne in the '30s, '40s and '50s. The city created an online poll that let residents vote on a name for a new city building, and Harry Baals won in a landslide. ... Some Fort Wayne officials are saying no. ... Shame on you and your filthy minds." -- Jimmy Kimmel
"The president is one of the greatest politicians in the history of the United States." -- Republican Gov. Haley Barbour of Mississippi on NBC's "Meet the Press"
Headlines of the day
Time: Florida Governor Rick Scott: Sanford, Minus Sex Scandal
AOL News: Former Canadian Defense Official Blasts US on UFO Cover-Up
New York Daily News: Defense Dept. commissions 'Cheetah' robot and Terminator-like droid; hummingbird drone also in works
The Onion: Birthday Card For David Axelrod Circling Around Afghan War Meeting
Portland Oregonian: David Wu returns to Portland, talks about pills, e-mails and doing his job
From the Twitterverse
@fredthompson During speech in NYC, Biden requested teleprompter be removed. It's not often you see an entire audience turn green with envy. #tcot
@samyoungman POTUS encourages visiting Guvs to make themselves at home at WH. But, he says, to those with interests in '12: "I don't mean that literally"
What would Jimmy say?
Former Minnesota Gov. Tim Pawlenty, rumored to be a possible GOP presidential primary contender, is channeling last year's New York state gubernatorial candidate Jimmy McMillan.
McMillan captured the nation's attention for running on the Rent is Too Damn High platform.
During Saturday's Tea Party Patriots American Policy Summit in Phoenix, Arizona, Pawlenty said the motto of the Tea Party movement should be "The government's too damn big!"
FOLLOW THIS TOPIC