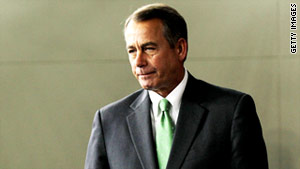 House Speaker John Boehner gave a speech to religious broadcasters in Nashville on Sunday.
STORY HIGHLIGHTS
Without an agreement, government funding runs out on Saturday
Speaker Boehner calls spending cuts a moral imperative for the country
Senator Conrad prefers a longer deal, but calls a two-week plan OK for now
Washington (CNN) -- U.S. House Speaker John Boehner told a gathering of religious broadcasters that the nation's mounting debt is a moral threat to the country.
"You may recall President Obama, in his State of the Union address, talking about a 'Sputnik moment,' the moment that shocks our nation into getting serious," said Boehner "In my view, America's 'Sputnik moment' is our shocking national debt."
The nation's $14.1 trillion debt, said Boehner, is "a mortal threat to our country. It is also immoral."
Boehner's remarks were included in a speech he delivered to the National Religious Broadcasters annual convention in Nashville. The speech, he said, was the first he's given outside Washington since he became speaker.
Boehner's speech also took place as House and Senate negotiators seek to agree on a temporary spending measure to avert a government shutdown. Boehner is pushing a short-term spending plan that would cut $4 billion.

Sen. Kent Conrad on 2012 budget

Government budget negotiations
The proposal would extend for two weeks the continuing resolution authorizing government funding, which expires at midnight Friday. Without a deal, the government will have to shut down Saturday for the first time in more than 15 years.
"We have a moral responsibility to address the problems we face. That means working together to cut spending and rein in government -- not shutting it down," Boehner said. "This is very simple: Americans want the government to stay open, and they want it to spend less money. We don't need to shut down the government to accomplish that."
In his speech, Boehner clearly sought to put the onus on Democrats if the budget impasse does result in government shutdown.
"You know, it sometimes seems as if the architects of the strategy that government should never let a crisis go to waste now wait on a crisis to deal with waste," said Boehner. "Even if that crisis includes shutting our government down."
The Republican-led House already passed a spending measure that cuts $61 billion from current levels for the rest of the fiscal year, which ends on September 30. However, Senate Democrats consider those cuts draconian and won't pass them.
They want to negotiate a more targeted plan that allows for some new spending in key growth areas such as clean energy.
In response, House Republicans now say they will pass their two-week extension to allow continuing negotiations without a shutdown.
"If they walk away from this offer, they are actively engineering a government shutdown," House Deputy Whip Peter Roskam, R-Illinois, told reporters in a conference call Friday.
Democratic Senator Kent Conrad of North Dakota, the Senate Budget Committee chairman, on Sunday called the Republican's short-term plan "acceptable," but not preferred.
"Honestly, I think this two-week business is not the way to go," Conrad said on CNN's "State of the Union." "I think there should be a longer-term agreement, hopefully through the end of the year."
The deal is "up for discussion and negotiation," said Conrad, a fiscal moderate who wants Democrats to embrace a comprehensive plan to both cut spending and raise revenue to shrink the federal deficit and national debt.
"It is acceptable to me to have $4 billion in savings in a two-week package," said Conrad, who has announced he will not seek re-election in 2012, adding: "Is that the end of the story? The way this town is, probably not, but we're getting close."
The GOP proposal, while intended to pressure Senate Democrats to agree or be branded as obstructionists, includes some spending cuts that represent common ground with Senate Democrats and the White House.
House Majority Leader Eric Cantor, R-Virginia, said the $4 billion in spending cuts would come from program terminations that President Barack Obama included in his proposed budget for fiscal year 2012, which begins October 1. The GOP measure also eliminates earmarks, or funding for specific projects and programs added by individual legislators.
A senior House Republican leadership source said $1.3 billion in cuts would come from eliminating six federal programs and $2.7 billion in savings would come from getting rid of earmarks in the continuing resolution that's currently keeping the government operating.
"There is the potential for a lot of overlap in what Republicans and Democrats want to do to cut spending," Senator Chuck Schumer, a Democratic leader, said in a written statement responding to the proposal.
However, Schumer also said Republicans "are threatening to force a shutdown if they don't get everything they want. That is reckless and irresponsible."
Conrad called for a more comprehensive approach that looks at all aspects of government spending instead of focusing only on cutting the nonmilitary discretionary spending that comprises 12 percent of the federal budget and is the main target of Republicans.
"Be modest at the beginning but do something big over the 10 years," Conrad said. "Don't try to balance this on 12 percent of the budget. Be comprehensive."
Boehner, in his speech, vowed not to budge on his party's plans to make deep cuts in spending.
"Perhaps the activists of unrestrained government think there's some compromise to be had that allows their spending binge to survive," Boehner told his audience. "Ladies and gentlemen, know this: we will do no such thing. We have not come all this way to compromise on the will and the birthright of our people."
CNN's Gabriella Schwarz and Tom Cohen contributed to this story
FOLLOW THIS TOPIC