STORY HIGHLIGHTS
Jerry Springer on Sarah Palin: "I would never say anything mean about her"
Nick Jonas, Jamie Foxx and others belt out Motown tunes at the White House
Jon Stewart takes on the Obama administration's decision to not defend DOMA
Washington (CNN) -- Politics is serious business, but not all the time.
Sar-ah! Sar-ah! Sar-ah!
Jerry Springer is known for a lot of things -- from being the former mayor of Cincinnati to ringmaster of an outlandish talk show where smackdowns are more common than humidity on South Beach.
Now Springer can add another title: FOS (friend of Sarah).
Well, sort of.
"I don't want her to be president," Springer told radio station WABC. "I don't agree with her views. But I would never say anything mean about her. I think she is incredibly charismatic. I think she takes her religion very seriously and her views very seriously. I don't think there's anything mean-spirited about her."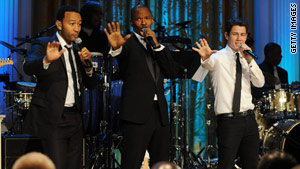 From left: Singers John Legend, Jamie Foxx and Nick Jonas sang Motown hits at the White House on Thursday night.
Feelin' the groove at 1600
The sounds of Motown filled the White House Thursday night, with the likes of Smokey Robinson and John Legend rubbing elbows with some of Washington's elite.
Even one of the Jonas Brothers got in on the act, attempting to sing the Four Tops hit "Sugar Pie Honey Bunch."
The Washington Post's Chris Richards points out that actor Jamie Foxx changed the lyrics to the Temptations' "Get Ready."
"We won the election," Foxx belted out. "The White House, baby, so much fun!"
From the Twitterverse
@anamariecox Really looking forward to seeing Charlie Sheen at next year's CPAC.
@AriFleischer What's the Arabic word for "Nah-nah-nah-nah-hey-hey-hey-goodbye"? In a Libyan accent.

The White House celebrates Motown

Morning cup of Conan
Quoteboard
"Oh my God! Marriage is no longer being defended! Did you hear that, gays? Attack!"
-- Jon Stewart, on the Obama administration's decision not to defend the Defense of Marriage Act in court.
"It was just reported today that Libyan leader Moammar Gadhafi described President Obama as an African of Arab and Muslim descent. After the speech, Gadhafi was given his own show on Fox News."
-- Conan O'Brien
"Here's a guy who's nuts -- Moammar Gadhafi. ... Aretha Franklin called, and she wants her hat back."
-- David Letterman
"You can tell Gadhafi is getting more and more desperate. First he said the protesters were all on drugs ... then he blamed the uprising on al Qaeda. And today he said it's all the fault of the teachers union."
-- Jay Leno
Mariah performed for who?
The Daily Beast is out with a photo gallery featuring stars who performed for dictators.
Singer Mariah Carey, for one, reportedly performed for Saif al-Islam Gadhafi, the son of Libyan dictator Moammar Gadhafi. He is said to have paid the multitalented diva a cool $1 million to "perform just four songs at his New Year's bash in St. Bart's."
Headlines of the day
New York Daily News: That Tiger suit won't get you re-elected
Huffington Post: 'King Of The Birthers' Makes His Presidential Pitch
Mediaite: Mike Huckabee To Chris Matthews: "You're Out Of Control, You're Off Your Meds"
FOLLOW THIS TOPIC