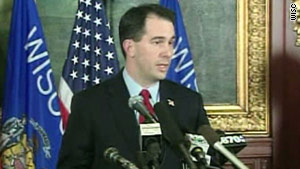 Gov. Scott Walker's legislation eliminates unions' ability to deduct dues from paychecks.
STORY HIGHLIGHTS
Wisconsin Gov. Scott Walker trying to enact controversial cost-cutting measures
Many GOP governors support Walker's bold moves to confront Wisconsin unions
"All of us are having to make tough choices," says Democratic Maryland Gov. Martin O'Malley
Washington (CNN) -- The battle over union rights in Wisconsin, Ohio and Indiana has dramatically shifted the budget debate from Capitol Hill to the states, almost overshadowing the threat of a government shutdown in Washington next week.
Wisconsin Gov. Scott Walker garnered national attention as one of a handful of Republican governors emboldened by the midterm elections who now are trying to enact ambitious but controversial cost-cutting measures.
While most Democratic governors face similar budget challenges as their Republican colleagues, their divergent approaches will be in stark contrast this weekend in Washington for the National Governors Association's winter meeting and other partisan gatherings.
Walker is not expected to make the trip to Washington, but the ongoing spectacle in his state is sure to consume the debate at the conference. Early Friday morning, the Republican-controlled Wisconsin Assembly voted to strip most state employees of their collective bargaining rights, even as Democrats in the Senate remain out of state to block a quorum and a final vote.
Still, similar struggles over government spending are unfolding in other states with newly-energized and aggressive Republican leaders.
In Ohio, thousands of labor-backed demonstrators have descended on Columbus to protest another bill curtailing union rights, this one backed by another new GOP governor, John Kasich.
Washington, D.C. has totally lost the message. We are taking our governments back and giving it to the people.
--South Carolina Gov. Nikki Haley
In Florida, Gov. Rick Scott rejected $2.4 billion in federal funding last week for a high-speed rail project between Tampa and Orlando, arguing that the state could not afford the long-term maintenance costs.
Then there is New Jersey. Gov. Chris Christie's blunt style and camera-ready confrontations with unionized teachers have made him a media darling and GOP celebrity.
Even in South Carolina, a "right to work" state where union membership is not necessarily required to get most jobs, Gov. Nikki Haley has clashed with organized labor, though not public employee unions.
"What you are seeing right now is a whole lot of political talk in D.C. and a whole lot of work in the states," said Haley, who was sworn in as the state's first female governor a little more than six weeks ago. "These governors get it. Washington, D.C., has totally lost the message. We are taking our governments back and giving it to the people."

Wisconsin governor 'pranked'

Wisconsin governor scolds missing Dems
Haley, who was hit with a lawsuit during her first week in office by two labor outfits after she vowed to keep unions out of a new Boeing plant being built in South Carolina, said she called Walker on Thursday and encouraged him to "keep fighting the good fight."
"The more heavy-handed the unions are with us, the more we are going to talk smack back," Haley said.
But Democratic governors don't want to be seen as sitting on the sidelines.
In Missouri, Oregon, California and New York, lawmakers are cutting billions of dollars from their budgets by reforming state pension plans, squeezing more out of state workers for health care costs and slashing teacher salaries. Many of those governors are choosing, however, to negotiate with unions, rather than to attack them head-on.
Still, it's been the Republicans who have grabbed the headlines lately.
Many GOP governors are rallying around Walker's bold moves to confront Wisconsin's unions. Florida's Scott and Virginia Gov. Bob McDonnell, among others, have either called or e-mailed Walker in recent days with words of encouragement as he navigates the impasse in Madison.
And Walker revealed during a prank call Tuesday with a liberal journalist posing as billionaire conservative donor David Koch that he and Kasich have been talking "every day" about their reform efforts.
That sense of camaraderie and shared purpose was forged during the 2010 midterm elections, when the RGA spent over $100 million to help wrest 11 governor's mansions from Democratic control, many of them in critical battleground states.
All of us are having to make tough choices and address some pretty unsustainable math ...
--Maryland Gov. Martin O'Malley
Governors including Christie, Indiana's Mitch Daniels, McDonnell and Mississippi's Haley Barbour traveled the country last year raising money and campaigning for GOP candidates, sharing tactical advice along the way.
Republican gubernatorial candidates also ran remarkably similar campaigns, nationalizing their message in an appeal to a restive electorate uncomfortable with the Obama administration's fiscal agenda.
With the help of the Republican State Leadership Committee -- which spent $21 million to recapture state legislative seats from Democrats in targeted states like Wisconsin -- the GOP took over both the governorship and state legislature in 22 different states, giving conservatives unprecedented sway over policy-making at the local level.
And as Republicans look to state capitals for a standard-bearer to challenge President Obama in 2012, GOP governors are getting outsized attention from the national media.
Barbour and Daniels are seriously considering presidential bids and say they will announce their decisions after their legislative sessions conclude in the spring. Christie and Texas Gov. Rick Perry, despite denying any interest in the White House, are frequently mentioned as possible contenders.
Still more GOP governors -- Haley, McDonnell and New Mexico Gov. Susana Martinez -- are listed as potential vice presidential candidates.
With all the hoopla surrounding Republican executives and their combative budget-trimming efforts, Democratic governors trying to balance their own books are watching with a mixture of frustration and bewilderment.
"The bombast and the workforce abuse will certainly grab more headlines than bringing people together to talk with dignity and respect," Maryland Gov. Martin O'Malley, the chairman of the Democratic Governors Association, told CNN. "All of us are having to make tough choices and address some pretty unsustainable math when it comes to making sure that our pensions are solvent and we can solve our problems and live within our means."
As O'Malley sees it, Democratic governors across the country are confronting fiscal challenges reasonably without trying to generate the same media coverage as "ideologues" like Walker and Christie who, he said, are "trying to drag our country back to the days of Hoover and Coolidge."
O'Malley pointed to his own pension reform proposal in Maryland, which asks state employees to pay more into their retirement plans. The proposal drew immediate scorn from unions representing public employees and teachers.
Last year, Missouri's Democratic Gov. Jay Nixon signed a bill reforming the state's pension system that's estimated to save taxpayers $662 million over the next decade. In Oregon, Gov. John Kitzhaber wants state employees to pay more for their health benefits and contribute to their pensions, which state agencies had previously done on their behalf.
Gov. Andrew Cuomo of New York introduced a budget featuring drastic cuts to education and Medicaid that would lay off thousands of state workers. California Gov. Jerry Brown, facing a $25 billion budget shortfall, has proposed more than $6 billion in health care and welfare cuts.
In an effort to bring down long-term government costs in Delaware, Gov. Jack Markell frustrated public employee unions in his state by proposing an 8% pay cut for state employees while asking new hires to pay more for their pension and health benefits.
But Markell said he's pressing ahead with his plans by bringing unions and constituents to the table for negotiations, not by traveling the country giving speeches or turning his state capital into a "circus" -- clear digs at Christie and Walker.
"I am a lot more interested in results," Markell told CNN. "If other people want to go around and give speeches that's their prerogative. In the end, what we are judged on is jobs and expanding businesses."