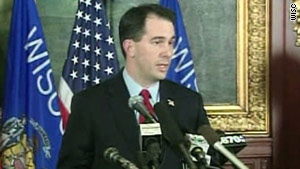 Gov. Scott Walker's legislation eliminates unions? ability to deduct dues from paychecks.
STORY HIGHLIGHTS
NEW: Governor warns $1 billion in state to local governments will be cut if budget bill fails
The wife of Republican state Senate leader receives a layoff notice
State police are dispatched to the homes of Democrat state senators
Ohio lawmaker says Republicans will permit limited rights for collective bargaining
Share your view of the protests and your pictures and videos on CNN's iReport.
Madison, Wisconsin (CNN) -- State Assembly lawmakers in Wisconsin are poised to vote on a controversial budget-repair bill that would curb public workers' collective-bargaining rights and raise their contributions to pensions and health insurance plans.
Assemblyman Mark Pocan, D-Madison, said his party has offered at least 100 amendments to the bill. The state Assembly, in which Republicans hold a majority, has been debating the measure in marathon overnight sessions for days.
There are currently two separate but nearly identical budget bills up for debate in Wisconsin's state Assembly and Senate.
The more contentious battle continues in the Senate where 14 Democrat lawmakers, who fled to neighboring Illinois to prevent a quorum from voting on the issue, remained absent Thursday from the state legislative.
Republican Gov. Scott Walker has called on Democrats to come back to Madison "and do their job."
At a Thursday night press conference,Walker warned that if the Wisconsin legislature does not pass his budget bill, state aid to local governments could be cut by $1 billion. He also discounted critics who said the legislation will destroy public employee unions in Wisconsin.
"Wisconsin state employees have the strongest civil protections in the country. That's not going to change in this bill," Walker said. "It's not about the union boss coming in from other parts of the country. It's about whether we protect the taxpayers and the workers."
One of the lawmakers who left the state, Senate Minority Leader Mark Miller, said in a response from Rockford, Illinois, that Walker should "recognize that he got what he wants" in concessions on pension and health insurance contributions and relent on curbing collective-bargaining rights.
State police were dispatched Thursday to the homes of several Democrat state Senate lawmakers in an effort to compel them to return to the legislature, according to Department of Transportation spokesman Steve Olson.
The absence of the Democrats prevents a quorum from voting on the bill.
The confrontation reached a fever pitch after Gov. Walker was recorded during a prank phone call discussing the idea of duping absentee Democrats by luring them back to the assembly to "talk, not negotiate," allow them to recess, and then having the 19 Republican senators declare a quorum.
The Republican-led Senate would then, presumably, be able to move forward on the controversial legislation.
The state faces a Friday deadline to balance the budget. Wisconsin is confronted with a $137 million budget shortfall by June 30 and a $3.6 billion gap by 2013.
Meanwhile, protests continued in the Badger State on Thursday as public workers called for the "largest day of demonstration outside of Madison in state history."

Wisconsin governor 'pranked'

Wisconsin governor scolds missing Dems
On Thursday, the wife of state Senate Majority Leader Scott Fitzgerald, a Republican, received a pink slip, or preliminary layoff notice ahead of potential layoffs that Walker warned against if his budget repair bill is not passed.
Lisa Fitzgerald, a guidance counselor in the Hustisford school district located approximately 50 miles Northeast of Madison, received the notice Thursday along with 33 other school workers.
Walker defended his budget-repair legislation, which also would require annual votes for unions to maintain certification while eliminating unions' ability to deduct annual dues from workers' paychecks.
"For some of the workers in our state, (union dues) equates to $1,000 out of their paychecks," Walker said. "That's real money."
"This is ultimately about the future of our state," Walker told reporters Wednesday.
Moments after the governor spoke, state Rep. Brett Hulsey, a Democrat, delivered an impromptu speech in which he called the Republican governor "tyrannical" and described his proposal as "union-busting."
Similar budget battles are playing out across the country as protesters also hit the streets in Indiana and Ohio. A sticking point in many of these battles is the role of unions.
In Ohio, a Republican state lawmaker said her party plans to amend a controversial proposal to permit limited rights for collective bargaining.
The original measure, known as Senate Bill 5, would be changed to allow public workers to negotiate salaries though still prevent them from negotiating benefits such as health care, pensions or automatic pay raises based on seniority, according to state Sen. Shannon Jones.
The bill would also ban strikes from all public workers, rather than just those involved in public safety, she said.
The original proposal eliminated tenure as a consideration when making layoff decisions, required workers to pay at least 20% of their health insurance premiums and instituted merit-based pay for some public-sector workers.
The bill sparked protests, with crowds packing the state Capitol in Columbus for a second week, but it is unclear if the proposed changes would allay concerns of union supporters protesting the measure.
Meanwhile in Indiana, lawmakers scrapped a "right-to-work" bill that would have prevented private-sector unions from requiring workers to pay dues for representation after House Democrats tore a page out of the Wisconsin book by walking out on the Republican-supported bill.
CNN's Kate Bolduan and Deborah Feyerick contributed to this report.