STORY HIGHLIGHTS
Actor George Clooney the bong president?
Governor admits to smoking pot
Donald Rumsfeld promises to behave on "The View"
Motown comes to the White House Thursday night
Washington (CNN) -- Politics is serious business -- but not all the time.
The bong water candidate
Actor George Clooney is not shy about his politics. The Democrat and humanitarian activist says a run for office is not in his future -- and bongs play a big part in that decision.
"I didn't live my life in the right way for politics, you know," he tells Newsweek. "I f--ked too many chicks and did too many drugs, and that's the truth."
Clooney, who plays a presidential candidate in the upcoming movie "The Ides of March," says a politician would "start from the beginning by saying, 'I did it all. I drank the bong water. Now let's talk about issues.'"
He quipped, "That's gonna be my campaign slogan: 'I drank the bong water'?"
Hollywood's heartthrob, by the way, is the son of Nick Clooney, who unsuccessfully ran in 2004 for a Kentucky House of Representatives seat as a Democrat.
Speaking of pot ...
Indiana Gov. Mitch Daniels not only smoked pot, he inhaled," CNN's Alexander Mooney writes.
As a student at Princeton University, Daniels was arrested and convicted of possession of marijuana in 1970 -- a crime that carried a $350 fine.
But the potential GOP 2012 contender says he learned a lot from that experience.
"I don't make excuses for anything. Justice was served," Daniels told the Daily Princetonian in an interview published Thursday. "I had used marijuana and I was fined for that, and that was appropriate."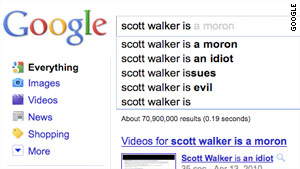 Googling "Scott Walker is" turns up some pretty interesting responses.
And Rick Santorum thought he had a Google problem
Wisconsin Gov. Scott Walker has a lot on his plate these days -- from a budget shortfall to union protests to missing state Democrats.
Now, like possible 2012 GOP presidential contender Rick Santorum, Walker has a potential Google problem.
As Wonkette points out, Googling "Scott Walker is" results in some pretty interesting descriptions, including "evil" and "idiot."
Obama's 'Really Got a Hold on Me'
The White House celebrates Motown tonight with performances by Smokey Robinson, John Legend and others.
The concert will be aired on PBS on March 1.
From the Twitterverse
Former Defense Secretary Donald Rumsfeld tweeted today:
@RumsfeldOffice Donald Rumsfeld Will be live at 11:15 AM EST with the ladies of @theviewtv on ABC. I promise to be on my best behavior...
Quoteboard
"These protests are spreading all over the globe. Every aging dictator in the world, who has been in power for decades, is starting to feel the heat. In fact like today, at the Playboy mansion, Hugh Heffner turned the water cannons on a group of rioting Playmates calling for his ouster" -- Jay Leno

'Conologue' for Wednesday
"Libya right now (is) dominating the news. Today the U.S. Embassy began evacuating all remaining Americans out of Libya. The mission is being called 'Operation What the Hell Are You Still Doing in Libya?' Who's been sitting there for two weeks (saying) 'this will get better?'" -- Conan O'Brien
"President Obama has named AOL founder Steve Case to the White House Jobs Council. Hiring the founder of AOL is expensive, but Obama got a CD-ROM in the mail that offers 100 free hours so it should work out" -- Jimmy Fallon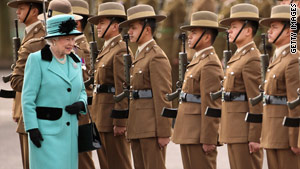 Queen Elizabeth II
Not a 'Where's Waldo?' moment
In this Getty Images photo, Queen Elizabeth II "inspects the Queen's Gurkha Engineers Attestation Party on her visit to Invicta Park Barracks on February 24, 2011, in Maidstone, England."
Her Majesty is quite the fashion maven in a sea of beige ...
You say Klavino, I say Brangelina
The New York Post reports that Albany is all abuzz about the romance between state Sens. Jeffrey Klein (representing the Bronx and Westchester County) and Diane Savino (Brooklyn and Staten Island).
The couple -- known as 'Klavino,' a la Brangelina -- have been spotted at upstate hot spots and holiday parties since last year's primary.
"They're always together outside of the capitol smoking cigarettes," an insider told the Post. "It's one of the worst-kept secrets in the Senate."
Headline of the day
Reuters: Town changes name from "Speed" to "Speedkills"
CNN's Alexander Mooney contributed to this report.
FOLLOW THIS TOPIC