STORY HIGHLIGHTS
Christine O'Donnell announces that "Dancing with the Stars" wants her
GOP Sen. Scott Brown wants to help Lindsay Lohan
Nothing but love for Rahm "Rahmbo" Emanuel after his Chicago mayoral win
Washington (CNN) -- Politics is serious business -- but not all the time.
They want me! They really want me!
Christine O'Donnell, the headline-grabbing former Republican U.S. Senate candidate, recently announced on her Facebook page that the producers of ABC's hit show "Dancing with the Stars" asked her to be a contestant on the upcoming season.
Calling it a "Facebook Exclusive," the Tea Party favorite wrote: "I just got the Official 'Ask' from Dancing With The Stars!! Although I am utterly flattered, my initial thought was to decline, as 2 year old nephew has more rhythm than me, and my two left feet!!"
The post had 231 "like" responses and 375 comments as of Wednesday morning.
"Do it. You will drive the liberal community insane," commented Edward Rush. Julie Dilworth Brewington wrote, "Would you really cheapen yourself enough to become a character of yourself?"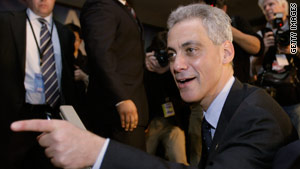 Former White House staffer Rahm Emanuel celebrates his Chicago mayoral victory Tuesday night.
To Rahm with love
"I want to extend my congratulations to Rahm Emanuel on a well-deserved victory tonight. As a Chicagoan and a friend, I couldn't be prouder. Rahm will be a terrific mayor for all the people of Chicago," President Obama said in a statement Tuesday at 10:30 p.m. ET.
The New York Times' Maureen Dowd notes, "The wiry and buff former White House chief of staff, who was known around the West Wing as 'Tiny Dancer,' was falsely accused of being a carpetbagger for the years he spent in Washington as a Clinton and Obama aide and Illinois congressman. Now he's such a celebrity here, he goes by only one name -- on his yard signs, in his ads and even in his opponent's attack ad."
Wisconsin governor punk'd?
@Slate: Was Scott Walker fooled into revealing his secret plan to end the crisis to a prank caller? http://slate.me/elIdQg
@DavidCornDC: "Hello, Gov. Walker? This is Elvis. Elvis Presley...." #wiunion.
What can Brown do for you?
Try to help troubled starlet Lindsay Lohan.
Republican Sen. Scott Brown of Massachusetts, who has a new memoir detailing sexual abuse and other problems he endured, said he thinks about her a lot and wants to help.
Appearing on Amy Holmes' syndicated radio show, "America's Morning News," Brown said, "you just want to kinda go out and just talk to her and say, 'you know, you can do better and be better.'
"I kinda look at her like almost I would say that same thing to my daughter."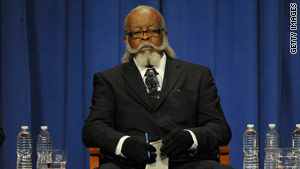 Jimmy McMillan of the Rent is Too Damn High Party was a candidate in New York's gubernatorial race.
GOP Jimmy
Jimmy McMillan, the Rent is Too Damn High candidate in the New York gubernatorial race, now says he has joined the GOP to take on President Obama.
"I'm registered Republican now," McMillan told PBS' Sal Gentile in a recent interview. "I was a Democrat, but I changed my line so that I can get the issues to the front that Obama's not addressing."
Headlines of the day
AOL News: USDA Has Beef With Zombie Jerky
Wonkette: Sarah Palin Has Secret 'Lou Sarah' Facebook Account To Praise Other Sarah Palin Facebook Account
Quoteboard
"In (Rush) Limbaugh's case, politics is like a fad diet: He crows when the facts are supporting his beliefs (or when he's losing weight), and, when the facts are discrediting his ideology (or when he's yo-yoing back to obesity), he talks about something else. In politics, as in weight loss, fad dieting rarely works." -- Washington Post's Dana Milbank
"Apparently unhappy with the slogan 'what happens in Vegas, stays in Vegas,' (Nevada Sen. Harry) Reid seems to prefer that instead of businessmen leaving behind their memories of a good time, they instead stay in the state with investment and creative ideas." -- Mediaite's Matt Schneider, on a proposed prostitution ban
"In honor of the Egyptian revolution, a couple in Egypt named their newborn daughter 'Facebook.' Hope they don't start ignoring their son 'Myspace.' ... When that girl turns 16 and all the boys want to be on Facebook, that's going to cause a lot of problems." -- Jay Leno
FOLLOW THIS TOPIC