STORY HIGHLIGHTS
The New York Daily News goes inside President Obama's old Harlem apartment
France's ambassador to Tunisia is under fire for a racy photo
Maryland GOP leader names her cow Oprah, sparks controversy
Washington (CNN) -- Politics is serious business -- but not all the time.
A long way from Harlem
The New York Daily News takes you inside then-Columbia University student Barack Obama's Harlem digs.
Located on West 109th Street, the small railroad-style apartment housed the future president and his roommate in 1981.
"Back then, the home was pretty rundown but a few years ago, it was renovated and redone. It's a prime piece of real estate nowadays," the Daily News reports.
See a full gallery of how the apartment looks today
The apartment, according to the paper, now goes for $1,900 a month.
Touchy-feely Johnson
Former Defense Secretary Donald Rumsfeld stopped by "The Late Show with David Letterman" on Monday night and let it be known that former President Lyndon Johnson was truly a hands-on president.
Letterman, who said that as a kid Johnson frightened him, asked Rumsfeld what he thought.
"He liked to touch people," Rumsfeld said to laughs.
Letterman shot back, "Then I was right to be scared."
"He would grab your hand, put his hand on your arm, lean into you and his ear lobe was bigger than your ear," Rumsfeld, who was a congressman during Johnson's presidency, added.
Mazel tov!
Rep. Debbie Wasserman Schultz, D-Florida, tweets that today is her 20th wedding anniversary:
@DWStweets So glad to be home to celebrate our 20th wedding anniversary with my wonderful husband! http://twitpic.com/42lx2q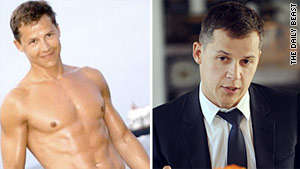 Boris Boillon, France's ambassador to Tunisia, is under fire for a racy picture.
Too sexy for France?
Boris Boillon, France's new ambassador to the politically tumultuous country of Tunisia, is under fire for a photo that shows the 41-year-old in a briefs-like bathing suit, the Daily Beast reports.
"With his killer abs and fiery temper, France's new ambassador to Tunisia triggered an international incident after a swimsuit photo -- and some undiplomatic videos -- hit the Web," writer Eric Pape noted.
He added: "France may be a nation famous for grandiloquent old diplomats, but in post-revolutionary Tunisia it seems to be represented by a blunt, moody, and coarse-tongued ambassador who is as ripped as Mark Wahlberg in a Calvin Klein ad."
Oprah the cow?
The Baltimore Sun reports that Diana Waterman, a Maryland GOP leader, is in some trouble with a member of her party after announcing on Facebook that her cow Oprah birthed a calf.
That didn't set well with Sveinn C. Storm, a self-described GOP blogger.
"Naming a cow after an African-American talk show host who has struggled with her weight is 'precisely why an enormous number of Americans view Republicans as racists,' Storm wrote," according to the Sun report.
Waterman said that the cow was named by her kids "after a famous person they admire."
Headlines of the day
Time: Hey, Chicago, Say Hello to Rahm Emanuel, Your Next F#@*ing Mayor
Mediaite: Michele Bachmann's Son Joins Group She Once Called A "Re-Education Camp"
Quote board
"I just pray that Wisconsin does not fall. After all, Wisconsin has long been an ally of the United States." -- Stephen Colbert, "The Colbert Report"
"So (Wisconsin Gov. Scott Walker is) not only cutting union members' benefits, he also wants them to give up their ability to ever ask for them again. That can't be right -- taking away a union's right to collective bargaining. I believe that makes them just a bunch of people wearing identical T-shirts. It's like telling the Green Bay Packers they can't play football or telling Craigslist, no adult services." -- Jon Stewart, "The Daily Show"
"When I moved to Washington five years ago to attend graduate school at Georgetown, I resolved to get a job with Sen. Edward Kennedy. I hoped to become an assistant at least, or an adviser or perhaps even -- dare to dream -- a speechwriter. Instead, I became Splash, the senator's Portuguese water dog." -- Colin H.P. Buckley in a New York Times op-ed
FOLLOW THIS TOPIC