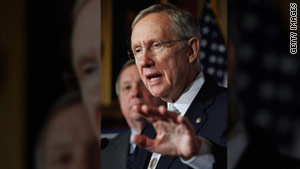 Senate Majority Leader Harry Reid says the extension would buy time for negotiation on a plan for the rest of fiscal 2011.
STORY HIGHLIGHTS
Senate majority leader says the 30-day measure will allow time to negotiate spending cuts
Reid's plan would keep funding at current levels for now
Republicans insist on spending cuts in any plan, short- or long-term
The current government funding authorization lasts until March 4
Washington (CNN) -- The Senate's top Democrat said Tuesday he would propose a 30-day extension of government funding at roughly current levels to allow time for negotiations with Republicans on a longer-term spending measure.
Senate Majority Leader Harry Reid, D-Nevada, said he planned to open debate next week on the 30-day spending plan.
If passed by both the Senate and House next week, such a temporary spending measure would prevent a government shutdown on March 4 -- the expiry date for the current continuing resolution to fund the government.
Legislators from both parties have said a short-term spending proposal might be the best way to avoid a shutdown while trying to work out deep differences on government funding for the rest of this fiscal year.
House Republicans last week pushed through a plan that would cut $61 billion from current government spending levels for the remainder of fiscal year 2011, which ends on September 30.
Democrats oppose those cuts as too severe and want to negotiate a compromise with Republicans for the remainder of the fiscal year.

Lugar on the budget 'blame game'

Letter to the president

Schumer on negotiating the budget
With House Speaker John Boehner, R-Ohio, insisting on spending cuts in any government funding measure, short- or long-term, it was unclear if Congress would be able to work out a deal by the March 4 deadline.
In a statement Tuesday, Reid criticized Boehner for "drawing lines in the sand," saying: "It would be the height of irresponsibility to shut down the government without any negotiations, as Republicans are threatening to do."
The 30-day measure that Reid intends to bring to the Senate floor next week would reflect $41 billion in cuts to a fiscal 2011 budget proposed last year by President Barack Obama but never enacted, Reid's statement said.
With the $41 billion in cuts, the plan would continue spending at similar levels to the current continuing resolution.
Reid said the purpose of his proposal is to "keep the government running for 30 days while both sides can negotiate a common-sense, long-term solution."
"I am asking Speaker Boehner to simply take the threat of a government shutdown off the table, and work with us to negotiate a responsible, long-term solution," Reid's statement said.
After Reid's statement, Senate Republican Leader Mitch McConnell, R-Kentucky, called the Democratic proposal "unacceptable."
"Washington Democrats can't find a single dime of federal spending to cut, insisting on the status quo, even for a short-term spending bill," McConnell complained.
In his own statement, Boehner signaled willingness to have the Republican-controlled House take up a short-term funding bill, but said it would have to include at least some cuts from existing funding levels.
A Boehner aide told CNN it was unclear how much of a cut House Republicans would propose in a short-term measure.
Speaking to reporters later Tuesday, Reid said the short-term measure he is proposing would allow negotiations on the spending cuts sought by Republicans.
"We're not asking for the government to be funded for the rest of the year without further cuts," Reid said. "We're saying, if we're going to have our caucus accept further cuts, it has to be a negotiation."
Despite concerns over a possible government shutdown, most legislators generally downplay the possibility and say they want a short-term deal for now.
"My guess is we'll probably have some short-term extensions while we negotiate these things with spending cuts," Republican Representative Paul Ryan of Wisconsin -- the new chairman of the House Budget Committee -- said Sunday on the CBS program "Face the Nation."
The last time the federal government went dark was for five days in November 1995 and another 21 days, ending in January 1996, during the Clinton administration.
It led to longer waits for veterans and seniors getting Social Security, Medicare and benefits checks, according to the Congressional Research Service.
Some 800,000 workers were sent home during the first shutdown and 284,000 were sent home during the later shutdown. The closure of 368 national parks, monuments and museums resulted in a loss of 7 million visitors.
CNN's Dana Bash, Ted Barrett and Tom Cohen contributed to this story.
FOLLOW THIS TOPIC