STORY HIGHLIGHTS
President Obama coaches daughter's basketball team, sans daughter
Take CNN's quiz on Presidents Day
New tell-all book reveals secrets about Sarah Palin
Washington (CNN) -- Politics is serious business -- but not all the time.
Father-daughter day?
He may be dealing with a possible government shutdown and turmoil in the Middle East, but that's not stopping President Obama from taking time out for basketball with kids.
On Saturday, the president coached his daughter Sasha's basketball team, according to Politico -- even though Sasha was MIA.
It turns out that she was spending good ol' quality time with Mom, skiing in Colorado.
All things POTUS
Happy Presidents Day!
Wondering how much you really know about the presidents? Take CNN's quiz.
Time magazine, meanwhile, has a great guide taking a look at the "Top 10 Forgettable Presidents."
As for the best presidents? Check out Gallup's rundown.
Late-night host Jay Leno weighed in on the holiday, saying "things (in stores)are less expensive on Presidents Day, yet every time we get a president it winds up costing us more money."
Headlines of the day
Reuters: Clown congressman messes up first vote
Politics Daily: John Boehner's 'Naked Lunch' Moment
Huffington Post: Texas Dems To Fleeing Wisconsin Lawmakers: 'Call Your Spouses For Conjugal Visits'
Quote board
"During a speech yesterday, Sarah Palin said she still hasn't decided if she's running for president in 2012. But if she doesn't, she's definitely running in 2013." -- Jimmy Fallon
"Happy Presidents Day even if you were recently ousted from ruling a North African nation." -- @someecards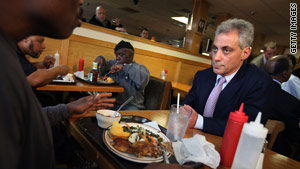 Stumping for votes, home fries
Chicago mayoral candidate Rahm Emanuel is making some last-minute campaign stops before Tuesday's election -- and that includes the obligatory get-out-the-vote diner appearance.
The former White House chief of staff chatted with a patron at MacArthur's Restaurant on Chicago's West Side on Sunday.
Ben LaBolt, a former Obama aide turned Emanuel communications director, tweeted Monday about his boss's stops so far:
@BenLaBolt "Updating our numbers but I've got us pegged at about 330 stops around the city since October."
Et tu, Bailey?
An upcoming tell-all book on Sarah Palin by a former top aide alleges she hated her job as Alaska's governor and broke campaign election laws in 2006.
According to the Anchorage Daily News, a 500-page manuscript authored by Frank Bailey was leaked to several state media organizations over the weekend.
Bailey wrote that Palin e-mailed him "I hate this damn job," shortly before her resignation in the summer of 2009.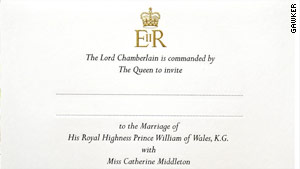 And you thought you invited too many people
Invitations to attend the wedding of Britain's Prince William to Kate Middleton have been sent to 1,900 people.
Those receiving the must-have invite? "Kings to charity leaders, to close family and university friends, old schoolmates and prime ministers around the world," according to People magazine.
The invite is decorated with gold writing and "emblazed with a matching insignia of William's grandmother, Queen Elizabeth, in whose name the invitation is sent."
The dress code is pretty comprehensive: Wear a military uniform, a tailcoat or a business suit.
FOLLOW THIS TOPIC