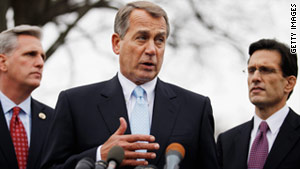 The White House has vowed to veto the budget if it contains the deep cuts House Republican leaders are pushing.
STORY HIGHLIGHTS
The House is nearing a vote on package to cut spending by over $60 billion
A new spending package must be passed by March 4 to avoid a government shutdown
Democrats complain the proposed cuts would hurt lower-income families
Republicans insist the cuts are necessary to control spiraling deficits
Washington (CNN) -- The Republican-controlled House of Representatives inched closer Friday to approving a package of more than $60 billion in federal spending cuts for the remainder of the current fiscal year.
Republican leaders have cast the vote as a down payment on the kind of fiscal responsibility necessary to control Washington's spiraling deficits. Democrats argue the cuts -- which would affect a broad range of programs -- would be devastating to middle- and lower-income families.
Democrats also complain that budget shortfalls have been exacerbated by the GOP's refusal to allow the Bush-era tax cuts to expire for the wealthiest Americans.
The cuts do not affect key entitlement programs such as Medicare and Medicaid, the largest drivers of deficit spending.
"When we say we are going to cut spending, read my lips: We are going to cut spending," House Speaker John Boehner, R-Ohio, said Thursday. Boehner's insistence fueled new speculation of a possible government shutdown when the current stop-gap funding measure expires on March 4.
Republicans, bolstered by a large freshman class elected partly with Tea Party support, have said they are fulfilling promises of spending cuts made during last year's campaign.
If enacted, the GOP's package would leave the federal government with roughly $1 trillion to spend through September 30.
On Thursday, lawmakers took the budget ax to funding for the arts, cutting $20 million from the National Endowment for the Arts and $4.5 million from National Capital Arts and Cultural Affairs. They kept a $390 million cut aimed at heating subsidies to lower-income households.
Lawmakers also voted to defund the Federal Communications Commission's efforts to enact new so-called "Net neutrality" rules, which give the agency regulatory power over Internet service providers.
Republicans pushed through a cut in funding to eight "czars," or top presidential or federal agency advisers who aren't confirmed by the Senate, including the pay czar charged with watching executive compensation at TARP-funded banks. They blocked a Democratic effort to blunt roughly $50 million in cuts to the new Consumer Financial Protection Bureau.
On Wednesday, an unusual bipartisan coalition agreed to an amendment stripping $450 million slated to build a new engine for the F-35 fighter jet. Another $15 million was cut from funding for the Presidio Trust, a government-chartered corporation created to run a large park in the San Francisco district of House Minority Leader Nancy Pelosi, D-California.
Lawmakers shied away from a proposed $800 million cut in funding for firefighters and police officers. An attempt to strip nearly $450 million in funding from Amtrak train service was defeated.
Other deep cuts on the table would slash food subsidies for children of poor mothers, funding for early childhood development programs that help low-income children, and special education programs at schools.
Many amendments are aimed at undoing White House priorities, such as the Environmental Protection Agency's efforts to cut greenhouse gases. Late Wednesday, House Democrats largely abandoned efforts to save those programs, hoping that they'd have more success keeping environmental funding with negotiations with the Senate.
Earlier this week, Boehner raised eyebrows when he predicted budget cuts could cost some federal jobs, adding, "so be it." However, on Thursday he backed away from his remarks.
"Listen, I don't want anyone to lose their job whether they are a federal employee or not. But come on! We're broke!," the speaker said. "We've got to make tough decisions and the American people sent their representatives here to Washington to make tough decisions on their behalf."
House leaders had wanted to pass the budget by Thursday, but the timing is now uncertain, as the process has taken longer than expected. The Senate isn't expected to take up the measure until later this month. Then the chambers will likely have to negotiate the differences and come to a compromise.
The White House has vowed to veto the budget if it contains the deep cuts House Republican are pushing.
If lawmakers fail to pass a budget -- or at least another stop-gap measure -- by March 4, the federal government could be shut down like it was during the GOP showdown with the Clinton administration in 1995.
CNN's Alan Silverleib, Jennifer Liberto, and Deirdre Walsh contributed to this report