STORY HIGHLIGHTS
"Mama grizzly" campaign video hit the internet during the 2010 midterm elections
The men behind the video are Eric Welch and Josh Gatlin
Welch followed Palin on several campaign events and captured the footage himself
Both say they'd consider working for Democrats as well as Republicans
Washington (CNN) -- It was not a typical political video: With its artsy close-ups, rousing voiceover, swelling music and rich glam shots of potential candidate Sarah Palin, the "mama grizzly" campaign video became an internet sensation.
It felt like a music video and got the political world buzzing.
The spot featured Palin speaking to adoring crowds of women, and promoted women's political power. It also introduced to a broader audience Palin's term "mama grizzly" to describe conservative women candidates that she had endorsed. It gave polish and a clear message to a politician who was accused, at times, of lacking both.
Who made the ad? No one would say.
Turns out it was a first-ever political spot by two men with country music roots: Eric Welch, a veteran country music video producer for stars like the Gatlin Brothers, Tim McGraw and Toby Keith; and Josh Gatlin, who used to help plan President George W. Bush's trips while he was in the White House and is the son of singer Larry Gatlin. The two met when Welch shot a video for the Gatlin Brothers.
Welch told CNN in the pair's first television interview that he had no idea what was in store when he was asked to meet a friend at a Palin event last year. The friend introduced him to the former Alaska governor. Later he got a call asking if he'd produce and direct the video. He brought in Gatlin, who had experience in the political world.
Welch followed Palin to five campaign events and captured the footage himself. Palin and her aides wanted to focus on women and their role in the midterm elections, and that's where he focused his lens.
"I think the thing that made it distinctive, obviously, we tried to bring a little bit of a music video edge to it, some of the crafting and some of the art of it," Welch said. "But it really is her. It's her voice. You're seeing how people are moved by Gov. Palin. And I think that just rings authentic."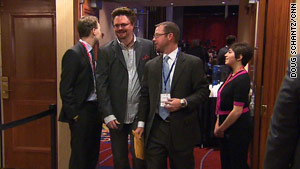 Welsh and Gatlin attend the Conservative Political Action Conference in Washington last week.
"Follow her, use her own words and put together in a way that was genuine to who she is, and I think that people responded to that," he said.
Both men said they think some of the techniques they used can be brought to more political ads by bringing in more of the passion and impact that are standard in music videos.
"Once you find that great shot and you find great words to go along with it, the great music to go along with it -- I mean, you want to move people. You want to inspire people," Gatlin said. "And you know, I guess you know you've got a great piece when both the left, the right and the center can look at it and laugh with you or cry with you, sob with you. Whatever you want to do, you've got gold if you can do that across the line."
"If you can move people, if you can get them to emotionally respond to things, and if you can move them in that way, then I think you can move people on either side of the aisle to bring people together," Gatlin said.
Welch said that music videos evoke emotion.
"I think a lot of things need more passion and impact," he said. "It's the use of imagery and music together that's so powerful. And I think we can do that through creativity in the political world as well."
The intense interest in the video shocked them both.
"When you're creating something you're not sure how people are going to respond to it -- you know as an artist and you put it out there, and you capture a moment and you see how people respond. And then to have so many views so fast, and the networks all covering it -- wow, I did this just based on my creativity and just pulling some great moments together. So, you know, it's really humbling to see it," Welch said.
The two men decided not to go public until after the election so they wouldn't draw attention away from their client and her message.
Last week, they were in Washington to attend the Conservative Political Action Conference, searching for more political clients for their new firm, PassCode Creative.
Gatlin and Welch made some subsequent videos for Palin. They won't say whether they have anything in the works for her now, but they said they would consider working for Democrats as well as Republicans.
"They can call! They absolutely can call," Welch said laughing.
FOLLOW THIS TOPIC