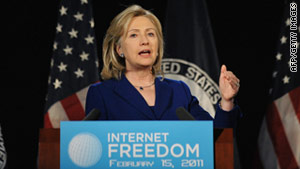 Secretary of State Hillary Clinton doesn't have a long history with technology, but has embraced it, colleagues say.
STORY HIGHLIGHTS
State Department integrates tweets, internet site into its communications efforts
Clinton "gets it," says official about department's use of technology
WikiLeaks incident shook department's internet commitment, official says
Washington (CNN) -- Blogging and tweeting are now part of every diplomat's job description. At any given moment you can find someone like the top official on Latin America tweeting in Spanish about his latest trip to Peru, spokesman P.J. Crowley delivering U.S. policy prescriptions for Egypt in 140 characters or Secretary of State Hillary Clinton herself posting podcasts on the State Department website and soliciting questions from the public on its blog, Dipnote.
"Maybe 30 years ago, you came to work at 9 and left at 5 and hoped nothing crazy happened while you were at home," said Alec Ross, a 39-year-old former technology adviser to the Obama campaign who become Clinton's "innovation" guru. "Now the world is networked and in real time and this increases the demand for diplomats to be connected, to feed information.
"It's important for the integrity of the information to remain high, but it does place additional demands on us to find out what's going on. These are the demands of diplomats in the 21st century and (Clinton) expects that of us."
Although the secretary is said to "work the hell out of a BlackBerry," Clinton doesn't have a long personal history with technology. But she clearly understands its power and the importance of reaching the 7 billion people using mobile devices and the internet.
"If you aren't figuring out how to use the web, how to use mobile handsets and access them as a way of connecting to people, you just aren't connecting," Ross said. "From the time I walked into the department, it's been very clear she gets it."
Clinton has also encouraged diplomats to think creatively about how to use technology in their jobs, which inspired Ashley Bommer, a young adviser to the late special representative Richard Holbrooke, to propose a texting campaign to raise money for refugees displaced by fighting in Pakistan's Swat Valley. The initiative became a model for a similar campaign in Haiti, which raised close to $35 million for earthquake victims. It's all part of what Clinton and Ross call "21st century statecraft."
Since taking office, Clinton has made the spread of information technology and internet freedom a cornerstone of her foreign policy, hoping both will serve as catalysts for spreading democracy and economic development.
On Tuesday she made her second major internet speech, saying that online freedom is a fundamental right.
Read more about Clinton's speech
Clinton's commitment to freedom of the internet was seriously tested, along with her diplomatic leadership and management of the State Department, in late November when WikiLeaks published a cache of 250,000 embassy cables. They ranged from unflattering impressions of world leaders -- Afghan President Hamid Karzai was called a "paranoid," "weak" and "overly self-conscious" leader; German Chancellor Angela Merkel was "risk averse and rarely creative" -- to blunt and harsh assessments made by Saudi King Abdullah and the Crown Prince of the United Arab Emirates about Pakistan's civilian leaders and the need to stop Iran at all costs.
Clinton was thrust into what Stephen Mull, executive secretary of the State Department, called "a diplomatic nightmare."
"She didn't dwell on it," Mull recalled. "She was focused on reaching out to these relationships that could have been damaged and immediately took accountability for it, even though it was pretty awkward and embarrassing to do so. She was really stand-up about it."
The State Department set up a task force to start monitoring reaction around the world, furiously going through the cache of cables that could have been compromised to find out what would cause the biggest problems. Clinton's team worked with her every day, providing a matrix that grew by leaps and bounds throughout the course of the week explaining what the international reactions were, what individual leaders were going to be sensitive to and who Clinton had to reach out to immediately.
One cable instructed the U.S. embassy in Argentina to check on President Cristina Fernández de Kirchner's mental state. Clinton immediately said "I just need to call her and tell her that I don't have concerns about her mental state," one official said.
Morale at the State Department was bad. The day the cables were published Clinton sent a message to every embassy around the world recognizing how bad the situation was and how tough the next few weeks and months would be, explaining what she was going to do to repair the damage and reminding her troops that she was proud of them.
"People were wondering: Did we do something wrong in reporting this? How could we have prevented this? Is this the end of diplomacy as we know it? Is the Foreign Service not going to be as much fun as it used to be?" Mull said. "And her reaction to it was to take accountability, even though she wasn't responsible for writing them. It really soothed people and made people feel better about our profession."
Days later Clinton and top aides were on a plane to Astana, Kazakhstan, for a meeting of 52 European leaders, many of whom were the targets of highly embarrassing comments by U.S. diplomats contained in the cables, including Italian Prime Minister Silvio Berlusconi, who was dismissed as "feckless, vain, and ineffective as a modern leader"
Clinton struck a careful tone of regret without apologizing. She condemned the leak as an "irresponsible, thoughtless act that put at risk the lives of innocent people all over the world," while making clear that the opinions of diplomats expressed in the cables don't reflect official U.S. policy. The authors, she and other U.S. officials said, were simply giving unvarnished feedback to Washington about the situation in other countries, something all diplomats are accustomed to doing.
"She never blinked," Mull said. "She said, 'What do I need to do to explain this to people, to get beyond this?' and she really kind of went into the lions' den without thinking twice."
The implication of the leaks -- not just for America's relations with countries around the world but for politics worldwide -- is enormous and not yet fully known. Yet Clinton's early triage of the crisis is credited in part with minimizing the potential damage to key relationships.
Some advisers, however, felt that Clinton bore the unfair brunt of the damage control. Although the cables were the work product of the State Department and U.S. embassies, some at State found support from the White House and Pentagon sorely lacking.
"I think everyone else ducked the hell out of this, the way they didn't the first time around," during the release of the first batch of military cables earlier in the year, one senior State Department official said. "It was the Department of Defense that messed up and someone in the White House should have said something."
FOLLOW THIS TOPIC