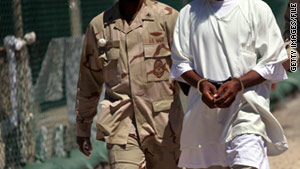 A U.S. military guard moves a detainee held at Guantanamo Bay, Cuba, in 2010.
STORY HIGHLIGHTS
U.S. intelligence working on solutions
Terrorist suspects caught off battlefield can't be held for long
Teams have been sent to question them
Washington (CNN) -- If the United States were to capture a terrorist outside the battle zone, what the government can do with that individual is a "vexing challenge," a top U.S. official said.
The admission was a reflection of the complications from the Obama administration's continuing struggle with establishing a new policy for the capture and detention of suspected terrorists.
Michael Vickers, the Pentagon's acting undersecretary for intelligence, told members of the Senate Armed Services Committee that there are established procedures for those caught on the battlefield, but it becomes dicey when the individual is picked up outside what he called the "zone of hostilities." This was his confirmation hearing for his current office.
"If a terrorist were picked up in Somalia, for example ... that has been a vexing challenge for both the Bush administration and the Obama administration. And there's not an obvious solution that presents itself."
A presidential directive allows the CIA to capture and detain a suspected terrorist for only a brief time before the person has to be transferred elsewhere or released, he said.
Vickers acknowledged the administration is still working on a solution. "Options range from transferring to another country, provided human rights assurances and access to detainees and others can be met," he said. "But given the problem that many countries are either incapable or unwilling of taking some of these detainees, we require some mechanism to be able to detain them ourselves." Other officials in the administration are working on that issue. he said.
Vickers said the High Value Detainee Interrogation Group has been deployed a number of times to question suspected terrorists but he provided no other details. The teams interviewed Umar Farouk Abdulmutallab after he was arrested trying to detonate a bomb on board a flight to Detroit in 2009.
Another issue brought up was the recidivism rate of detainees released from the Guantanamo Bay detention facility in Cuba.
Vickers said that of the approximately 600 people released from Guantanamo, about 25% or 150 have returned to the battlefield, fighting against Western interests.
Much like the criminal justice system, he said, there are inherently some repeat offenders among those detainees transferred to other countries. The U.S. is also dependent on those countries to carry through on their obligations.
"But countries are sovereign, and we do our best to ensure that these conditions are met," Vickers said. "They are not always met 100% in some of these areas, so that is part of the challenge."
On other issues, Vickers agreed with Gen. David Petreaus' guardedly optimistic assessment of the situation in Afghanistan.
And he said he is confident the Iraqis will be able to take full control of their security when the U.S. military draws down at the end of the year.
As part of Defense Secretary Robert Gates' mandate to find efficiencies, Vickers said he had taken steps to eliminate redundancies in the Pentagon's intelligence organizations and in the combatant commands.
He is a former Green Beret and CIA officer who ran the agency's biggest covert program ever: the paramilitary campaign to help push the Soviets out of Afghanistan in the 1980s.
For the past four years, Vickers has commanded the Pentagon's Special Operations office, working jointly with the intelligence community to combat terrorism worldwide.
He took over the job as acting undersecretary of intelligence after James Clapper left to become the director of national intelligence.
FOLLOW THIS TOPIC