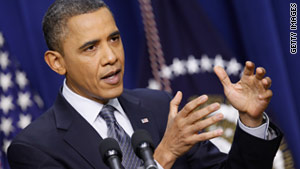 The government must live within its means while investing in the future, President Obama says.
STORY HIGHLIGHTS
NEW: The White House says Obama will veto cuts proposed by House Republicans
President Obama insists his budget plan is not fiscally irresponsible
Obama: Parties will have to come together on a deal tackling entitlement growth, Obama says
Senate GOP Leader McConnell accuses the president of "lack of seriousness"
Washington (CNN) -- President Barack Obama called on congressional Republicans to engage in an "adult conversation" about the federal government's long-term financial health Tuesday, warning that serious debt reduction will remain impossible without bipartisan agreement on how best to stabilize Social Security, Medicare and Medicaid costs.
Leaders of both parties have to be willing to make unpopular concessions, he said, while declining to specify exactly what form those concessions should take.
"I expect that all sides will have to do a little bit of posturing on television and speak to their constituencies, and rally the troops and so forth," Obama told reporters at a hurriedly scheduled news conference. "But ultimately, what we need is a reasonable, responsible and initially, probably, somewhat quiet and toned-down conversation about ... where can we compromise and get something done.
"I'm confident that will be the spirit that congressional leaders take over the coming months," he added.
The president noted that his proposed budget includes a five-year freeze on domestic discretionary spending, and said that "there are some provisions in this budget that are hard for me to take," including a 10% reduction in community development block grants.
"Just like every family in America," the government has to live within its means while investing in the future, Obama said.
The president asserted that he was using a budget "scalpel," as opposed to the GOP's "machete."
Obama insisted that the fact that his blueprint adds $7.2 trillion in new debt over the next 10 years does not make it fiscally irresponsible.
The federal government has "all this accumulated debt as a consequence of the recession" and decisions made over the past decade, he said. Washington has "piled up" a lot of debt and, as a result, has a "big problem" in terms of accumulated interest. That problem will have to be "whittled down" over time, he said.
Obama said he wants to deal with the growing debt crisis in stages, starting with the government getting control over its discretionary budget before taking on "long-term drivers" of the debt such as Medicare and Medicaid.
His hope, he said, is that "we have an adult conversation where everybody says, 'Here's what's important and here's how we pay for it.' "
Tax reform also needs to play a key role in stabilizing the fiscal situation, he said.
Asked about the need to provide leadership on entitlement reform, Obama insisted that it doesn't matter which party makes a substantive proposal first. Republicans have slammed the president for a lack of specifics, but have also failed to reach agreement within their own caucus on how best to address the issue.
"This is not a matter of 'you go first' or 'I go first.' This is a matter of everybody having a serious conversation about where we want to go and then ultimately everybody getting into that boat at the same time so it doesn't tip over," he said.
I am "confident we can get Social Security (reform) done" with "modest adjustments" and without "slashing benefits," the president asserted. But Medicare and Medicaid reform will be a bigger problem, largely because medical costs are rising as the population ages, he said.
Last year's health care overhaul represented a "down payment" on needed cost controls, he said -- an assertion Republicans strongly dispute.
"Nobody's more mindful than me that entitlements" have to be reformed, Obama insisted.
Senate Minority Leader Mitch McConnell, R-Kentucky, responded by accusing the president of a "lack of seriousness" on fiscal issues.
"I have said repeatedly -- and I know Speaker (John) Boehner has as well -- that with regard to ... entitlements, we're waiting for presidential leadership. We know and will say again that entitlement reform will not be done except on a bipartisan basis with presidential leadership."
McConnell told reporters has has "been inviting the president to have that conversation since he took office two years ago."
"It doesn't have to be in public," the Republican leader added. "We all understand there are some limitations to negotiating significant agreements in public. But we're still waiting for the president to lead."
The president said he agrees with some -- but not all -- of the recommendations put forward by his deficit reduction commission. While the commission's suggestions were largely ignored in the president's budget, he praised its members for providing a framework for future negotiations.
He also took Republicans to task for continuing to defend the Bush-era tax cuts for the wealthiest Americans, which were extended in a deal he reached with GOP leaders last December. Extending tax cuts for the rich, he said, is incompatible with fiscal responsibility.
Asked about anger among Democratic liberals with some of his proposed budget cuts, Obama said there are times he wishes he could "be a caseworker" for all the people who need help. "I definitely feel folks' pain," he said.
But Obama said it is his job to focus on the long term, and the most important priority now is to ensure the country lives within its means while laying the foundation for long-term economic growth.
He defended his proposed cut in low-income heating fuel assistance, noting that his administration previously increased funding for such aid at a time when prices for heating fuel were rising. Those prices are now lower, he said.
Turning to the unresolved debate over funding for the current fiscal year's budget, Obama said he's willing to work with the GOP but doesn't want to make "a series of symbolic cuts" that endanger the economic recovery. Democrats have ripped their Republican counterparts in the House for pushing $61 billion in cuts that more liberal leaders say go too far.
The cuts proposed by House Republicans would "sharply undermine core government functions and investments key to economic growth and job creation," and also leave the Defense Department "without the resources and flexibility needed to meet vital military requirements," the White House Office of Management and Budget said in a statement issued Tuesday.
"If the president is presented with a bill that undermines critical priorities or national security through funding levels or restrictions, contains earmarks, or curtails the drivers of long-term economic growth and job creation while continuing to burden future generations with deficits, the president will veto the bill," the statement said.
At his news conference, Obama also warned about the dangers of a potential government shutdown if the current budget impasse is not resolved.
"I think people should be careful about being too loose in terms of talking about a government shutdown because this is not an abstraction," he said. "If people don't get their Social Security checks, if they don't get their veterans' payments, basic functions shut down" and there would be an "adverse effect on our economic recovery. It would be destabilizing."
CNN's Alan Silverleib contributed to this report
FOLLOW THIS TOPIC