Obama requests $4.5 billion increase for education in 2012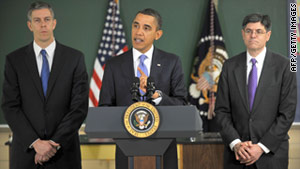 President Obama talks about education with Education Secretary Arne Duncan, left, and OMB Director Jack Lew.
STORY HIGHLIGHTS
President's budget proposal seeks $77.4 billion
Obama seeking $80 million to recruit new science, technology, engineering, math teachers
He also wants $900 million for districts that meet standards for innovation, outcomes
Savings sought on Pell Grant program, graduate student loan interest subsidies
Washington (CNN) -- President Obama's 2012 budget proposal for education is one of the few areas that actually show a significant increase -- to the tune of $4.5 billion, compared with the proposal for 2011.
The $77.4 billion request will be spent on reforms, teacher training for STEM subjects (science, technology, engineering and mathematics), and reauthorizing the Elementary and Secondary Education Act, also known as No Child Left Behind.
In response to the budget proposal, Rep. John Kline, R-Minnesota, said, "Throwing more money at our nation's broken education system ignores reality and does a disservice to students and taxpayers."
"It is time we asked why increasing the federal government's role in education has failed to improve student achievement," added Kline, chairman of the House Education and Workforce Committee.
Obama announced his budget at a STEM school in Baltimore, saying, "Engineering and math, critical thinking, problem solving -- these are the kinds of subjects and skills that our kids need to achieve success in the 21st century."
The president wants to spend $80 million to recruit 10,000 new teachers in science, technology, engineering and mathematics in the next two years, with long-term plans of recruiting 100,000 teachers in the next 10 years.
He's also asking Congress for $900 million for a new round of Race to the Top, a competition that previously rewarded states that met the administration's standards for innovation and outcomes. For this round, the competition will be on the district level.
"There are many districts that were frankly frustrated with the lack of innovation they were seeing at the state level," Education Secretary Arne Duncan told reporters Monday on an afternoon conference call.
He said also the shift to a district competition makes financial sense as the amount available for allocation for this round of Race to the Top is much lower than in the first two rounds.
"While $900 million is a lot of money, theoretically, you could only have one state or two potentially win if you were playing at that level. We don't have multiple billions as we had at the original competition," Duncan said.
Although the budget request maintains funding to keep Pell Grants at $5,500, it does recommend dropping the year-round Pell Grants option that began in 2009. According to the budget, that program offers students a second Pell Grant payment within one year but has cost 10 times more than planned and doesn't seem to have had a "meaningful impact on students' academic progress."
The budget also drops subsidies that allowed graduate students to avoid interest accruing on their loans while they are in school.
FOLLOW THIS TOPIC