House Republican leaders say White House lunch found common ground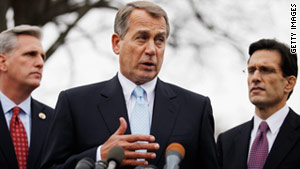 House Speaker John Boehner, center, said "enough common ground" was found with the president during the lunch.
STORY HIGHLIGHTS
White House calls Obama's meeting with GOP leaders "constructive"
Boehner cites support for free trade agreements
The discussion is described as fairly robust
Washington (CNN) -- President Barack Obama and Republican leaders in the House agreed Wednesday that their lunch meeting at the White House yielded some common ground.
Obama considered the meeting with House Speaker John Boehner, R-Ohio, and his top two deputies "constructive" and cited general agreement with them on the need to reduce spending and the deficit, White House press secretary Robert Gibbs told reporters.
Vice President Joe Biden and White House Chief of Staff Bill Daley also attended the meeting, Gibbs said.
"It was a very good lunch, and we were able to find enough common ground, I think, to show the American people that we're willing to work on their behalf and to do it together," Boehner told reporters.
Boehner provided few details, but he expressed support for free trade agreements already negotiated or under discussion with South Korea, Colombia and Panama.
Gibbs, in turn, noted that some outstanding issues needed to be resolved on the Colombia and Panama trade pacts. The White House, he added, is hoping the South Korean accord will be approved by Congress in the first half of 2011, with the other two following in 2012.
Boehner's top deputy, Rep. Eric Cantor of Virginia, said the lunch discussion was "fairly robust" and that the meeting demonstrated general agreement on the need to seriously cut spending -- a top priority of House Republicans.
Gibbs said both sides agree that "we have reached a point where we have to do something about what we take in and what we spend, and the great divergence between those two numbers." But "this process is not going to be an easy one," he warned. "On each side we're going to have to give a little even on things that are greatly important to us."
Boehner said he told Obama the House intends to proceed Thursday with consideration of a spending measure that would include more drastic cuts than proposed by the White House.
The measure, which would extend the continuing resolution currently funding the government, is generally a way to maintain spending at the previous year's level.
This time, though, House Republicans are proposing cuts that would reduce current government spending levels by more than $30 billion.
The White House, meanwhile, is set to release its budget proposal for the upcoming fiscal year on Monday.
"I think when you see the budget come out you'll see very little that was spared in the tough decisions that were made," Gibbs said.
FOLLOW THIS TOPIC