STORY HIGHLIGHTS
Gingrich, Huckabee, Palin and Romney are thought to be eyeing 2012 runs
None has formally announced a presidential run yet
Entering late minimizes fundraising demands, allows for possibility others could flame out
Washington (CNN) -- None of them has announced plans to run. All have unique weaknesses that could knock them out of the race early. But for now, the familiar faces of those considering a run -- Sarah Palin, Mike Huckabee, Mitt Romney and Newt Gingrich -- are leading the national polls among possible contenders in the race for the 2012 Republican presidential nomination.
Palin, the former Alaska governor and Sen. John McCain's running mate in 2008, is staying alive by playing coy about her intentions.
"I am not ready to make it, an announcement as to what my political future is going to be," Palin said last month in an interview with Fox News, where she is a contributor.
"I am not going to sit down. I'm not going to shut up. I'm going to hopefully be able to help empower others who believe that one of the things that makes America so exceptional is our right to free speech. It's our right to vigorously yet respectfully debate ideas and intentions in this country. I'm going to continue down that path. And if that leads to be a candidate for a high office, then I will announce that at the appropriate time."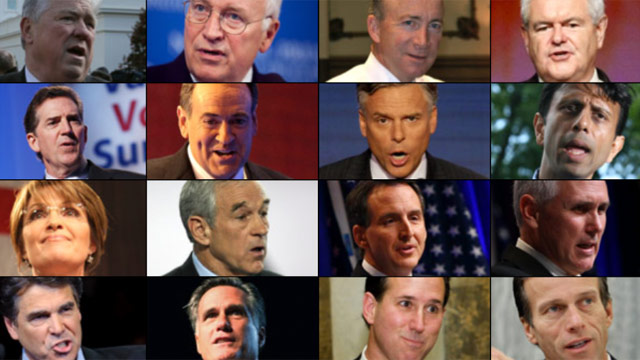 Potential GOP contenders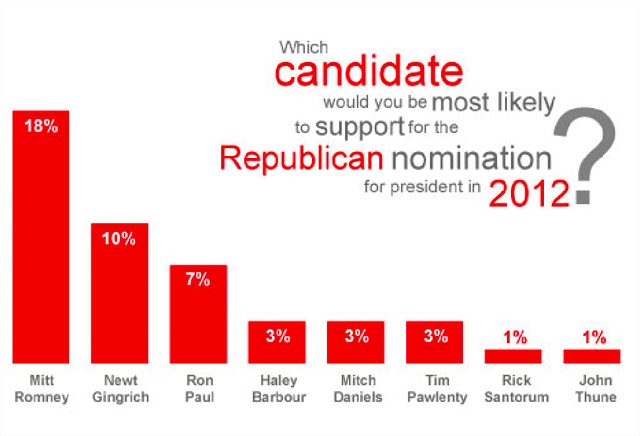 All eyes on 2012
Palin's advantages include her ability to generate enormous media attention, a passionate base of support among social conservatives and fundraising prowess.
Her political action committee, SarahPac, raised more than $3.5 million in the 2010 election cycle, with $1.3 million still in the bank, according to a recent filing with the Federal Election Commission.
The filing also shows, remarkably, that she brought in nearly $280,000 in the last six weeks of 2010 -- after the election was over. She's built political capital with Republican candidates she endorsed in the midterm elections and has been something of a presence in key early voting states Iowa and South Carolina, which she visited on her recent book tour.
Among Palin's disadvantages: She is a polarizing force, even within the GOP. In a December 28 CNN/Opinion Research Corp. poll, a majority of Republican voters said they would not support her if she were their party's nominee. One of her major weaknesses is her controversial remarks, such as her reaction to the Tucson shooting she posted online in which she labeled some of the criticism leveled at her "blood libel."
"No one should be deterred from speaking up and speaking out in peaceful dissent," Palin said.
There are signs that she's laying the groundwork for a run, such as her speaking out more on foreign policy and, in December, traveling to Haiti as part of a humanitarian mission. But there are reasons to doubt it.
Her most recent FEC filing shows little signs that she is ramping up the staff at her PAC -- which would probably form the basis of a presidential campaign -- and is still paying salaries to just a handful of people.
When it comes to the polls, former Arkansas Gov. Mike Huckabee is leading the pack of potential GOP candidates. He surprised the political world in 2008 when he came from behind to win the Iowa caucuses. Now, he consistently ranks as the favorite among Republicans, in part because he has strong support among Christian conservatives. The one-time minister is known as a gifted orator.
Now the host of a talk show on Fox News, he is circumspect about whether he'll run again. He told the network he won't make a decision until the summer.
"I think people get sick of us if we are out there for too long a period of time, and by the time it starts to matter -- when you're getting closer to the caucuses and the primaries -- you've been so just essentially exposed in a campaign mode that there is nothing new," he said. "You're the stale old loaf of bread on the shelf, and it's very difficult to make your message fresh."
Huckabee has said he would not take part in early debates among potential candidates.
Political insiders question whether he really wants to give up his lucrative speaking engagements and media career for a grueling presidential race. To date, he's made few trips to early voting states, though he plans six stops in Iowa and five in South Carolina as part of an upcoming book tour.
Among Huckabee's challenges are winning over moderate Republicans and demonstrating foreign policy expertise. Last week, he went to Israel, where he addressed the parliament and met with Prime Minister Benjamin Netanyahu. His political action committee raised $1.8 million and has just under $138,000 on hand, according to its FEC filing.
Of all these candidates, Mitt Romney, the former Massachusetts governor and 2008 presidential contender, seems the most committed to making a run.
Since his 2008 campaign for the GOP nomination, he has built an impressive political operation and traveled the country, campaigning for other candidates and building a major donor base.
His political action committees raised $6.3 million and donated almost $1.2 million to more than 500 Republican candidates and causes during the 2010 cycle. Already in 2011, his Free and Strong America PAC contributed $129,500 to 54 senators and members of Congress.
Privately, he has been busy meeting with supporters and those he hopes will be, such as New Jersey Gov. Chris Christie. Last Friday, he held a conference call with donors. In the past few weeks, Romney has made a trip to Afghanistan and Israel, and the former CEO has worked hard to bolster his foreign policy credentials.
Romney says announcement about a run is "down the road"
Last week, he went on a media blitz promoting the paperback release of his book and told CNN's Piers Morgan, "I'm doing the things, like other folks are doing, to keep the option open, and moving forward in the event that I make a positive decision. But there are matters of health, of support, of the kind of network you'd like to have of individuals behind you. Those are things you've got to assess before you make a final decision."
He added that if he does run again, this time, it'll be a more focused campaign.
Romney's principal challenge will be overcoming Republican criticism of the health care reform he championed in Massachusetts. Like the national health care overhaul so reviled by many Republicans, the Massachusetts law requires individuals to buy health insurance. That provision could be a hard to sell to many GOP base voters. Romney says that it's one thing for a state to pass a mandate, but very different when the federal government forces such a policy on the nation.
"I'm not apologizing for it. I'm indicating that we went in one direction, and there are other possible directions. I'd like to see states pursue their own ideas, see which ideas work best," he told ABC's "Good Morning America" last week.
Finally, former House Speaker Newt Gingrich, who says he is "very seriously" considering a run, ranks fourth in national polling of prospective candidates.
"By the end of February, we'll make a decision on whether or not to have an exploratory committee. I think the country has enormous problems. I think it requires a totally different kind of approach," he told CNN last week.
Gingrich has repeatedly visited key early voting states, making several trips to Iowa in recent months. He has broad name recognition and is known for generating creative policy solutions and lots of media attention.
Through a group called American Solutions for Winning the Future and its political action committee, Gingrich has traveled the country talking about job creation, energy independence and reforming health care and education. Its PAC supported 15 House and three Senate candidates with contributions of more $215,000, and raised roughly $425,000 between October and the end of December.
Republican activists in Georgia expect him to get into the race. Some Republican insiders, however, don't believe he has the discipline for a presidential campaign, and others say his past personal indiscretions and three marriages could cost him support among conservatives in the GOP base.
It's still early. Unlike 2008, the candidates are taking their time getting into the race.
One top Republican operative told CNN, "This year, it's all about who can get in last."
Entering late minimizes fundraising demands in what will be an extraordinarily expensive campaign, and it allows for the possibility that other candidates could flame out early.
FOLLOW THIS TOPIC