STORY HIGHLIGHTS
Mississippi Gov. Haley Barbour announces he'll visit Israel
John Huntsman, the Republican ambassador to China, resigned Monday
Mitt Romney starts a media blitz this week to promote his book
Others such as Rick Santorum and Michele Bachmann have traveled to early primary states
Washington (CNN) -- Three years ago, GOP candidates were all but piling on each other to announce their candidacy for the Republican nomination for president.
This year, not so much.
"No one wants to be first. You want to be a contender, but you don't want to be viewed as the establishment candidate, because we saw that was a curse last cycle (in 2010) in Republican primaries," said Nathan Gonzales, political editor for the nonpartisan Rothenberg Political Report. "A lot of people who were deemed the initial front-runners with establishment support were then immediately met with opposition, because people wanted an outsider."
And potential candidates are leery of getting out front too early and becoming the target of attacks.
But Gonzales said the time is nearing when "they're going to have to get out there and organize and actually run for president."
Many are already making the requisite moves.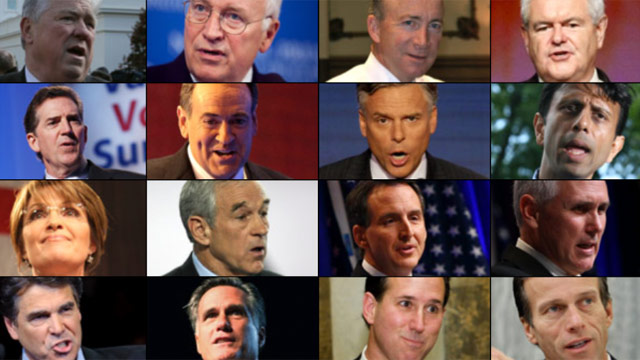 Potential GOP contenders
Mississippi Gov. Haley Barbour announced Tuesday that he will make a trip to Israel. He joins other potential candidates, such as Mitt Romney and Mike Huckabee, who have made trips to the country. Another sign: Barbour told a room of South Carolina Republicans last week that if he decides to run, "it's going to be a serious effort."
Romney, who ran in 2008, is on a media blitz to promote his new book. While it's a publicity tour, it's also a chance to get his name out there, as he will undoubtedly be asked whether he's running.
"There are no accidents when it comes to these top presidential candidates being on television shows as part of an orchestrated effort to leaning toward running for president," Gonzales said. "(Romney) is running for president. This is the stuff you do before the initial announcement."
Meanwhile, Republican John Huntsman Jr., the U.S. ambassador to China, sent his resignation letter to President Obama on Monday -- a telltale sign that he's at least considering a bid.
A Republican familiar with the situation told CNN that the former Utah governor's advisers plan to survey the presidential landscape in June or July, and then decide.
Others have dropped hints, indicating that an announcement could come by summer.
Huckabee acknowledges that announcing too early could paint a candidate as a "stale loaf of bread on the shelf."

DeMint: Not running for president

Bachmann flubs history?
"I think people get sick of us if we're out there for too long a period of time, and by the time it starts to matter -- when you're getting closer to the caucuses and the primaries -- you've been so, just, essentially, exposed in a campaign mode that there's nothing new," he told Fox News, where he is a paid contributor.
In the 2008 race, Huckabee announced on January 29, 2007, that he was running for president.
So what are the latest signs from potential GOP candidates? Here's a look:
• Former Pennsylvania Sen. Rick Santorum has spent countless months visiting New Hampshire and Iowa -- key early primary and caucus states. Last week, he announced that two experienced GOP strategists in Iowa will serve as advisers to his political action committee, America's Foundation.
• Former Rep. Newt Gingrich visited Ohio last week just before a trip to Iowa. In a phone interview with the Columbus, Ohio, newspaper, The Dispatch, Gingrich revealed that he's been talking to voters in early primary states "to see if there is a realistic possibility" that he can win in a crowded GOP race.
• While Sarah Palin hasn't been a fixture in early primary states, she has two big advantages if she decides to run: name recognition and financial prowess.
According to her Political Action Committee's most recent financial disclosure report, she has more than $1.3 million in the bank and is carrying no debt.
Palin is also broadening her appeal to Reagan Republicans. She is slated to give the keynote address in February at the Reagan Ranch Center honoring the 100th anniversary of the former president's birthday.
• Tim Pawlenty's third-place finish in the 2012 presidential straw poll conducted by the New Hampshire Republican Party is a sign, his advisers say, that the former Minnesota governor's visits to the state are paying off.
• South Dakota Sen. John Thune told conservative radio host Hugh Hewitt last week that he will decide by the end of February whether to run.
"I've told people I don't have a definite timeline or deadline out there, but it strikes me, at least, for somebody like myself who's not known, and would have to work a lot harder at getting known," said Thune.
• Rep. Michele Bachmann, who says she's considering a 2012 bid, will attend the Network of Iowa Christian Home Educators home-school day at the Iowa Capitol in Des Moines on March 23.
In a visit to Iowa on January 21, Bachmann told the Des Moines Register that she is "very encouraged by what I heard and the level of support that I saw."
• Former New York City Mayor Rudy Giuliani says that he's more likely to run for president if Palin steps into the race.
In an interview on CNN's "Piers Morgan Tonight," Giuliani, who ran for the 2008 GOP nomination, said running against Palin would show him as a moderate Republican.
• Sen. Jim DeMint's trip to Iowa in late March, in which he'll address a conservative forum, has created buzz that the South Carolina Republican is looking at running -- even though he recently told CNN's Wolf Blitzer "no" when asked.
But several of his closest advisers tell CNN that he is at least open to a presidential bid if no qualified conservative candidate emerges.
CNN's Peter Hamby, Alexander Mooney, Mark Preston, Paul Steinhauser and Rebecca Stewart contributed to this report.
FOLLOW THIS TOPIC