Aides: Senate leaders close to pact on filibuster reform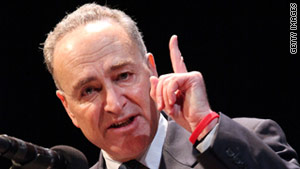 Sen. Chuck Schumer is among the negotiators considering filibuster changes.
STORY HIGHLIGHTS
Changes would be modest, not sweeping
More senior senators are not in favor
If both parties agree, vote could be this week
Washington (CNN) -- Top Democratic and Republican senators, negotiating proposed reforms of the use of filibusters and other legislative stalling tactics, are close to an agreement on modest changes to curb the practices but not eliminate them altogether, two Senate aides said.
Despite increased public attention to the often-controversial procedures, supporters of reform don't appear to have enough bipartisan support to force sweeping changes, the aides said. Much of the opposition to the changes comes from senior senators who have seen party control of the Senate switch several times and are wary about giving up the considerable rights available to the minority.
Instead, Senate negotiators -- led by Sen. Chuck Schumer, D-New York, and Sen. Lamar Alexander, R-Tennessee -- are considering at least three smaller changes aimed at preventing individual senators from clogging up the Senate's legislative pipeline.
Under the emerging deal, senators would still be able to put a "hold" on nominations and legislation -- and therefore prevent quick votes on them -- but instead of remaining anonymous for several days as current rules allow, the name of a senator who employs a hold would be made public right away. Supporters of this reform believe that senators will be less likely to drag out a dispute if they need to defend it publicly.
In an effort to reduce the Senate's workload, senators also are considering scaling back the large number of presidential appointees who need their confirmation. Supporters believe that reducing the number of typically noncontroversial nominees will streamline the Senate's calendar and provide fewer opportunities for holds and filibusters.

End of the filibuster?
Negotiators are also considering, one of the aides said, eliminating a senator's ability to demand that entire bills be read aloud on the Senate floor, another stalling tactic that's occasionally employed, to the distress of the vocal cords of Senate clerks.
Talks about reforming the Senate rules came about after a group of newer senators, frustrated by the slow pace of legislative action on the floor, proposed major changes to the filibuster -- including when they could be used and reducing the 60-vote threshold required to break one.
Schumer and Alexander plan to present their proposals to their respective caucuses Tuesday. If there is a general agreement in both parties, a vote on the changes could happen in the next few days.
FOLLOW THIS TOPIC