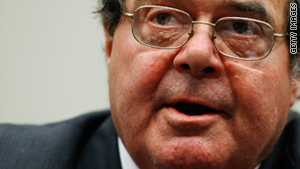 Supreme Court Justice Antonin Scalia addressed the Tea Party Caucus on Monday.
STORY HIGHLIGHTS
NEW: A big crowd turns out for Antonin Scalia at a Tea Party Caucus event
NEW: Four Democrats attended the session with Supreme Court justice as well
Critics say Scalia's appearance created an appearance of impropriety
Substantive meetings between members of the high court and legislators are not unusual
Washington (CNN) -- About 50 members of the House of Representatives turned out for a talk by Supreme Court Justice Antonin Scalia on Monday in a session participants called "very conversational" and a "wonderful exchange of ideas."
Scalia was invited by the Tea Party Caucus of conservative Republicans, though several Democrats attended as well. Minnesota Rep. Michele Bachmann, the caucus chairwoman, said so many members and their aides turned out that the group had to get a larger room.
"Everyone was very respectful," Bachmann said after the session, which was closed to reporters. "We were delighted by his remarks, and then he opened up to questions. And both Democrats and Republicans stood up and asked questions of the justice, and he gave freely of his time."
Monday's session with the 74-year-old justice was billed as the first in a series of twice-monthly "conservative constitutional seminars," although all members of Congress are invited, according to organizers. Scalia has been among the Supreme Court's most conservative members since he joined in 1986.

GOP vs. the Tea Party

Bachmann flubs history?
"This is a wonderful exchange of ideas, to see where somebody who's such an authority on the Constitution renews a vigor that we've all see in this last election and also rewards us from an insight from how they see that," said Rep. Paul Gosar, R-Arizona, one of the dozens of newly elected Republicans in the House. "I'm proud to be one of those freshmen that wants to learn more and to see how that application comes."
Republican leaders have gone to great lengths to feature the national charter since taking control of the House. One of the first orders of business was to set aside time for a full public reading of the Constitution on the chamber floor and to require that all bills include a statement explaining their constitutional authority.
Bachmann said that other justices would be invited to future sessions, including those with different judicial philosophies from Scalia's.
Though mostly Republicans attended the talk, it was also joined by four Democrats -- Jan Schakowsky of Illinois, Mike McIntyre and Mel Watt of North Carolina and Jerrold Nadler of New York. Nadler described the sometimes-caustic justice as respectful of members and "very conversational."
Schakowsky described the discussion as "pretty dry" and "perfectly suited for a bipartisan audience." She said Scalia suggested everyone read the Federalist Papers, the 1787-88 essays that argued for the adoption of the Constitution "and underline them and dog ear them."
Rep. Trent Franks, R-Arizona, said Scalia steered away from questions about matters that could come before the high court.
Scalia is a popular speaker who keeps a busy off-the-bench schedule, talking in various forums around the world. But critics of his appearance with the Tea Party Caucus said it could raise the appearance of impropriety and lead to political polarization over the high court. A New York Times editorial called the arrangement "outlandish" and "dismaying."
Neither the Supreme Court nor the justice's chambers had any comment on the upcoming event. Edward Whelan, a former Scalia law clerk and head of the Ethics and Public Policy Center, downplayed any concern.
"Does he think it's improper for any justice ever to speak to any group of members of Congress who might be perceived as sharing the same general political disposition?" he asked in a posting on the National Review's Bench Memos blog. "My guess is that, schedule permitting, Scalia would be happy to speak on the same topic to any similar group of members of Congress who invited him."
Substantive meetings between members of the high court and legislators are not unusual.
Justice Stephen Breyer in the past week addressed a private bipartisan retreat for House Judiciary Committee members. The justice had been chief counsel to the Senate Judiciary Committee from 1979 to 1980 under then-Chairman Edward Kennedy, D-Massachusetts.
The House committee is now chaired by conservative Rep. Lamar Smith, R-Texas, who invited Breyer to talk about achieving bipartisan success.
CNN's Bill Mears and Deirdre Walsh contributed to this report.