White House environmental adviser Browner to step down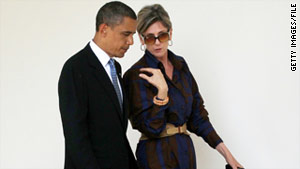 Carol Browner was one of President Obama's leading voices during the Gulf oil spill crisis last year.
STORY HIGHLIGHTS
Carol Browner was a key player in the Gulf oil spill response
The move comes amid a White House midterm shakeup
Washington (CNN) -- President Barack Obama's top White House adviser on energy and the environment, Carol Browner, is planning to step down within a few weeks, senior officials said late Monday.
Browner, a former Environmental Protection Agency chief, was one of the Obama administration's leading voices during the Gulf of Mexico oil spill last summer. She was seen inside the administration as a cool hand during the months-long struggle to contain the underwater gusher that was unleashed when the oil rig Deepwater Horizon exploded and sank in April.
The move comes amid a midterm White House shakeup that includes the departure of Obama's top political adviser, David Axelrod, and White House spokesman Robert Gibbs.
Browner had been under consideration for a powerful deputy chief of staff job focused on policy issues. But Democratic sources said Browner's move makes it more likely that Nancy-Ann DeParle, Obama's well-respected health-care "czar," will broaden her portfolio.
From CNN White House correspondents Ed Henry and Dan Lothian