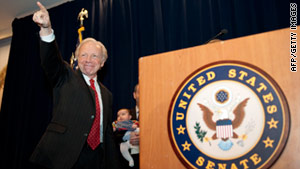 Sen. Joe Lieberman says he thinks he would have been re-elected, although it would have been a tough campaign.
STORY HIGHLIGHTS
Lieberman, Hutchison, Conrad won't seek re-election
The senators call for bipartisanship
Lieberman: "I would have won" in 2012
Washington (CNN) -- Three longtime senators who have decided not to seek re-election in 2012 said Sunday that they believe the country is ready for serious bipartisan cooperation on major issues -- especially tackling the massive national debt.
"When we begin to act in that way, working across party lines ... then it not only gets things done, but it increases the characteristic American optimism and confidence," independent Sen. Joe Lieberman of Connecticut, told ABC's "This Week." "To raise the GDP, I've been saying, we've got to raise the GDC, the gross domestic confidence."
Sen. Kay Bailey Hutchison, R-Texas, and Sen. Kent Conrad, D-North Dakota, joined Lieberman in rejecting suggestions that their departures indicate that taking some centrist or moderate positions or reaching across the aisle can be politically disastrous.
Lieberman, a former Democrat who supported Republican Sen. John McCain in the 2008 presidential election, acknowledged that he would have faced a challenge holding onto his seat in 2012.
"I believed I would have won re-election," he said. "Obviously, it would have been a tough campaign. But, you know, as I said, so what else is new? I've run -- almost all my campaigns have been tough. That's not the reason why I didn't run. I didn't run because I want to try something different."
Lieberman did not specify what will be his next venture.
Hutchison, who described herself as a "reliable conservative," faced a challenge from the tea party movement if she had sought re-election.
She acknowledged Sunday that "there are people who think that maybe I fought too hard for Texas in spending areas."
"I mean, I read the blogs, and it gets kind of depressing, frankly, to read those blogs," she said.
But she insisted she had support from tea party leaders, and said "the tea party has done a good thing in awakening America to the problems that we are facing and saying we can do something about it. And I appreciate that."
Hutchison similarly said she believes "that, if I had run, I would have won. It would have been a tough race, for sure, but I think I would have won, because I think my record is good, and it is to be effective and get things done."
She decided not to run again for personal reasons, Hutchison added. "I commute every week. I have two young children. And the time was right for me."
Conrad, meanwhile, called for Democrats and Republicans to come together and take strong steps to change the U.S. economy. Part of the fiscal commission that proposed reducing U.S. debt by $4 trillion over the next 10 years, Conrad said leaders need to lay out the cold, hard facts clearly for the country.
"The American people say, 'Don't touch Social Security, don't touch Medicare, don't cut defense.' That's 84% of the federal budget. If you can't touch 84% of the federal budget -- and, by the way, they also don't want to touch revenue -- you're down to 16% of the budget at a time we're borrowing 40 cents of every dollar we spend," Conrad said.
"So, you know, there needs to be leadership to help the American people understand how serious this problem is and that
it's going to take a lot more than cutting foreign aid and taxing the rich. You're not going to solve the problem that way."
Hutchison suggested that some key measures to cut federal spending will be passed soon.
"I think we're going to have to be doing a lot more of that in the next few weeks," she said, "because we all agree."
FOLLOW THIS TOPIC