STORY HIGHLIGHTS
SCOTUS Justice Elena Kagan gets jury duty
Sasha Obama practices Chinese with a special guest
Rutherford B. Hayes to run for president in 2012
Washington (CNN) -- Politics is serious business -- but not all of the time. From the halls of Congress to the campaign trail to the international stage, there's always something that gets a laugh or a second glance.
The most informed juror
New Supreme Court justice Elena Kagan found herself among fellow Washington residents on Thursday -- waiting at D.C. Superior Court after receiving a jury summons.
"Sporting dark trousers and a checkered patterned sweater jacket, she sat quietly, reading through what appeared to be a legal brief and making handwritten notes in the margin," ABC News' Devin Dwyer reports.
In the end, Kagan wasn't selected, and later "dropped her plastic badge in the trash can and left the courthouse without stopping to collect her $4 transportation stipend."
Michelle's dress not Oscar-worthy
Famed fashion designer Oscar de la Renta -- who has dressed the likes of Secretary of State Hillary Clinton and Glee actress Lea Michelle -- is none too pleased with first lady Michelle Obama's gown choice for the state dinner honoring Chinese President Hu Jintao.
As for her Alexander McQueen dress, de la Renta told WWD that "My understanding is that the visit was to promote American-Chinese trade -- American products in China and Chinese products in America. Why do you wear European clothes?"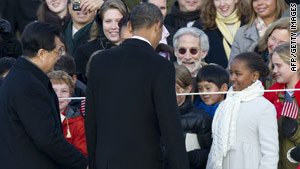 Chinese lessons
What better way to practice your Chinese than a one-on-one with China's president? First daughter Sasha Obama found that out during President Hu Jintao's visit to the U.S.
"She's under 10 years old and they're studying Chinese, and she wanted to have the chance to practice her Chinese with President Hu," White House deputy national security adviser Ben Rhodes said on a video conference with Chinese bloggers, Reuters reports.
Rutherford B. Hayes to run again?
No, not that Rutherford B. Hayes.
USA Today's Fredreka Schouten writes: "The election is nearly two years away, but Rutherford B. Hayes is readying his presidential campaign. That's Rutherford Bert Hayes, a 42-year-old Navy veteran who runs a gutter business and is no relation to the nation's 19th president."
From 'Borat' to Saddam
"Borat" star Sasha Baron Cohen's next comedy project will be playing former Iraqi President Saddam Hussein in the upcoming movie "The Dictator."
The movie -- slated to come out in May of 2012 -- is inspired by Hussein's "Zabibah and the King," a romance novel originally published anonymously in 2000, reportedly as an allegory for the U.S. invasion of Iraq in the First Gulf War.
Notable quotable
"I think people understood me very well. They just didn't like it," outgoing Republican National Committee Chairman Michael Steele to MSNBC's Rachel Maddow.
Headline of the day
PageOneKentucky.com: "Knife Fighter Heading Up DGA Communications"
eBay isn't just for old baseball cards
The cash-strapped state of New York is looking for a familiar way to bring in revenue: using the popular online auction website eBay.
"The deficit-ridden state government pocketed $1.3 million last year by selling its unwanted junk to hoarders across the nation through the online auction site eBay," the Daily News found.
Some of the items on display this year? Everything from old lawnmowers to used vending machines.
Late-night laughs
Jay Leno: (Chinese) President Hu Jintao had dinner at the White House last night. ... I understand that him and President Obama are going to exchange gifts from two countries. But unfortunately everything in our country is now made in their country."
David Letterman: And he (former Vice President Dick Cheney) predicts now that President Obama will be a one-term president. This is coming from a guy who predicted weapons of mass destruction in Iraq."
Stephen Colbert: "The United States is presently hosting Chinese President Hu Jintao. At least I assume it's him. It's always possible we got a cheap Chinese knock-off."
The CNN Wire contributed to this report.
FOLLOW THIS TOPIC