Washington (CNN) -- Politics is serious business -- but not all of the time. From the halls of Congress to the campaign trail to the international stage, there's always something that gets a laugh or a second glance.
Harkin's 'Poker Face'
Democrats are learning that music sensation Lady Gaga's presence brings in a younger demographic, media coverage and lots of money.
The Hill reports that Sen. Tom Harkin, a Democrat from Iowa, will be raising funds at a Gaga concert in February.
"According to an extra-jazzy invitation, with no fewer than 17 unique disco balls on it, guests can attend the Feb. 24 Lady Gaga show at the Verizon Center as VIPs with Harkin for the bargain price of $1,000 per person for individuals, $1,500 each for political action committees."
Another Democrat that got the Gaga treatment? Senate Majority Leader Harry Reid, who often tweeted back and forth with the "Just Dance" singer during the "don't ask, don't tell" repeal debate.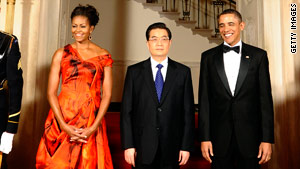 Seeing red
First Lady Michelle Obama lit up the state dinner at the White House Wednesday night for Chinese President Hu Jintao with a bright red dress from the late designer Alexander McQueen.
While some have criticized her color choice -- a deep red that they said honored China --- others say the gown was fierce.

"The dress also served as a razzle-dazzle fashion moment. An American first lady was embracing a brand known for its willingness to push boundaries, to agitate, and even to offend," Robin Givhan writes in the Daily Beast.
Attention Walmart shoppers
The first lady has taken her "Let's Move!" fitness campaign throughout the country. And it's apparently inspired one of the nation's top companies to follow suit.
Mrs. Obama joined Walmart executives today to help launch the company's Nutrition Charter, the White House announced.
"The initiative proposes a number of changes by Walmart to offer more nutritious food products, lower the cost of healthy foods, and provide consumers with better information about healthy food options," the press release said. "These changes are the types of improvements critical to achieving the primary goal of Let's Move! -- solving the problem of childhood obesity within a generation."
Et tu, Huntsman?
President Obama joked on Wednesday that his ambassador to China -- Republican Jon Huntsman -- may be one of his challengers in the 2012 election, The Hill reports.
"I'm sure the fact that him having worked so well with me will be a great asset in any Republican primary," Obama said at a White House press conference with Chinese President Hu Jintao.
Headline of the day
The Hill: "Hot dogs land on Capitol Hill"
A GOP drinking game
On the House floor Wednesday, Rep. Anthony Weiner, D-New York, flared up when discussing efforts by House Republicans to repeal and replace President Obama's health care reform law.
"For all of you sitting and watching at home, playing the drinking game where you take a shot every time a Republican lies; you better get a designated driver," he said.
Wedding bells for Condi?
CNN's Piers Morgan prodded former Secretary of State Condoleezza Rice on if wedding bells are in her future.
"Dr. Rice, while you remain one of the most eligible women in Washington, how have you avoided being snared in the marital trap?" he asked on Wednesday.
Her response: "You don't get married in the abstract, you find someone you want to be married to. ... I think [marriage] it's a wonderful thing, marriage, who knows maybe sometime."
As for a Cinderella-like marriage? "I think I'm well beyond the fairy tale marriage stage," she said.
It pays to talk and talk and talk
The Wall Street Journal notes that Sen. Bernie Sanders, an independent from Vermont, who spoke for 8½ hours on the Senate floor last month to rail against the extension of the Bush-era tax cuts is now getting into the publishing business.
The entire speech will become the book, "The Speech: A Historic Filibuster on Corporate Greed and the Decline of Our Middle Class."
Notable quotable
"On Wednesday, Senator Joe Lieberman of Connecticut announced that he won't be a candidate for re-election in 2012. Normally people look particularly appealing when they're promising to go away. This time, not so much" -- New York Times columnist Gail Collins.
Late-night laughs
Jimmy Kimmel: "I'm all for making nice with the Chinese, but when is somebody going to hold President Hu responsible for letting the dogs out"
Jay Leno: "The Republicans voted today to repeal health care reform. Democrats warned this could make it harder for older Americans to get proper health care. To which [Playboy founder] Hugh Hefner's fiancee said 'Good!'"
David Letterman on Secretary of State Hillary Clinton: "Have you noticed she's been putting on a little bit of weight? She needs to spend more time in Iraq and Iran than less time with Turkey and Chile. ... If she gains 10 more pounds, Bill's going to start hitting on her."
FOLLOW THIS TOPIC