STORY HIGHLIGHTS
Bill Daley, Obama's chief of staff, has a different approach than predecessor Rahm Emanuel
"He can administer the medicine without telling you to drop dead," Brazile says
Daley's won praise for being a D.C. outsider, but he's no humble middle-class worker bee
Longtime friend says she saw zest for politics in "Billy" Daley when they were kids in Chicago
In "The Sweep," CNN dives deep into issues that are making news and explores why they're in the headlines.
Washington (CNN) -- As he drove to a Dunkin' Donuts in Nashville early on Election Day 2000, Bill Daley's reputation for being the calmest guy in the middle of a crisis was being severely put to the test.
It was 6:30 a.m., and Daley had just picked up Don Baer, a last-minute addition to Vice President Al Gore's campaign to help with communications strategy, at his hotel. They decided to get a cup of coffee on their way to Gore's campaign office to begin fueling up for what could be a long night of waiting for election returns.
"It was just the two of us in that car going into the headquarters that morning, and we were talking about what the day might hold," Baer told me.
As a guy who's had two legendary Chicago mayors in his family, Daley thought he had seen everything in politics. But as he sifted through the possibilities with Baer in the car -- including one nightmare scenario where Gore could win the electoral vote but lose the popular vote to Republican George W. Bush -- Daley grew more and more perplexed.
"You talk about crisis management, this was it in its classic form," Baer recalled. "I remember Bill saying to me as we drove over there, 'I am too old for this.' "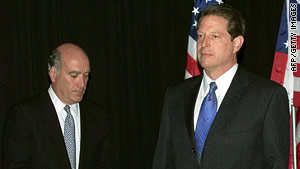 Daley uttered that statement at the ripe age of 51, not knowing that within a few hours all hell would break loose, and the opposite of his early-morning fear about the presidential race would play out: Gore won the popular vote, but the electoral count wound up in bitter dispute.
A monumental task
Fast-forward more than a decade, and now the man who said he was "too old for this" in 2000 is facing a far more monumental task than the contested election, as President Obama's new chief of staff.
"Yeah -- he's younger now," David Axelrod, a longtime Daley friend, joked to me in an interview at the White House after I mentioned the Baer anecdote from 10 years ago. "Bill has been out of public life for awhile and I think he missed it."
In fact, I hear that some of Daley's other longtime friends have been teasing him in recent weeks about tackling such a big job at the age of 62. One of those friends, who spoke on the condition of anonymity to speak more freely about private conversations, said that at a dinner with colleagues in Washington, Daley quipped that he's still getting too old for these big jobs.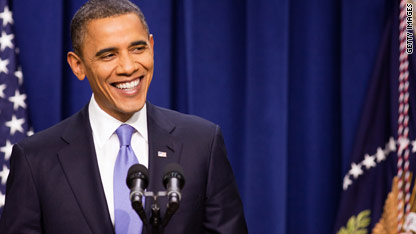 Obama's approval rating
And yet he keeps coming back for new challenges -- perhaps none as extraordinary as this one.
Thursday will mark the second anniversary of Obama's inauguration. And while time has whizzed by for top White House officials, Axelrod will never forget the advice he received that day from outgoing President Bush as the two men stood on the platform waiting for the oath of office to be administered.
"He said, 'Axelrod, you need to enjoy this. This is going to be the ride of your life, and it will go by quicker than you imagined,' " Axelrod recalled about Bush's advice. "Bill knows that and understands that. He comes into this office with his eyes open."
Daley has to try to help Obama fix the economy, repair the White House's fractured relationship with the business community, fend off Republican efforts to repeal signature achievements like health reform, finally wrap up two wars, and then win an uphill re-election fight. Oh, yeah -- and do it all while dealing with a newly divided Congress after the shellacking just a few months ago.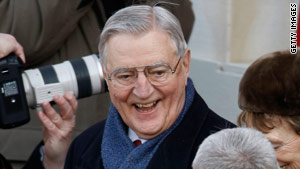 When I ticked off that list of challenges in a telephone interview with former Vice President Walter Mondale, he let out a half-laugh, half-sigh.
"It's a huge broad range of problems that will collide at some times," Mondale said, adding of Daley: "One of the things he's got to do is keep contact with the outside world. It's almost impossible to get around all of these problems. These are going to be a tough couple of years."
But Mondale, who counted Daley as a key adviser in his failed 1984 bid for the presidency, said the new chief of staff is battle-tested for Obama.
"He was on the plane with me -- maybe eight stops a day," said Mondale, who recalled that it was Daley who calmed him down amid the fierce pressure of a national campaign. "He's a good combination of steady, solid, and people-oriented."

Obama names Bill Daley chief of staff

Daley a good choice for WH?
Sugar-coating not an issue
And with Obama facing criticism after the midterm election that perhaps his administration was stuck in a bubble, Daley is not afraid to show his differences with the White House -- he was vocal in the last two years about his concerns that the health care and Wall Street reform bills were too sweeping. Obama will not have to worry about his chief of staff sugar-coating events, if his days as chairman of the 2000 Gore campaign are any guide.
"I never had to deliver any bad news to the vice president -- that was Bill's job," CNN contributor Donna Brazile, who was Gore's campaign manager, said with a hearty laugh. "He's not afraid to take on difficult decisions."
Brazile says there are many similarities between Daley and Obama's first chief of staff, Rahm Emanuel, besides their common hometown of Chicago. But she also sees major differences -- including Daley's diplomacy -- that will help Obama deal with the new dynamic he's facing in the next two years with a divided Congress.
"Rahm is tough and tenacious," said Brazile. "Bill is tough but he can administer the medicine without telling you to drop dead. But they're both great people -- Rahm just has a different way of showing it."
A more aggressive outreach
It's a notion that is backed up by very prominent Republicans like Ken Duberstein, who served as President Reagan's chief of staff. He says Daley will bring more aggressive outreach on a number of levels as Obama deals with divided government.
He's the right person at the right time.
--Ken Duberstein, President Regan's chief of staff
"He's the right person at the right time," Duberstein said. "He understands he is staff, not chief. And he understands he needs to be a bridge-builder to not just Republicans and the business community, but the press too."
While Daley has also won praise for being a Washington outsider -- at least for the last few years -- who can add a breath of fresh air to the White House after running JP Morgan Chase's Midwest operations, it's important to remember he's not a humble middle-class worker bee. He earned as much as $5 million per year at the bank, and is selling about $7.7 million in JP Morgan Chase stock in order to cut down on potential conflicts of interest.
Nevertheless, friends like Axelrod stress that this is a guy with public service in his bones who is ready to help Obama turn the page on some of the struggles of the past two years.
A noble calling
"He was raised to believe that public service is a noble calling and that's what he loves," Axelrod added. "And so he's been here a week or so and his enthusiasm is palpable. I've known him for 32 years or something, and I can see how fundamentally excited he is to be here and think about the job ahead."
To hear Colleen Dolan tell it, she saw that enthusiasm for politics in "Billy" Daley when they were growing up together in Chicago.
"When he was young -- really young -- he was always focused on the national political thing," she said in a telephone interview from her summer home in Michigan. "It was unusual for a 7- or 8-year-old, but not every 7- or 8-year-old went to the political conventions with his father."
That would be the late Richard J. Daley, the famously autocratic mayor of Chicago starting in 1955, who had a summer home in Michigan, down the street from the Dolans. Dolan remembers complaining one summer about how the boring gavel-to-gavel coverage of one of the political conventions had dragged on for days and pre-empted her favorite TV shows.
"(Bill) was mad at me," recalled Dolan, who is now spokeswoman for the Catholic Archdiocese of Chicago. "He said, 'This is important.' I thought he was nuts. He said, 'You just don't get it.' We were little kids and he was trying to convince me."
The point is not lost on Axelrod, who is leaving the White House after the State of the Union address next week, and thinks the sense of history that Daley brings to the job will be immensely helpful to Obama.
"The first time he was in the Oval Office was 50 years ago with JFK when he invited Mayor Daley there on his first day in office," said Axelrod. "He's been here before any of us and he knows what this is all about."
Daley is also known for his self-deprecating humor, with friends insisting that despite his perfectly starched shirts and expensive bankers' suits, which he had even before his days as a banker, he has never taken himself too seriously.
The best example might be the time that the late Chicago columnist Mike Royko, who delighted in taking pops at the entire Daley family, wrote that Bill and his eldest brother Richard M. Daley (the second mayor in the family) were -- well, there's no easy way to say this -- too dumb to tie their own shoes.
Royko later told Axelrod, who started his career as a journalist in Chicago, that he was all ready for a brawl after that vicious column, when suddenly he got a call from Bill Daley.
Daley had a surprise reaction that headed off a nasty fight, no doubt realizing it was better for his brother's political ambitions to make peace with media adversaries.
"He said, 'I don't want you to worry about us,' " Axelrod recalled with a laugh. " 'We all wear loafers now.' "
Suited for business
When Daley showed up for his first day as chairman of the Gore campaign in July 2000, it was his business suit, not his shoes, that got all the attention.
After being associated with Mondale's crushing loss, he arrived at Gore's headquarters -- which appropriately enough, given Daley's centrist views, was located on Mainstream Lane in Nashville -- with a string of political victories under his belt.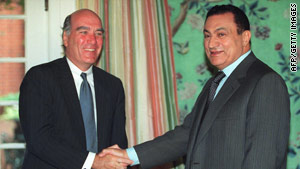 There was his brother's mayoral win in 1989. And then in 1993, he had worked closely with a young Clinton White House aide named Rahm Emanuel to help pass the North American Free Trade Agreement despite fierce opposition from liberals. That win got Daley on Clinton's radar screen, and he was tapped to serve as commerce secretary in Clinton's second term. He again won plaudits in that job for his ability to reach across the aisle and was said to be on Gore's short list of possible VP picks.
Daley's VP chances ended in the summer of 2000 when campaign chairman Tony Coelho abruptly stepped down because of health issues. In fact, the handwriting was on the wall long before that, after a series of missteps -- Gore's disastrous flirtation with earth tones to soften his image, months of infighting among the campaign's high-powered consultants, and the candidate's near-paralysis over how to use or not use Bill Clinton -- left Bush with a lead of about 10 points.
Gore called Daley after midnight one night that June to ask -- or actually insist -- that he take over as chairman.
"I was out of it, I mean dead sound asleep," Daley later told The New York Times. "I said, 'Well, why don't we get together tomorrow and have a cup of coffee?' And he said, 'Why don't you get up and make a cup of coffee?'"
A month later, when Daley's car pulled up outside the Nashville headquarters, there was quite the scene. Gore aides recount that the office was on the first floor of the building and there was a "wall of windows" looking out at the parking lot.
A lot of aides were nervous about whether their jobs were on the line, so a number of them were staring out at Daley to get a glimpse at the new guy. "We knew he was coming and we were curious about the tone he was going to set, so we were looking out the windows at his arrival," recalled one senior Gore aide. "Everyone in the campaign was in jeans and flannel shirts or T-shirts and had this, 'We've been here too long' look. And meanwhile he's all business."
Daley stepped out of his car in a crisp business suit, bearing a closer resemblance to the guy sitting across the table when you sign your documents at a mortgage settlement table than a campaign boss.
"He was suited up -- I mean he stuck out," recalled the senior Gore aide. "And the second he walked in, he didn't really say hello. He just kind of marched into the back, where he went into a series of closed-door meetings with senior staff and the campaign consultants."
Cleaning up a mess
This account was confirmed by a second Gore aide, who recalled that at that point the campaign was a mess. Suddenly with Daley at the helm, the mood shifted.
"There was a sense that there was going to be more of a grownup presence and we needed that," said this second Gore aide.
The anxiousness of Gore aides about Daley's arrival is similar to the feelings of some White House aides now, on pins and needles about what changes the new boss may make. Axelrod acknowledged "there are challenges associated with coming into an administration two years in," when people have gotten comfortable in their roles.
"Bill has already begun to put people's minds at ease," Axelrod told me, that he's going to retool the White House but not shake it up completely.
Brazile said Daley took the same approach to the Gore campaign in 2000.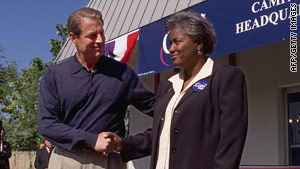 "At first I didn't like the way he dissected the operation," Brazile said with some understatement. After all, she was the campaign manager, and suddenly Gore had brought in this new guy to put his own stamp on the team.
"But in hindsight, he was absolutely right," she said. "He looks at the whole operation and he figured out our weaknesses and he took it apart. And I think he will do the same at the White House."
Brazile's point is that rather than toss her and other top advisers aside, Daley simply relieved them of duties they didn't want anyway and focused them on tasks that played to their strengths.
"He'd say, 'Donna, you're better at getting out the vote -- I'll work with the campaign consultants,'" Brazile recalled. "And I said, 'Thank God, you try to work with Bob Shrum every day.' It freed me up to do what I do best."
No hard feelings
It's a testament to Daley's diplomatic skills that Brazile, whose power was diminished in some ways when Daley took the helm, expresses no hard feelings, more than a decade later.
"Bill is a great man," Brazile said. "He gives people room and latitude to do your job. He doesn't look over your shoulder."
Now Daley has begun a far more difficult challenge, serving as Obama's chief of staff at a time in our political history that has grown ever more tumultuous since the divided election of 2000. There's no doubt Obama was dealt a pretty tough hand -- an economic catastrophe, two difficult wars, and a deeply divided public on emotional issues like immigration.
In the first two years, Obama was still able to rack up some major achievements, from health care reform to reshaping the nation's financial regulations. But by his own account, Obama has not always played the already-difficult hand well. In a private meeting with leaders of both parties after the midterm election, he was candid about telling them he has sometimes fallen short in following up on his vows to work with the other side.
"I think you're right -- the president was very candid with those Republican and Democratic leaders after the election that he had to do better," outgoing White House spokesman Robert Gibbs told me. "And I think, quite frankly, we were -- the country was successful at -- in getting things done in the lame-duck session because of that very notion. And I think you'll see -- I think you'll see a greater effort on our part, in a much more systematic way, to do the types of meetings that we had here before."
Enter Daley, who has an impressive resume of working closely with Republicans, and seems determined to move Obama to the political center. That has only aggravated liberals, which means Daley can now add a potential civil war within his own party to the long list of headaches he faces in the next two years.
The first sign of Daley's influence in getting Obama to offer an olive branch to the business community came this week, when the president signed an executive order creating a government-wide review of federal regulations to remove outdated rules that hurt job creation.
Business pleased with choice
That brought delight to Tom Donohue, the powerful president of the U.S. Chamber of Commerce, who has sparred with Obama on a range of issues like health care, but is now thrilled with Daley's ascension.
"He's got great political experience, he's worked in government at very high levels," Donohue told me. "He was the secretary of commerce, he's been involved in the banking business, the telecommunications business, he's traveled the world and he's a damn good manager."
Donohue, however, was quick to add another note of respect: "But I told our folks here, 'He's not going to be a pushover for the business community, he's a very tough guy.'"
The downside for the White House, of course, is that praise from folks like Donohue has convinced the left that Daley is a corporate sellout -- an opinion that had only become more pronounced during his recent time as an executive making all those millions after his time in the Clinton administration.
"Every policy fight in the last few years -- from holding Wall Street accountable to health reform -- Daley has urged a more corporate position," said Adam Green, co-founder of the Progressive Change Campaign Committee, who has called Daley's appointment as chief of staff an "unfortunate mistake" by the president. "So we hope Obama doesn't listen to his political or policy advice."
This tension is bubbling now that Obama has combined the Daley hiring with placing two other prominent centrists from the Clinton administration in key posts: Gene Sperling as chairman of the National Economic Council and Bruce Reed as Vice President Biden's new chief of staff.
A position of strength
"The Clintonistas are coming back to town big time, boy," CNN contributor John Avlon said with a grin. "Look, the far left is not going to be happy -- they are going to feel abandoned or ignored by these decisions. But what they're going to do is strengthen the administration's connection to the center, which is precisely what they need to do, to not only govern effectively for the next two years, but also look towards 2012 from the strengthened position."
That's why, when the president addresses the nation next Tuesday night in his State of the Union address, top aides say it will build on the president's highly successful speech at the University of Arizona memorial service after the Tucson tragedy.
"Improvements in our civil discourse and how we debate issues will certainly play a role in this year's State of the Union," Gibbs said.
Also look for Obama to lay out a serious plan to cut the budget deficit -- a major issue for independents who rolled the dice with Obama over Sen. John McCain, R-Arizona, in 2008, but abandoned the president in 2010 -- especially since Reed has been most recently serving as staff director for the president's debt panel, co-chaired by Erskine Bowles and Alan Simpson, which so far has gotten no traction with its final report.
"The President is going to present a budget that is serious about spending cuts and deficit reduction," predicted CNN senior political analyst David Gergen. "And he is putting people in place who have reputations as bridge-builders to the other side."
Avlon, a co-founder of the centrist "No Labels" group, said all of this is a sign that Obama is listening to the strong message voters sent him in that "shellacking" in November.
"This is a very clear, consistent message being sent by the president since this election that he heard the results," Avlon said. "That he is going to strengthen the center of his administration, reach out to independent voters, and be in a position to lead -- working with Republicans in Congress, to the extent that's possible."
While many liberals may not like that, Mondale for one is urging his friends on the left to be patient.
"I'm an old liberal and I like Bill," he told me. "He's a businessman, but he's a good Democrat. He will provide good guidance for a sensible route. I don't hold it against the president for reaching out to people who have experience."
Experiences like election night 2000, when Daley had to make the tough call to stop Gore from walking out to Memorial Plaza to concede the presidential race to Bush. There were thousands of Gore supporters waiting in the plaza and high-fiving each other as some TV networks called Florida for the Democrats. Then it was suddenly pulled back and some started calling the state for Bush.
"It was a state of confusion," recalled one Gore staffer who was in the plaza. "It was raining, it was dark, it was cold and we didn't know what was happening. And then (Daley) came out and gave this eloquent speech."
It was now 4 o'clock the morning after the election -- about 22 hours after Daley's morning stop at Dunkin' Donuts -- and Gore's campaign chairman was calm and blunt.
"This race is simply too close to call and until the recount is concluded," he said. "Our campaign continues."
Brazile recalled this as the precise moment when she knew Daley could tackle any difficult problem.
"Put it this way: I've seen him in action under the most stressful conditions -- a tied election," Brazile said. "I saw him for 37 long, excruciating days. I knew his temperament was right that rainy night in Nashville."
FOLLOW THIS TOPIC