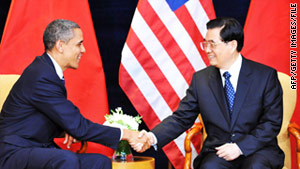 STORY HIGHLIGHTS
Chinese President Hu Jintao arrives in Washington on Tuesday
Trade, military, North Korea, human rights among issues they might discuss
China's concerns include regime stability and continued economic growth
(CNN) -- The U.S.-China relationship has gone "global," Secretary of State Hillary Clinton says, with Washington and Beijing working together on nearly every major international issue, from global change, to nuclear proliferation and terrorism, to piracy on the high seas.
With Chinese President Hu Jintao in Washington, here are some of the issues that could come up as he and President Obama discuss a vision for U.S.-Chinese relations in the 21st century.
Trade
Simmering trade disputes between the two countries will likely be high on the agenda this week.
By buying so many Chinese goods, the U.S. is literally sending its dollars abroad. The Chinese then use those dollars to buy U.S. government bonds. While that allows the United States to continue borrowing, U.S. taxpayers are paying interest on those loans.
For years U.S. business has argued that the trade deficit with China isn't necessarily the fault of shoddy U.S. products or greedy U.S. consumers. They say China has specific polices in place that encourage this imbalance, including currency manipulation, export quotas and fees, "buy local" rules, export subsidies and dumping -- selling products for export at prices below what they cost to produce.
Military
China's military is increasing its reach and arsenal with an aggressive expansion.
Signs of China's growing military ambitions are evident. A Chinese-developed stealth fighter jet recently took its maiden flight, and is expected to be in production by decade's end. The country has created a long-range missile that could hit American ships at sea in the Pacific and is building its first aircraft carrier to launch offensive missions far off China's coast.
China's arsenal is backed by increased military spending -- a 12 percent increase in just the last decade. Still, its annual spending of $78.6 billion in 2010 was just a fraction of the U.S. defense budget, which was $663.8 billion the same year.
The Chinese insist their military spending is to protect its national security and not targeted at the U.S., but American officials are not convinced. The chairman of the Joint Chiefs of Staff, Adm. Michael Mullen, told reporters recently that "many of these capabilities seem to be focused very specifically on the United States."
With growth come concerns of control. U.S. Defense Secretary Robert Gates visited China last week to discuss military relations between the two countries. The Chinese had stopped the cooperation over proposed U.S. sales of weapons to Taiwan. Gates said there may be a disconnect between the country's civilian and military leadership, an assertion most visible when Hu claimed he was unaware of the fighter jet's test flight during Gates trip.
North Korea and Iran
The U.S. has urged a reluctant China to use its considerable influence to persuade North Korea to stop its belligerent behavior towards its neighbor South Korea and end its nuclear program, which the Obama administration says is now becoming a direct threat to the United States. The U.S. also wants China to enforce tough sanctions against Iran and send a message to Iran to stop its own nuclear activities.
Human rights
The Obama administration is urging Beijing to release political prisoners like Nobel laureate Liu Xiaobo, protect the rights of minorities in Tibet and give its people the freedom of expression and worship, arguing that respect for human rights will benefit the long-term peace, stability and prosperity of China. Clinton has called for freedom of expression for everyone, from activists to bloggers, to "foster the open exchange of ideas that is essential to innovation and a creative economy."
China's concerns
China's main concerns are regime stability, continued economic growth, markets for its goods and access to resources around the world to fuel that growth. In the near term, China will continue to benefit from America taking the lead on diplomatic issues around the world and paying the political and economic cost, experts say.
CNN's Elise Labott, Jennifer Rizzo and Kristi Keck and CNNMoney's Steve Hargreaves contributed to this report.