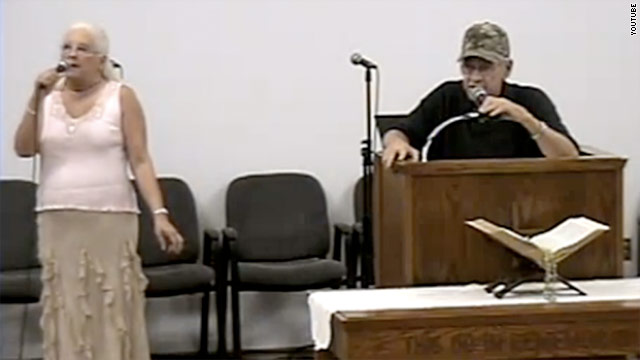 STORY HIGHLIGHTS
Musicians sing their love for Sarah Palin
Jon Stewart takes on outgoing RNC Chairman Michael Steele
House Speaker John Boehner to get the cartoon treatment
Washington (CNN) -- Politics is serious business -- but not all of the time. From the halls of Congress to the campaign trail to the international stage, there's always something that gets a laugh or a second glance.
Palin will 'throw 'em all in jail'
Sarah Palin has been a polarizing political figure -- popular with conservatives, a villain for those on the left and even musicians.
Two Palin supporters/amateur musicians are singing about their love for the former governor of Alaska to the tune of the "Battle Hymn of the Republic."
While the video was released last year, it gained buzz on Monday, the Huffington Post noted.
A sample lyric: "Sarah Palin, she'll throw 'em all in jail. And when she gets to Washington, it'll be cold as hell."
Headline of the day
Gawker: "Bill O'Reilly's Creepy Producer Is Now Stalking Snooki"
Notable Quotable:
"None of us have a reputation for sending dead fish to people ... poking people in the chest, cussing them out. The question is one of temperament. We are not mean-spirited or nasty" -- Chicago mayoral candidate Carol Moseley Braun said of Rahm Emanuel in a forum.
Boehner -- the cartoon
House Speaker John Boehner is about to find himself the target of a new set of critics now that he's gone from relative obscurity to the center attention: cartoonists.
"The first challenge for those artists is to introduce the new House speaker to a population that may not know him well," writes The Hill's Kris Kitto. "To do that, several political cartoonists say, they will rely on the few qualities that have already stood out: his Technicolor tan, perfect hair and free-flowing tears.
Going pan-Asian
ABC News' Jon Garcia reports that President Obama took his wife Michelle to The Source -- Wolfgang Puck's restaurant -- to celebrate her 47th birthday.
"They spent a little more than two hours in the sleek, modern, three-story restaurant with a menu billed as "pan-Asian" by a local food critic where a seven-course prix fixe dinner can run $125 per person without alcohol ($200 with wine or sake)," he writes. "But when asked what was on the menu for the president and first lady, the White House was mum on the topic."
What's in a name?
Jon Stewart laid into outgoing Republican National Committee Chairman Michael Steele last night -- a bit that's nothing new to "Daily Show" viewers.
"Even during his opening address, there were signs it wasn't going to be Michael Steele's day (video of the Republican National Committee sign falling during his speech at the chairman election)," he said.
"By the way, what was that logo underneath the RNC seal? Ah, I'm being told it's the logo of the hotel where they held the vote, which is the Gaylord National. And the logo is a flaming 'G' ... 'I'm not the RNC chairman, I'm lord of gay!' "
Must love dogs
According to The Philadelphia Inquirer, outgoing Gov. Ed Rendell has taken on a new cause: giving dogs to prisoners.
The goal: "To make a dent in the state's burgeoning stray-animal crisis while giving selected inmates responsibility for dogs -- a pairing that has worked well in prisons that have tried it."
Late-night laughs
Jay Leno: "Former Vice President Dick Cheney had to consult his physicians today. It wasn't for his heart. See, every time oil hits $100 a barrel, Cheney gets an erection that lasts more than four hours."
George Lopez: "The White House has announced they are going to stop building the virtual fence along the Mexican border ... because virtually everybody is already here."
FOLLOW THIS TOPIC