STORY HIGHLIGHTS
Ex-California Gov. Arnold Schwarzenegger talks about his money woes
President Obama takes time out to paint on a wall
Study finds that Supreme Court justices are actually funny
Washington (CNN) -- Politics is serious business -- but not all the time. From the halls of Congress to the campaign trail to the international stage, there's always something that gets a laugh or a second glance.
Quite an expensive investment ...
Arnold Schwarzenegger -- bodybuilder turned actor turned politician -- says his time as California's governor cost him at least $200 million, Reuters reports.
The reason? Lost income from not starring in blockbuster movies, he told Krone, an Austrian newspaper.
He insists, though, "I'm not sorry. It was more than worth it."
What wasn't worth it? Spending less time with the wife and kids.
"What was much worse was the damage my time as governor did to the family. There is a lot there that needs to be repaired," he said.
A 'Modern Family' in Washington?
The New York Daily News reports that the boyfriend of Sofia Vergara, one of the stars of ABC's "Modern Family," is weighing a run for Florida's Senate seat in 2012.
Sources tell the paper that Nick Loeb, an environmental consultant and "handsome scion to New York's Loeb Rhoades banking fortune," is "seriously considering" it.
"I've been approached by a lot of friends who supported me before, who have been very encouraging," he said.
Loeb is no stranger to the world of politics: His father, John Loeb Jr., was ambassador to Denmark during the Reagan administration.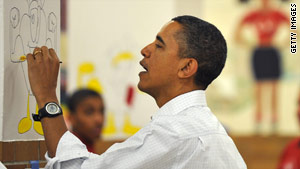 Move over, Bob Ross
In this Getty Images photo, President Obama paints a mural during a community service project in Washington for the Rev. Martin Luther King Jr. day of service.
If I were a betting woman ...
So who does former Secretary of State Condoleezza Rice think will win the Super Bowl? She told new CNNer Piers Morgan in an interview to air this week on his new 9 p.m. show:
"The good money at this point would have to say the New England Patriots ... but I'm going to say Atlanta Falcons."
Uh, neither will be in the big game; both lost their playoff games over the weekend.
Oh baby, baby
What ringtone does Spain's King Juan Carlos have on his cell phone? The "eerie sound of a giggling child," AOL's Andra Varin writes.
In an story in the Spanish newspaper El Pais, ambassadors who attended a ceremony at the royal palace found themselves interrupted by baby laughs.
"After a few seconds of uncertainty, His Majesty moved to a sideboard, reached in a drawer for his phone and put it on lock," Varin noted. "He politely apologized, then smoothly resumed the meet-and-greet."
No word yet on why the odd ringtone.
Keep your day job
The Washington Post reports that a new study of laughter during the Supreme Court's arguments indicates that "the comments from the justices that draw chuckles and guffaws are not aimed at ridiculing the advocates standing before them."
Justice Antonin Scalia, according to the study, was found to be the funniest yet grouchiest justice.
Headline of the day
Wonkette: "We Made a Michael Steele Hamster Dance"
Late-night laughs
Jay Leno: "W magazine asked celebrities to name movies that really made them cry (shows a spoof clip of House Speaker John Boehner crying to the movie 'Marmaduke')."
SNL: "If elected president, I (The Rent is Too Damn High candidate Jimmy McMillan) will not live in the White House, because the rent is too damn high."
SNL part deux: "Tom DeLay was sentenced to three years in prison for his role in a money laundering case, plus another 18 months for this (shows a video of his turn on ABC's 'Dancing with the Stars')."
FOLLOW THIS TOPIC