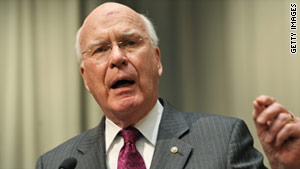 Sen. Patrick Leahy, D-Vermont, faced a security threat of his own after September 11.
STORY HIGHLIGHTS
Sen. Patrick Leahy, D-Vermont, says the demonizing of opponents has gone too far
"We all share the responsibility for lowering the temperature," he says
Congressional leaders are urging members to use security when needed
Washington (CNN) -- Sen. Patrick Leahy issued a stern warning Tuesday on toning down the rhetoric that many say led to the shootings in Tucson, Arizona.
"The seething rhetoric has gone too far. The demonizing of opponents, of government, of public service has gone too far," the Vermont Democrat said at an event the Newseum in Washington. "Our politics have become incendiary and we all share the responsibility for lowering the temperature. That is the responsibility we all have to keep our democracy strong and thriving."
His comments come amid a national debate on the tone of discourse on the Internet, television, radio and in the public square since the massacre during the "Congress on your Block" event on Saturday, in which Rep. Gabrielle Giffords was one of 20 people shot. Six others died, and Giffords, one of the most severely wounded, is in critical condition.
"It is time to stop the polarizing symbolism and instead work together on the substance on the many challenges we face as a nation," Leahy said. "Otherwise our country -- a blessed, bountiful and expansive nation that survived a Revolutionary War, a Civil War, two world wars and everything in between faces decline. I cannot accept that and neither should anybody in this room."

Lawmakers concerned over security

Scrutinizing the rhetoric

Senate security: Guns 'not the answer'

Capitalizing on Tucson shooting tragedy?
Leahy is no stranger to security threats -- In the wake of the 9/11 attacks, he was given protection after he was one of several government officials who received letters filled with anthrax.
"People died because the letter was addressed to me," he said. "And I still wonder who sent it and why they sent it. I think I'll probably wonder that for the rest of my life."
Leahy said that for a period of time, the Capitol Police provided security, but he ultimately felt that it was unnecessary since he felt safe.
But after Saturday's shooting, congressional leaders are taking no chances. On Monday, an e-mail went out to all lawmakers urging them to use precaution and request security if needed.
House Sergeant-at-Arms Bill Livingood, in the e-mail, told members that they should contact him if they hold public events, and ask local police to attend.
"I strongly urge Members and staff to be continuously aware of their surroundings and to immediately report circumstances that appear suspicious to your local law enforcement agency and then to the U.S. Capitol Police Threat Assessment Section," he wrote. "It is essential that each District Office establish communication with local law enforcement. The local agency should be informed of your District Office address and the Member's residential address."
Sources said lawmakers will receive a more in-depth briefing Wednesday from Capitol Police, the sergeant-at-arms and the FBI.
But the possibility of Capitol Police protecting all rank-and-file members of the House is simply unheard of. Those who do receive round-the-clock security, regardless of price, include top congressional leaders, including the speaker of the House, the minority and majority leaders, and others.
And it's not just that the number of police officers is limited. The funding is limited, too.
The House voted 410-13 last week to cut its operating budget by 5 percent -- a measure GOP aides say will save $35 million. But with the heightened focus on security, lawmakers already are demanding money be put back into the budget for security.
On Tuesday, Rep. Jesse Jackson, Jr., D-Illinois, said his staff is working on a proposal to restore the 5 percent cut -- and also offer a 10 percent increase in member budgets for security measures.
"In some districts, that will mean hiring security personnel for public events," he said in a press release. "In other areas, that may mean installing surveillance cameras at district offices as a deterrent or improving the locks or the entry systems in district offices. Some will need more resources in order to move their offices to a safer area."
Jackson said the shootings in Arizona served as a gripping reminder that district staffs are vulnerable and members should have "the resources and the latitude to take the appropriate security measures in order to protect themselves and their staffs."
Meanwhile, congressional aides said they'll develop more formal procedures for dealing with potential threats, including phone calls and e-mails but also posts on Facebook and Twitter.
Some members of Congress pushed back against the idea of ringing themselves with security.
Rep. Fred Upton, D-Michigan, said that most members would balk at adding extra security, "knowing that's not who we are."
"We come from the communities we represent," he said. "We're the same people that we were before."
Eleanor Holmes Norton, a Democratic delegate representing the District of Columbia, said that she's never feared for her safety in "a very violent city."
"And if I had to think about that, then it would be very difficult for me to be a member of the House of Representatives," she added.
But others are urging more drastic protections.
Rep. Dan Burton, R-Indiana, indicated that he will offer legislation to place Plexiglass around the House Gallery, so the public is barred from throwing anything onto the House floor, according to reports.
Members of Congress, including Giffords, saw heightened threats at town halls during as the health care bill was debated in 2009.
Former Democratic Rep. John Boccieri of Ohio also received threats, including one from a man who went to trial for threatening to burn down the lawmaker's home.
Boccieri said that some public events "could use a degree of more security."
"I don't know there's anything that could have been done more in terms of the type of security that could be provided in instances where we're out in front of the public and being accessible. My hope is that we're better than this as a country."
CNN's Kristi Keck, Brianna Keilar and Deirdre Walsh contributed to this report.
FOLLOW THIS TOPIC