STORY HIGHLIGHTS
Paper files a request to see if President Obama wears a seatbelt
Comedians take on House Speaker John Boehner's crying
Witches in Romania are mad at the country's government
Washington (CNN) -- Politics is serious business -- but not all of the time. From the halls of Congress to the campaign trail to the international stage, there's always something that gets a laugh or a second glance.
Buckle up ... or not
The Hill's "In The Know" blog asks, "Does President Obama wear a seatbelt in his presidential limo? He is supposed to, but there are indications that he doesn't."
After a 2007 accident that seriously injured then-New Jersey Gov. Jon Corzine, the blog asked the U.S. Secret Service whether the president buckled up while riding in the presidential limo or motorcade vehicle. Its response? File a Freedom of Information Act request.
"So ITK did. And we waited -- and waited, and waited -- to hear back," said writers Christina Wilkie and Bob Cusack. "The Secret Service took more than three years to answer a relatively straightforward FOIA query."
The final answer: The Secret Service said it's the driver's responsibility to "ensure that each occupant is provided with a functioning seat belt, and that the belts are securely fastened prior to moving the vehicle."
Imagine how awkward that conversation would be with the president.
Like grandpa, like son?
It seems 6-year-old Jack Isakson has learned a little something from his grandfather, Sen. Johnny Isakson, R-Georgia.
During his grandfather's swearing-in ceremony Wednesday, Jack asked, "Excuse me, vice president. Can you tell some of the construction workers to build a Lego shop here?" according to the Washington Post's "Reliable Source" column.
Biden, caught on C-SPAN, responded: "Seriously, that's a good idea. I'll tell you what, we need jobs, Jack."
No word yet on what the elder Isakson has to say.
From White House to 'Animal House'
White House Press Secretary Robert Gibbs, who announced that he is stepping down from his post, said that should his favorite college football team win the national championship game on Monday, there's a surprise in store for 1600 Pennsylvania Avenue, USA Today reports.
"If Auburn wins (against the University of Oregon), I will come back, I will get a little agreement with the Secret Service," Gibbs said in an interview with CBS College Sports Network airing Thursday night. "We'll put a couple of rolls (of toilet paper) up there, and then I can help take it down so it doesn't look like we trashed the place."
Students at Auburn, where Gibbs grew up, have a tradition of "rolling" Toomer's Corner at the edge of the campus, to celebrate athletic wins.
McCain becomes a puppet
The Daily Show's Jon Stewart has stepped up his criticism of Sen. John McCain in recent months, saying the Arizona Republican has lost his maverick ways and is showing a crankier side.
On Wednesday, McCain appeared on the show -- in puppet form.
Mediaite Colby Hall quips, "But times change: people get older, wiser, and by some measure, even crankier. Perhaps these are a few of the reasons why Mr. Stewart could only interview 'Puppet John McCain' to mark the senator's increased anger."
From the Twitter-verse
Washington Post's Jonathan Capehart said in a tweet during House Speaker John Boehner's speech on the House floor Wednesday: "Oh boy....he's not going to make it. #Boehnertears"
Notable quotable
"The last Speaker Nancy Pelosi has a frozen face. John Boehner has an orange face. If you put them together you've got the creamsicle of the House" -- Jimmy Kimmel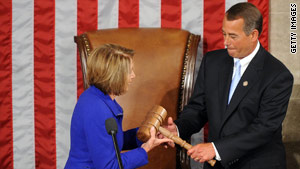 Outgoing House Speaker Nancy Pelosi hands the gavel over to new House Speaker John Boehner.
Give it to me already!
In this Getty Images photo, outgoing Speaker Nancy Pelosi gives Boehner the Speaker's Gavel during the new Congress' first day.
A 'Top 10' for the GOP
David Letterman's "Top 10" list took aim at the Republicans seizing greater power in the new Congress.
"Top 10 Things Overheard During The Republicans' First Day In Charge Of The House"
10. "Mr. Boehner, please stop crying"
9. "How do we blame this dead bird thing on Obama?"
8. "I think he was just sworn in on a copy of Snooki's new book"
They're 'Wicked' mad about taxes
Romania's government has a problem on its hands -- witches complaining about high taxes.
"Today, about a dozen witches are converging on the Danube River to place a hex on the government for the action it took on Saturday, whereby witches are now required to pay 16 percent income tax," Gawker's Jeff Neumann writes.
Willow in, Bristol out
Comedienne Kathy Griffin, who has attacked Sarah Palin's daughter Bristol in her comedy act, is now targeting another member of the family: younger sis Willow, according to ABC News.com.
"When any public person puts 'your such a f---er' on their Facebook wall, they are guaranteed to make it into Kathy's act," Griffin's publicist told the website.
Headline of the day
Wonkette: "America Under Attack: Terror Birds Dropping Like Bombs"
Curse away
Reuters reports that Pennsylvania State Police will stop issuing disorderly conduct citations to people who curse.
The article notes that the American Civil Liberties Union sued the force "on behalf of a woman ticketed for yelling 'a--hole' at a motorcyclist who swerved close to her."
Now, state police "will be told they can no longer ticket people who use profane words or gestures, even if they are directed at the officers."
Late-night laughs
Jimmy Fallon: "John Boehner broadcast his swearing in ceremony live on Facebook today. Not to be outdone, Joe Biden went on Facebook and took a quiz to see which 'Jersey Shore' character he is."
Jay Leno: "We have a new Speaker of the House -- Ohio congressman John Boehner. ... His new slogan: 'Four more tears.' "
Stephen Colbert: "Tonight -- can Michael Steele keep his job? And more importantly, can Michael Steele do his job?"
FOLLOW THIS TOPIC