Analysis: Health care repeal will cost $230 billion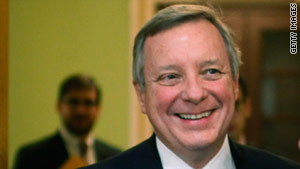 Sen. Richard Durbin, D-Illinois, criticized Republicans' attempts to repeal health care reform.
STORY HIGHLIGHTS
A CBO analysis says repealing health care law will add $230 billion to the debt by 2021
Democrats claim the analysis undermines GOP claims of fiscal responsibility
Republicans argue health care overhaul will hamper economic growth
Washington (CNN) -- Legislation being pushed by House Republicans to repeal President Barack Obama's health care overhaul will add $230 billion to the federal debt by 2021, according to an analysis released Thursday by the nonpartisan Congressional Budget Office.
Democrats immediately pounced on the report, arguing, among other things, that it undermines the new GOP House majority's emphasis on fiscal responsibility.
"Not only would repeal of health care reform add to our deficit, it would dump more than 30 million Americans from coverage who will be protected by our new health care reform act," said Sen. Richard Durbin, D-Illinois.
"So more than 50 million Americans won't have the protection of health insurance. That is a personal family tragedy even beyond our discussion of the deficit."

GOP targets health care law

Good idea to repeal health care reform?
Republicans have argued that the health care overhaul -- widely considered Obama's signature domestic accomplishment -- will hamper the country's long-term economic growth.
They also argue that by pushing for a repeal, they are simply fulfilling a campaign promise.
"I suggest that we pull Obamacare out by the roots -- root and branch, lock, stock and barrel, eradicate it completely, and leave not one visage of its DNA left behind," said Rep. Steve King, R-Iowa.
"It is a malignant tumor into the spirit of America's vitality and constitutionality, and if it is allowed to have one particle left, it will regrow again and it will metastasize like a tumor and grow back and it will consume the liberty and the vigor of the American people."
The people "want this bill repealed and we are going to repeal it," said House Speaker John Boehner, R-Ohio. If it is not repealed, "it will ruin the best health care system in the world ... (and) will ruin our economy."
Boehner, addressing reporters on Capitol Hill, took issue with the CBO analysis, arguing that it was based on unrealistic economic and fiscal assumptions originally provided by Democrats.
"I don't think anyone in this town believes that repealing Obamacare is going to increase the deficit," he said.
Republicans have exempted a repeal of the health care law from new rules prohibiting legislation from adding to the federal debt.
While the GOP-controlled House is considered likely to pass a repeal of the health care overhaul, most political analysts believe it has little chance of clearing the Senate or surviving a presidential veto.
FOLLOW THIS TOPIC