STORY HIGHLIGHTS
Actress, author and activist Roseanne Barr unleashes on Sarah Palin
Incoming House Speaker John Boehner reportedly belongs to a cigar club
Ex-VP Cheney shows off his heart pump at cocktail party
Washington (CNN) -- Politics is serious business, but not all of the time. From the halls of Congress to the campaign trail to the international stage, there's always something that gets a laugh or a second glance.
From the 'Nut Farm'
Roseanne Barr -- comedian, author, political activist and former star of the hit television sitcom "Roseanne" -- took shots at former Alaska Gov. Sarah Palin during an interview about her new book on ABC's "Nightline" on Tuesday.
In "Roseannearchy: Dispatches From the Nut Farm," she wrote that Palin is "ripping off my act."
"She's not even telling the truth to the American people. I think she took a lot from me and from my show, absolutely," she said.
The actress also revealed that she didn't want President Obama to be elected and called health care reform "a bunch of crap."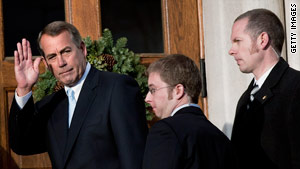 Pre-game prayer
In this Getty Images photo, incoming House Speaker John Boehner, left, arrived for a prayer service at St. Peter's Catholic Church in Washington on Wednesday. Boehner faces a divided Congress and a plate full of important legislation to contend with.
Speaking of Boehner ...
The Ohio Republican is part of an exclusive cigar club in Virginia, the New York Post's Page Six notes.
"Sources say the newly minted speaker of the House, who's known for his 'Mad Men' style, is a regular at CXIII Rex, a members-only cigar club in Alexandria, Va., where lobbyists mingle and the press is strictly banned," the story says.
More: "Described as 'part classic Playboy Club, part Goldfinger's lair,' it's open to 200 members for a $5,000 fee plus monthly dues -- but the speaker is always welcome as an honorary member. Boehner's rep didn't get back to us."
Headline of the day
AOL News: "Will Arabs and Israelis Unite in Their Fascination With UFOs?"
Notable quotable
A Republican grabs the speaker's gavel, commuters invade Congress, the iPad arrives, the GOP gets less geriatric and the Senate prepares for its "longest day ever."
-- Daily Beast's Samuel Jacobs
Trouble for Obama's movie mom
London's Daily Mail reports that South African actress Cara Lachelle, who played President Obama's mother, Ann Dunham, in a movie about the president's years in Indonesia, has been arrested on drug charges.
He's back and showing off
Former Vice President Dick Cheney, recovering from recent heart surgery, has been beefing up his appearances on the political cocktail circuit.
The New York Times reports that at a recent fundraiser he headlined, the Wyoming Republican not only chatted about his new pump. "At one cocktail party, he even opened his coat jacket to show it off."
Oh, and he's back to hunting.
Making waves
Politico's Patrick Gavin writes that two Obama staffers came back from Hawaii with some new gifts, though don't expect them to use them in Washington.
A photo shows press aides Nick Shapiro and Ben Finkenbinder carrying surfboards off of Air Force One -- tokens from Obama's vacation in Hawaii.
While D.C. doesn't have waves, there's always Delaware, Maryland and Virginia.
Get well soon
Sen. Dianne Feinstein, D-California, is having knee replacement surgery Wednesday in San Francisco, the Sacramento Bee reports.
As for the heavy workload before senators in the new 112th Congress? Feinstein said she will work from home.
Name that Tea Party tune
A number of twitterers have come up with some creative names if members of the Tea Party were to form a band. The Huffington Post has compiled a list.
Late-night laughs
David Letterman: "We had 2 feet of snow in New York City. ... Everybody's blaming Mayor Bloomberg for this, and they say, 'Where was the mayor during the snow?' And I said, 'Well, you know, he's not that tall -- he could have been in a [snow] drift, for God sakes.' "
Jay Leno: "For the first time since June, President Obama's approval rating is back over 50 percent. But how frustrating is that for him? For the past 23 months, he's been busting his butt to keep campaign promises. ... He says 'screw it' and goes to Hawaii for 10 days, plays golf [and] he's popular again!"
FOLLOW THIS TOPIC