STORY HIGHLIGHTS
NBC's Brian Williams opens up about being groped at the airport
Arnold Schwarzenegger and Dmitry Medvedev to go skiing?
President Obama gets a polling gift
Washington (CNN) -- Politics is serious business, but not all of the time. From the halls of Congress to the campaign trail to the international stage, there's always something that gets a laugh or a second glance.
May the force be with you
Funnyman Jon Stewart compared President Obama to a "Star Wars" hero for his legislative accomplishments during the lame-duck session of Congress.
"Obama's not the comeback kid. That's just a trite way of looking at it. He's Luke Skywalker," Stewart joked.
The "Daily Show" host then went on to compare the two, intertwining clips from "Star Wars" movies.
"It all started a long time ago, when the skinny kid with a funny name came out of nowhere and, against all odds [showing images of Skywalker], he defied outrageous odds to become the new hope. ... He won the election and the hearts of the people."
A Russian and an Austrian walk into a ski lodge ...
Russian President Dmitry Medvedev tweeted to outgoing California Gov. Arnold Schwarzenegger that he wished him "success in this new phase of your life. There are many more interesting opportunities still to come."
The "Governator" responded in a tweet, suggesting the two go skiing.
Don't grope me, bro
NBC's Brian Williams is known for being quite the comedian, and he took his bit to CBS's "Late Show with David Letterman" on Monday.
"Air travel is such a joy in this country," Williams said. "You get the enhanced schmegeggy right there. ... That's an aviation term. ... For some reason, coming back, I always get it at [Los Angeles International Airport]. I get nailed."
Williams was referring to the Transportation Security Administration's new controversial screening procedures.
He went on to say: "They go, they go right in. ... This new thing, they go right after Dave and the twins. ... Either you can go in the little thing, and you put your arms up and parade around, and somebody in a booth somewhere looks at you naked through your clothing, or you can get the prod of your schmegeggy."
What's in a tweet?
Sarah Palin, former Alaska governor and GOP vice presidential candidate, re-tweeted a post from gay conservative pundit Tammy Bruce, who was expressing her criticism of continued Republican opposition to the military's "don't ask, don't tell" policy, which was repealed by Congress last month and signed by the president.
Now the political world is all atwitter about what Palin, who has remained mostly mum on the military's policy banning openly gay service members, means.
From the 'pool'
In this White House pool report on Obama's trip back to Washington from Hawaii on Air Force One, Politico's Carol Lee writes about his little surprise for the press corps:
"AF1 was wheels up at 9:47pm (2:47am Eastern), and within five minutes, President Obama made a surprise visit to the press cabin to wish the pool a Happy New Year. 'I hope you guys had a little fun,' he said. POTUS shook everyone's hand in the cabin and chatted briefly. 'I am a plain shave ice guy,' he said, adding that today he 'went for the melon and cherry, which was very nice.' "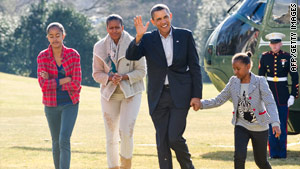 Someone's cold
In this AFP/Getty Images photo, Obama, first lady Michelle Obama and their daughters, Malia, left, and Sasha, returned to the White House on Tuesday from warm and sunny Hawaii.
It seems the first lady is not a fan of the cold.
Mazel tov
Democratic Sen. Max Baucus of Montana announced that he is engaged to Melodee Hanes, a former staffer. The two will walk down the aisle this summer.
The Washington Post's "The Reliable Source" column notes that their relationship made news in 2009, after he left his second wife.
Merry Christmas, Mr. President
A Gallup daily tracking poll finds that Obama's job approval rating -- down significantly over the past couple of months -- has rebounded to 50 percent.
But as is always the case in politics, don't expect the love to last. As "Project Runway" host Heidi Klum says, "One day you're in, next you're out."
Notable quotable
"In any event, the G.O.P. has taken its place once again as the House majority and is vowing to do what it does best, which is make somebody miserable -- in this case, President Obama."
-- New York Times columnist Bob Herbert
Headline of the day
Wonkette: "Meet the New U.S. Government Terror Warning Robot"
Late-night laughs
Jay Leno, referring to a D.C. man robbed for his cigarette: "Looks like President Obama is having a harder time quitting than we thought"
David Letterman: "Congratulations to Jerry Brown, the new governor of California -- the old governor of California. Arnold Schwarzenegger, the outgoing governor, is being relocated to a primate sanctuary in Florida."
Jon Stewart: "Holy crap balls, Democrats! You need to lose elections more often. It suits you [referring to the lame-duck victories]. If only you could completely lose the Senate, we could solve our immigration problems."
CNN's Alexander Mooney contributed to this report.
FOLLOW THIS TOPIC