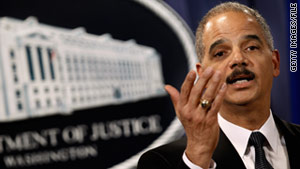 Attorney General Eric Holder acknowledges the GOP-led House is likely to press him on a range of issues.
STORY HIGHLIGHTS
Attorney general, House Republicans have no imminent clashes
Eric Holder sometimes has had difficulties with White House
He hopes for cordial exchanges on policies
Washington (CNN) -- "It could be a bumpier road," a smiling Attorney General Eric Holder said to a reporter in a recent casual conversation at the Justice Department.
His aides say, however, there is no reason to expect that road contains unmanageable potholes or insurmountable barriers.
In fact, Holder exudes confidence as he acknowledges the Republican-led House is likely to press him on a range of controversial issues. He has heard most of the arguments before from disgruntled GOP lawmakers when they were in the minority.
-- Are al Qaeda operatives mere criminals or are they terrorists bent on perpetual war against the United States and the West?
-- Why insist on closure of the Guantanamo Bay prison, while supporting indefinite detention for some inmates?
-- Why not admit the obvious and acknowledge alleged 9/11 mastermind Khaled Sheik Mohammed will not be tried in a civilian court?
-- Why hasn't the founder of WikiLeaks, responsible for the release of classified documents, been indicted?
-- Were the New Black Panthers given a break because they were black and those allegedly intimidated at the polls were white?
-- Why do you challenge Arizona's immigration law, while ignoring "sanctuary cities"?
-- Aren't Justice policies paving the way for the legal use of marijuana?
These and other potentially partisan flash points are likely to be raised over time -- but are apparently not imminent. The House Judiciary Committee, which has primary jurisdiction over Holder's department, has made clear it's going to respond first to the public demand to fix the economy and help provide jobs.
Mild-mannered Rep. Lamar Smith, R-Texas, the incoming chairman of the Judiciary Committee, is not confrontational by nature, and aides say he plans to stick to the script from House Speaker John Boehner's team.
"The Judiciary Committee will support industries that employ millions of Americans by protecting their patents and copyrights," Smith said.
That's hardly a recipe for gaining public or media attention, but will be welcomed by Holder's Justice Department.
"I hope that we'll be able to focus on things that are not going to be politically attractive, but will be of substance and things that have an impact on the day to day lives of the American people," Holder said.
Holder and Smith know each other. They have socialized at the White House and at a Washington Redskins game. Holder recently hosted Smith for a private lunch.
"I'm hopeful that in the interaction I have with him, then with the committee, that we'll respect the positions that each other's taking, that we'll have a good dialogue and that it will be based on things that really matter to the American people," Holder said.
This air of cordiality may not sit well with the legislative "bomb throwers" of either party, according to committee sources.
Still, Smith has said his economy agenda includes medical malpractice reform, which steps on the Democrats' friends from the legal defense community. Smith says it also includes immigration enforcement, which inevitably includes conflicting views on protecting the border and treatment of illegal immigrants.
At times, Holder has suffered self-inflicted wounds. In his first major speech, he declared citizen reluctance to openly address racial issues reflected "a nation of cowards." The assertion rankled President Obama's White House.
Generally, Holder performs well under the pressure of bright television lights focused on his every word of testimony. It is hardly a new experience for him. Holder became a veteran of congressional hearings while serving as deputy to then-Attorney General Janet Reno, who traveled her own bumpy road.
Like Reno, Holder's political challenges did not always come from the opposing party. Indeed, Reno had productive private lunches often with Sen. Orrin Hatch, R-Utah. But Reno and Holder tangled uncomfortably with fellow Democrats in key positions at the White House. For much of the past two years, Holder has been at odds with the Obama White House.
"They just don't get it that we're all on the same team," said a frustrated high-ranking Justice Department official speaking anonymously because he was not authorized to comment publicly.
A particular target of Justice Department ire was former White House Chief of Staff Rahm Emanuel, whose political agenda often conflicted with the legal positions staked out by Holder and his team of veteran prosecutors, according to multiple sources.
Emanuel has left, and the Justice Department is waiting to see if the relationship improves.
Meanwhile, the Senate Committee remains in the hands of Patrick Leahy, D-Vermont.
His panel will miss the outspoken liberal voice of outgoing Sen. Russ Feingold, D-Wisconsin. But Leahy will still have a reliable, though thinner, Democratic majority.
So, for now, the focus from the Justice Department will be on the new Republican force sweeping in to shake up the House, and they hope, all of Washington.
FOLLOW THIS TOPIC