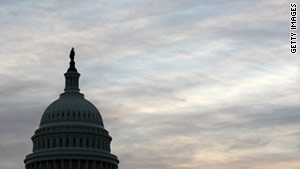 Republicans say they are pushing to repeal health care reform because it hampers an economic recovery.
STORY HIGHLIGHTS
NEW: Dems say GOP push for repeal of health care law is just pandering to the party's base
Republicans insist health care overhaul is hurting the economy
Congressional Democrats promise to fight any effort to repeal health care plan
Washington (CNN) -- Top Democrats are dismissing Republicans' plans to ram a repeal of President Barack Obama's health care overhaul through the House of Representatives in the opening days of the new Congress, portraying the move as little more than a hollow nod to the GOP's conservative base.
Republicans unveiled repeal legislation Monday night -- two days before they officially take charge of the House. They plan a key procedural vote on Friday and a final vote the following Wednesday, according to House GOP sources.
Passage of the health care overhaul is widely viewed as Obama's signature domestic achievement. Most political analysts believe that while a repeal of the measure can pass the new Republican House, it has no chance of surviving the Democratic-controlled Senate or overcoming a presidential veto.
"I think that there's going to be politics, that's what happens in Washington," Obama told reporters aboard Air Force One after wrapping up his Hawaiian vacation late Monday night.
The Republicans "are going to play to their base for a certain period of time. But I'm pretty confident that they're going to recognize that our job is to govern and make sure that we are delivering jobs for the American people."

Repealing health care reform

GOP targets health care law

Good idea to repeal health care reform?

Health care law under fire again
Connecticut Rep. Rosa DeLauro, addressing reporters at a news conference with other House Democratic leaders Tuesday, called the GOP move "disingenuous" and "nothing but political theater."
"It is a Kabuki dance," she said. "The fact of the matter is we're not going to repeal health care. It is not going to happen."
Outgoing House Speaker Nancy Pelosi, D-California, cited projections from the nonpartisan Congressional Budget Office noting that the Democrats' overhaul will lower the federal deficit over the long term.
As a result, she argued, a GOP-led health care reform repeal would "do very serious violence to the national debt" -- undermining a central Republican pledge of fiscal responsibility.
The Republicans "will employ budget gimmicks" and "Enron-type accounting" to make the claim that a repeal of health care reform won't increase the debt, predicted Rep. Chris Van Hollen, D-Maryland. "That kind of flim-flam" is what people came to expect of Republicans the last time they ran Congress, he said.
Senate Democratic leaders sent a letter to incoming House Speaker John Boehner on Monday warning that a repeal of the health care law would take away "popular consumer protections that help middle class Americans," including a fix of the so-called Medicare "doughnut hole," which caused higher prescription drug costs for some seniors.
Republicans insist that they are moving forward with their push to repeal the health care law because the measure is hampering an economic recovery.
"Obamacare is a job killer for businesses small and large, and the top priority for House Republicans is going to be to cut spending and grow the economy and jobs," said Brad Dayspring, spokesman for incoming House Majority Leader Eric Cantor, R-Virginia.
"Further, Obamacare failed to lower costs as the president promised that it would, and does not allow people to keep the care they currently have if they like it."
Allen West, a conservative congressman-elect from Florida, said Monday night that a repeal vote was consistent with GOP promises in last fall's midterm campaign.
"This is one of the things that we were pretty much on mandate to do," he said on CNN's "John King, USA."
"I think when you look at the huge change that happened in the House of Representatives, that's the people's house and that's the voice. So we have to take this forward."
West argued that "there are some good portions to Obamacare, but that could probably be capsulized in five to ten pages. It is the rest of that that we need to scrap and we need to start over again."
Fifty-four percent of Americans oppose the new health care law, according to a CNN/Opinion Research Corporation poll released December 27. Forty-three percent support the measure.
Only 37%, however, oppose the law because they believe it is too liberal. More than six in ten Americans support specific provisions in the measure preventing insurance companies from dropping coverage for seriously ill people or denying coverage to people with pre-existing conditions.
Six in ten Americans oppose the law's requirement for all Americans to obtain health care coverage, according to the survey.
CNN's Dana Bash contributed to this report