Pelosi, Democrats prepare to relinquish power in the House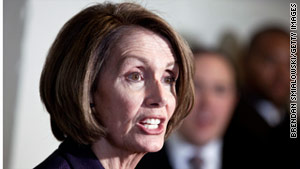 Nancy Pelosi vowed to defend Democratic turf, even after the Republicans take control of the House this week.
STORY HIGHLIGHTS
Pelosi pledges to defend Democratic turf even as it is relegated to minority party status
Pelosi is the first female Speaker of the House
The GOP wants to repeal Obama health care reforms, reduce the size of government
(CNN) -- Nancy Pelosi, who made history as the first female Speaker of the House, ends her tenure this week as a new Republican majority prepares to take power Wednesday.
Led by incoming speaker John Boehner, the GOP has pledged to roll back many of the reforms implemented by the Obama administration and Democrats, including health care reform, which were outlined in the Republican "Pledge to America."
New members of the House will be sworn in Wednesday.
Pelosi pledged to defend Democratic turf even as it is relegated to minority party status.
"House Democrats will fight to ensure that children with pre-existing conditions continue to get coverage; that young people can stay on their parents' plans until age 26; that pregnant women and breast cancer survivors can no longer be thrown off the rolls; and that seniors do not pay higher drug prices," Pelosi said in a statement released Monday.

2010: Debate over Pelosi not done

Pelosi wins Democratic leadership fight

Pelosi 'the face that defeated us'
"Instead of joining Democrats in our efforts for job creation, Republicans are planning to put insurance companies back in charge by repealing patient's rights."
She is scheduled to hold a news conference -- her last as Speaker -- at 11 a.m. Tuesday.
The GOP's "Pledge to America" proposes cuts in government spending and a reduction in the size of government, repeal of the Obama health care plan, a permanent extension of Bush-era tax cuts, tougher homeland security and congressional reform.
Boehner and company have pledged to overhaul the House calendar as they take power, scheduling mostly four-day work weeks and more time with constituents.
The developments mark a sharp change in fortunes for Pelosi, who became the first female Speaker of the House as the Democratic party surged in power during the administration of George W. Bush and peaked with the election of President Barack Obama.
Democrats took a big hit during midterm elections in November, losing control of the House and seeing their majority in the Senate narrow.
FOLLOW THIS TOPIC