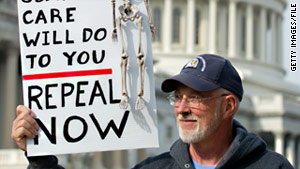 A demonstrator at a rally in Washington in November carries a sign calling for repeal of health care legislation.
STORY HIGHLIGHTS
Republicans present a united front against Obama-backed health care bill
South Carolina senator predicts fight will continue through 2012
Democratic senator says GOP should be focused on job creation
(CNN) -- Republicans on Sunday demonstrated a united front against health care reform passed by the Obama administration, an issue that is sure to fan the flames on the left and right when a divided Congress returns Wednesday.
Sen. Lindsey Graham, R-South Carolina, said members in the House and Senate will try to "defund the Obama care bill and start over."
"I think this fight is going to continue to 2012 and it will move from Washington to the states," Graham said on NBC's "Meet the Press." "It will be one big fight over the role of health care and should Obama health care be in existence in 2012 the way it is today."
California Rep. Darrell Issa, who will chair the House Oversight and Government Reform committee in the new Congress, said the committee will identify where "waste, fraud and abuse" exists in the plan to find where government can be part of the solution instead of part of the problem.
"As Republicans, our goal is to repeal what was done on a partisan basis, come back and do on a bipartisan basis, real reform," Issa said on CNN's "State of the Union."

Health care law under fire again

GOP freshman opposes individual mandate

GOP agenda: The right 'to be dumb'

Incoming Rep. refuses health benefits
Incoming House Energy and Commerce Committee Chairman Rep. Fred Upton went a step further, saying there are 242 Republicans and a "significant number of Democrats" who want to repeal the legislation. The Michigan Republican, whose committee will play a key role in the roll-back effort, said he believes the House may be close to having the votes necessary to override a presidential veto. And if they don't have the votes for repeal, Upton said the House will "go after this bill piece by piece."
Republican Rep. Michele Bachmann of Minnesota said the GOP will try to repeal the bill because "that's what the American people want us to do."
However, New York Democratic Rep. Steve Israel criticized Republicans for focusing on health care instead of job creation.
"They're (Republicans) talking about wasting time repealing health care, when they know that the Senate and administration won't go along with it," Israel said on CNN's "State of the Union." "Don't waste time, create jobs."
In fact, even if repeal is possible in the House, it is unlikely to pass in the Democrat-controlled Senate or receive traction in the White House.
The Patient Protection and Affordable Care Act that signed into law in March was a pillar of the president's agenda and was met with strong opposition from Republicans.
The measure was designed to help millions of uninsured and underinsured Americans receive adequate and affordable health care through a series of government-imposed mandates and subsidies. Critics have equated it to socialized medicine, fearing that a bloated government bureaucracy will result in higher taxes and diminished health care services.
Parts of the historic legislation have recently been challenged by individual states.
In December, a Florida U.S. District Court judge struck down the "individual mandate" requiring most Americans to purchase health insurance by 2014, litigation supported by 19 other states. The Justice Department is expected to challenge the judge's findings in a federal appeals court.
The Supreme Court rejected the first constitutional challenge of the law because the justices refused to get involved at a relatively early stage of the legal process.
CNN's Mariano Castillo and Bill Mears contributed to this report