Adviser: Debt ceiling must be raised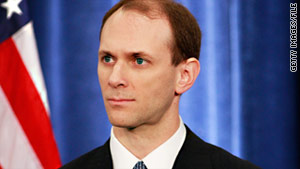 On ABC's "This Week," Austan Goolsbee said that the debt ceiling was not something to toy with for political ends.
STORY HIGHLIGHTS
Council of Economic Advisers chairman says it would be "catastrophic" to not raise limit
He says it is something that should not be used for political ends
Some Republicans say they will support a raise only with other cuts
Washington (CNN) -- If Congress does not raise the debt ceiling, the result could be "catastrophic" for the American economy, Austan Goolsbee, chairman of the Council for Economic Advisers, said Sunday.
Speaking on ABC's "This Week," Goolsbee said that the debt ceiling was not something to toy with for political ends.
"If we hit the debt ceiling, that's essentially defaulting on our obligations, which is totally unprecedented in American history," he said. "The impact on the economy would be catastrophic. I mean, that would be a worse financial economic crisis than anything we saw in 2008."
The debt ceiling is one of the biggest budget fights facing the new Congress that convenes this week.
Currently, the debt limit stands at more than $14 trillion. The last time it was raised was in February 2010.
If the ceiling were ever breached, the country would effectively be in default. That would slam bonds, the dollar and creditors' portfolios.
Fiscally conservative lawmakers signaled they would use the opportunity of the upcoming debt ceiling vote to demand spending cuts in exchange for their support.
"i will not vote for the debt ceiling increase until I see a plan in place that will deal with our long-term debt obligations, starting with Social Security," Sen. Lindsey Graham, R-South Carolina, said on NBC's "Meet the Press."
"On the spending side, I'm not going to vote for a debt ceiling increase unless we go back to 2008 spending levels, cutting discretionary spending," he added.
A congressional newcomer, Rep.-elect Allen West of Florida said that he doesn't expect that it will come down to a government shutdown or other major consequence, but said he would support the debt limit raise only if there are new budget controls on the federal government.
"So it's not going to be a blank check that comes from Allen West. We have got to make sure that we are responsible up here before we continue on with business as usual," he said on "Fox News Sunday."
Asked about warnings like those from Goolsbee about possible default, West said he did not think it would come to that.
"Well, I don't think the country is going to default on its obligations. I think that we will be able to meet our obligations but I think that the American people are looking for us to make a principle stand and say we are going to do something to get this economic situation, this fiscal responsibility under control," he said.