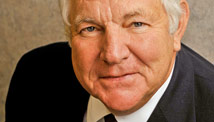 STORY HIGHLIGHTS
As Labor Day weekend ends, too few Americans are returning to work, says Bennett
He says GOP debate and Obama speech put jobs issue in forefront this week
Huntsman has put forth a serious proposal, raising stakes for other candidates, says Bennett
Bennett: Issue is too serious for partisan political jabs; solutions are vital
Editor's note: William J. Bennett is the Washington fellow of the Claremont Institute. He was U.S. secretary of education from 1985 to 1988 and was director of the Office of National Drug Control Policy under President George H.W. Bush.
(CNN) -- As America returns from Labor Day weekend, not enough Americans are returning to actual labor. With Wednesday night's Republican presidential debate and President Barack Obama preparing to address the nation Thursday with his new economic plan, one thing is on the country's mind: jobs.
Last Friday's anemic jobs report, the first time since 1945 that the government recorded a net jobs change of zero, suggests that our economy is stalled and slipping ever so closer to a double dip recession. The pressure is mounting on Obama, in particular, to deliver a noticeable, tangible prescription for what's ailing America's economy.
The president is nearing the third year of his term, a time in which presidential reputations are crystallized, for better or for worse. He's on pace to complete a four-year term with little or no economic growth of which to boast. The Misery Index, which calculates the unemployment rate plus the inflation rate, was 7.83 when Obama took office. Today it is 12.73. Even his own Congressional Budget Office predicts the unemployment rate, currently at 9.1%, will only drop to a listless 8.5% in the fourth quarter of 2012. And according to a new CNN poll, eight out of 10 Americans think we are in a recession.
In response to the economic malaise and growing criticism, Obama will address the nation and a joint session of Congress on Thursday night with his new plan to jumpstart the economy. His task is daunting.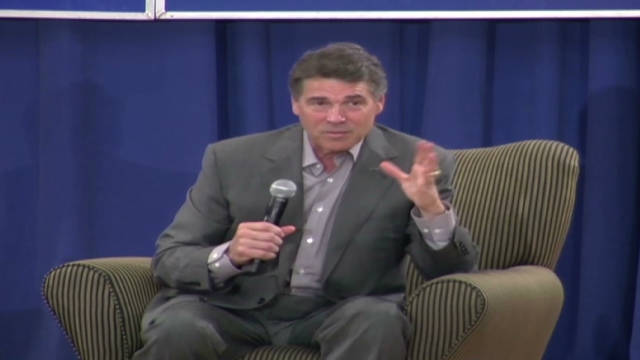 Perry: Proud of Texas jobs record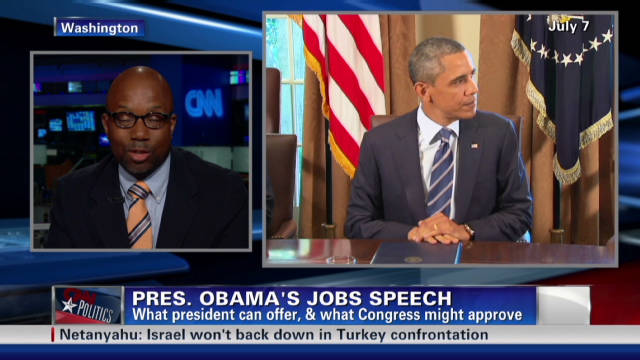 President Obama's jobs speech preview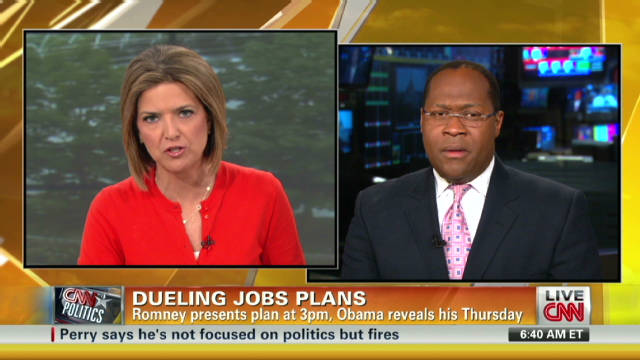 A tale of dueling jobs plans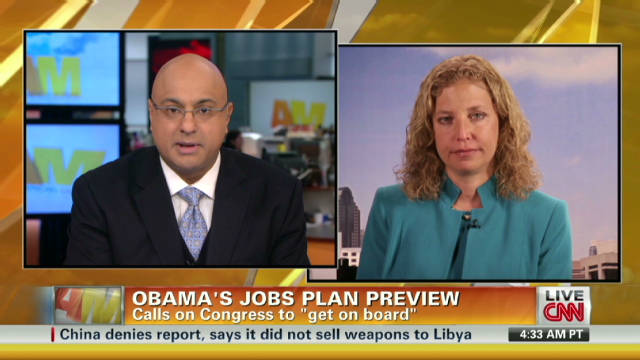 DNC chairwoman previews jobs speech
He must not only quell public suspicion of a double-dip recession, but also supply a detailed, feasible roadmap to economic recovery. The president has yet to deliver a plan like this, so the expectations are high and the consequences will be permanent.
Come Wednesday and Thursday night, the Republicans and the president would do well to avoid partisan attacks. After weeks of fist-pounding political gamesmanship over the debt ceiling, voters are increasingly skeptical that Washington can come to any solution to the jobs problem.
The jobs debate should focus on the merits and philosophies of the economic plans, not small-time political jabs and barbs. It's time for serious economic ideas to get America back to work.
On their side of the aisle, Republican presidential candidates are lining up to offer their counter plans, and some have already debuted theirs. Last week, former Utah Gov. Jon Huntsman launched his own economic plan, focused primarily on broad and deep tax reform. The Wall Street Journal said Huntsman's plan is "as impressive as any to date in the GOP presidential field."
In short, Huntsman's proposal would create three new income tax rates (8%, 14% and 23%) and eliminate all deductions and credits. He is far from a presidential front-runner, but Huntsman's plan is serious and detailed and will shape the presidential debate for the better.
The pressure is now on his GOP rivals to offer proposals equally as substantial. Former Massachusetts Gov. Mitt Romney has already announced that he will unveil his plan on Tuesday, the day before the next GOP presidential debate. He claims that his solutions will be bold and sweeping.
But with Texas Gov. Rick Perry leapfrogging Romney in the latest batch of polls, the onus is on Romney to prove that his ideas are the right medicine for our economic ailments. With Huntsman raising the stakes, Romney will have to go bigger and bolder than expected to steal back momentum from Perry.
The aforementioned front-runner, Texas Gov. Rick Perry, already has an impressive jobs record, but he too needs a jobs plan. The economic parameters that Perry says built the Texas Miracle -- low tax rates, tort reform, controlled government spending -- do not exist in Washington. Perry must prove how he can implement those reforms on a national level.
Earlier in August, Herman Cain presented his own plan for economic recovery, dubbed the 9-9-9 plan -- a 9% business flat tax, 9% individual income flat tax and a 9% national sales tax. Likewise, Newt Gingrich published his own jobs plan early in his campaign, but it does not rival the scope of Huntsman's or what we are to expect from Obama.
While we are familiar with the remaining candidates' positions on key economic issues, i.e. Michele Bachmann's opposition to the debt ceiling and Ron Paul's staunch objection to the Federal Reserve, they too should release their own in-depth proposals.
With the 2012 election looming, this week is shaping up to be a make or break moment for the president and the GOP presidential contenders. Even though these are highly politicized times, the severity of the jobs crisis deserves the most serious and proper treatment of the problem. America is looking for a leader who can do that.
The opinions expressed in this commentary are solely those of William J. Bennett.