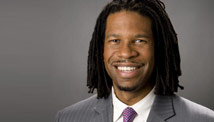 STORY HIGHLIGHTS
LZ Granderson: Demand for a time change for Obama speech showed disrespect
He says president gets to call meetings; speaker's job is to have his people show up
He says such a request should not be tolerated, but Obama did, showing he can't stop GOP
Granderson: Office of president means something; does anyone else agree?
Editor's note: LZ Granderson, who writes a weekly column for CNN.com, has been named Journalist of the Year by the National Lesbian and Gay Journalists Association. He is a senior writer and columnist for ESPN The Magazine and ESPN.com and a 2010 nominee and the 2009 winner of the Gay and Lesbian Alliance Against Defamation award for online journalism. Follow him on Twitter at @locs_n_laughs. Watch him on CNN Newsroom Tuesdays at 9 a.m. ET.
(CNN) -- The way I see it, House Speaker John Boehner's eloquent letter to President Obama requesting he push back his address really could have been summed up in two words-- screw you.
We're all adults here, right?
We can pretend security logistics -- Boehner's "reason" -- require more time; we can pretend getting everyone where they need to be with just a week's notice is a scheduling nightmare; we can certainly call out Obama for being transparent in his attempt to upstage Republicans in the first place by scheduling his address on the same day as a GOP debate.
But here's the thing: He's president of the United States.
He gets to call such meetings. It's Boehner's job to make sure his people show up.
Not because Obama said so, but because the president of the United States said so. It's disingenuous for Boehner to kick off his tenure as speaker in January by leading Congress in an out-loud reading of an abbreviated version of the Constitution (they left out the messy slavery part) and then blatantly disrespect the office of the president.
By publicly requesting another day -- as opposed to privately approaching the White House with scheduling concerns -- Boehner has essentially announced what many Americans suspected the night Rep. Joe Wilson yelled "you lie" during the president's health care reform speech back in 2009. This GOP has no respect for Obama. There are members of the right who will stop at nothing to discredit him.
To embarrass him.
To destroy him.
That Obama moved his speech -- to a time slot that competes with the NFL's opening game of the season -- shows he won't stop them.
For a brief moment when Obama first announced his address one could believe that he was still that fighter we saw campaigning in 2008. But anyone who thinks Obama is a shoo-in for re-election has no idea what a fighter looks like. If Muhammad Ali had taken this many punches across the chin, no one would be calling him The Greatest.
To be sure, by calling for the address on the day of the GOP debate Obama backed Boehner into a political and public relations corner.
But the letter from the speaker of the House crossed the line and should not be tolerated by anyone --regardless of party. It is one thing to compromise on a valid issue, but Boehner's public challenge to Obama's authority left no room for compromise.
It is Obama's fault that Boehner felt empowered to do such a thing in the first place.
He kept bending.
And this is the breaking point not for Obama, but for me.
I would much rather watch the start of the NFL season than a president who can't call a meeting.
This is not about Obama's pride -- though getting punked into moving the date pretty much neuters him in my book. It is about what it means to be elected president of the United States. Boehner's letter rejected the results of that election.
How can we shed so much blood and spend so much money trying to spread democracy to the rest of the world and then allow partisan antics to undermine its very meaning?
I'm sure there are some who loved what Boehner did because they don't like Obama. But I say if those individuals are so worried about the future of this country under the current administration, wait until they see what happens when this blatant form of anarchy becomes an every day part of "governing." Where "you lie" and rejection letters are more than just one-offs.
I might be silly, but the office of the president still means something to me. Am I alone in thinking that?
The opinions expressed in this commentary are solely those of LZ Granderson.
FOLLOW THIS TOPIC