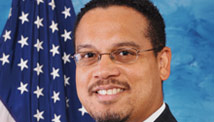 STORY HIGHLIGHTS
Rep. Keith Ellison says U.S. involvement in Libya was controversial but proved crucial
U.S. had to get involved because Libyan leader threatened carnage, Ellison says
Ellison says U.S. collaboration with allies and limited scope of involvement were effective
Success belongs to Libyans, but President Obama's foreign policy approach worked, he says
Editor's note: U.S. Rep. Keith Ellison, a member of the Democratic-Farmer-Labor Party, represents the 5th Congressional District of Minnesota and is co-chair of the Congressional Progressive Caucus.
(CNN) -- As rebels solidify their position in Tripoli and appear to be consolidating their victory over the 42-year dictatorship of Moammar Gadhafi, it's time to reflect on the significance of what just happened.
U.S. involvement in the Libyan conflict was hotly debated in Congress and across the country. Americans were understandably weary of war and not happy about a third conflict. We should acknowledge President Barack Obama's leadership and the contribution of our foreign policy to change in Libya.
America had to get involved. Without U.S. and NATO engagement, Gadhafi would have hunted protesters, as he threatened, "house by house" in Benghazi. He would have squashed the rebels and sought revenge against those who dared to question his rule. A Gadhafi victory would have been tragic for the people of Libya, and it would have dimmed hopes for greater freedom in the Middle East.
Second, U.S. policy toward Libya was effective. Yes, it's true that some fighting continues in Tripoli and Gadhafi loyalists still control some towns, but Gadhafi's brutal dictatorship is over. Libyans no longer fear him, as we saw this week after they overtook his compound. A long road lies ahead, but the Obama administration must be credited for crafting a sensible and prudent foreign policy toward Libya.

Hot spots remain on Tripoli streets

Rumors fuel search for Gadhafi

Libyan assets unfrozen

Diplomats meet over Libya's future
It was effective because it was collaborative. The United States used diplomacy, working with its allies at the United Nations to pass U.N. Resolution 1973, which provided international consensus for the U.S. role. Further support came from the Arab League, which endorsed the effort to protect Libyan civilians. Instead of bearing the cost of the conflict, the United States smartly assumed an early leadership role and then transferred responsibilities to our NATO partners. Multilateralism proved effective once again.
It was wise to limit the size and scope of U.S. involvement. U.N. Resolution 1973 prohibited the use of ground forces, which minimized "mission creep." The Libyans wanted limited air support and supplies, not an international ground war. We were a cooperative partner within an important Arab and Muslim country. The United States showed the benefit of a foreign policy that supports national movements working for democracy. We cannot impose change, but we can bolster emerging efforts for positive reform.
The success of the revolution belongs to the Libyan people. While NATO performed admirably, it was the Libyan people who fought, died and freed their country of Gadhafi. Regular people -- mechanics, doctors, street vendors -- joined the fight, sacrificing everything for the promise of a better country. We should continue to play a supportive role, but it is up to Libyans to build their future.
The end of Gadhafi's dictatorship gives fresh momentum to the Arab Spring, which has become more uncertain since the revolutions in Tunisia and Egypt. Gadhafi's exit is an essential prelude to the democratic transition we all hope to see in Libya. This is the beginning of that transition, not the end. Just as the United States supported Gaddafi's ouster, it must also support Libya as it begins to lay the foundations of democracy.
Finally, the events in Libya should remind us of Obama's speech in Cairo in June 2009, where he framed a new vision of the U.S. role in the Middle East. Some members of Congress have been critiquing the president on Libya, but he provided an effective foreign policy framework that should be continued.
The opinions expressed in this commentary are solely those of Keith Ellison.
FOLLOW THIS TOPIC