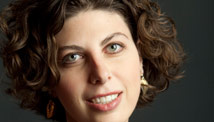 STORY HIGHLIGHTS
Rachel Kleinfeld says more than half of Libyans under 30; over a fifth of the country unemployed
She says a stable democracy is linked to creation of jobs; U.S. and allies should help
She says oil won't bring enough work; Libyan funds must be freed, allies' assistance crucial
Kleinfeld: Helping Libya build entrepreneurs will save billions we'd spend keeping peace there
Editor's note: Rachel Kleinfeld is the CEO and co-founder of the Truman National Security Project, a progressive organization that aims to train a new generation of national security leaders. She has been named one of the Top 40 under 40 rising political leaders by Time magazine.
(CNN) -- The pictures in the news are full of joyful Libyans celebrating the apparent near-end of a 42-year dictatorship. They hold signs thanking President Obama and other NATO leaders, whose smart strategy let the Libyans own their success while heading off a potential bloodbath. But pro-American sentiment is not the only striking thing about these images. Equally arresting is how young everyone seems to be.
That's no illusion. In fact, about a third of Libya's population is under the age of 15, more than half are under 30, and over a fifth of the country is unemployed. Hence if the revolution is going to succeed, Libya needs jobs.
Economics is less sexy to talk about than war. But while the National Transitional Council faces a hard political road uniting a country of fractured tribes, it faces an equally tough economic reality. A country with large numbers of unemployed youths -- especially young men -- won't be stable for long.
Of course, this war is not America's, and the U.S. does not have responsibility for Libya's future. Obama's strategy of working through an international coalition of allies to help Libyans liberate their own country was not only a wise way to execute the war, it kept us from facing the post-Iraq "Pottery Barn" (you break it, you bought it) scenario. We didn't spend the blood of our service members, and we do not need to spend vast sums of U.S. money to reconstruct the country, as the go-it-alone Iraq strategy compelled us to do.

NTC prepares for post-Gadhafi era

Benghazi celebrates compound capture

Reporters freed, felt like 'hostages'

Gadhafi family member wants cease-fire
But Moammar Gadhafi is a dictator who bombed and shot Westerners in attacks that stretched from London to Berlin to an airplane over Scotland -- all the while keeping horrific wars alive across Uganda, Liberia and other parts of Africa. He was working on nuclear weapons just a few years ago. It's worth some effort from the U.S. -- again with allies -- to get this country governed right, or we will surely be investing far more to prevent or contain future wars in the region.
So: What can we do?
Most commentators are starting with the most obvious place to look for money to get started: oil. Libya produced 2% of the world's oil before the war, and Gadhafi stayed in power because of that wealth. The war has damaged some of the oil infrastructure, however, and guesses on how long it will take to get back up to speed run from just a few weeks to more than a year. Meanwhile, the last two oil ministers have defected, and it's unclear whether they will be allowed back.
But even if the infrastructure were fully functioning, oil is a blind alley. It provides money, not jobs. The difference is crucial. Countries that make serious money on oil are generally dictatorships; none of the top 10 nations that derive 60% of their GDP from oil is a democracy. Meanwhile, oil is no job creator. It does little to quell the needs of an entire nation seeking the dignity and household income that honest work can provide. Of course, Libya should get its oil infrastructure up and running, but if it wants to be a successful, stable country, oil is not the answer.
Instead, we should look at Libya's other strengths. The country boasts an educated population, modern infrastructure and proximity to Europe. True, under Gadhafi's sclerotic thumb, entrepreneurship was stifled; Gadhafi nationalized most businesses when he took power. But Libya still has a real tourist infrastructure, and its economy has been increasingly privatized. Just a few hours by plane from Libya's sunny coast, Europe will probably be the investment engine that can make money -- and do good -- by helping its business sector find smart investments with Libyan partners.
Meanwhile, the U.S. State Department is working furiously to free money that the Libyan government had stored in foreign banks. It is fighting other countries whose pedantry with the law is keeping that Libyan money out of the hands of the new government. This work is essential: Libya needs those funds, since Libyan workers who are not paid are unlikely to remain quiescent for long.
While the State Department is executing this crucial diplomacy, it can also work with the Treasury Department to send economic experts to Libya to help it get its economic structures in order -- its central bank, investment laws and other infrastructure essential to enabling jobs, growth and investment.
Then, over the longer term, the U.S. and allies can help build a culture of entrepreneurship and organizations that spark business there, as we have done with business councils in countries from Ireland to Albania. These investments ultimately save us money. A few hundred thousand spent on such work by our State Department and Treasury can save billions that would need to be spent on war when economic failures prevent peace.
Of course, Junior Achievement cannot prevent the next dictatorship. But building up entrepreneurship and breaking the government's hold on the economy are essential parts of the solution that are easy to overlook. With Gadhafi gone, as he may soon be, there is hope that the Arab Spring will continue. The hardest work will fall to the people of Libya, but the U.S. and its allies can get major returns on minor investment if we continue the smart, strategic policies we've begun.
The opinions expressed in this commentary are solely those of Rachel Kleinfeld.
FOLLOW THIS TOPIC