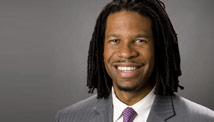 STORY HIGHLIGHTS
In 1988, U.S. men's basketball team won only a bronze medal
LZ Granderson recalls that it prompted a big response -- the Dream Team
Where's the panic over American students' falling international ranking, he asks
Granderson: In a more competitive global economy, U.S. can't afford to fall behind
Editor's note: LZ Granderson, who writes a weekly column for CNN.com, has been named Journalist of the Year by the National Lesbian and Gay Journalists Association. He is a senior writer and columnist for ESPN The Magazine and ESPN.com, and a 2010 nominee and the 2009 winner of the Gay and Lesbian Alliance Against Defamation award for online journalism. Follow him on Twitter at @locs_n_laughs.
Grand Rapids, Michigan (CNN) -- At the 1988 Summer Olympics, the U.S. men's basketball team finished with a bronze medal, its worst finish in 11 appearances and the first time it did not win gold since 1972.
We're a sports-driven country, so of course, we panicked and soon thereafter the iconic Dream Team was formed.
Our best executives, coaches and players such as Michael Jordan and Magic Johnson all set their egos aside for the sole purpose of reclaiming our place as the best basketball nation in the world. And they did so in historic fashion, winning all of their games by an average of nearly 44 points en route to gold in 1992.
If only we were as panicked about our slipping global ranking on education.
In the span of one generation, we've fallen from first to ninth in the proportion of young people with college degrees, which I guess isn't a total surprise considering newly released ACT scores revealed that only one high school graduate in four in the class of 2011 could meet the benchmarks for college readiness in all four core subjects.
Combine that with our global ranking of 14th in reading, 17th in science and 25th in math, and it would seem our education standing is in far worse shape today than our basketball footing was in 1988.
But instead of our educational equivalent of a Jordan or Magic putting their egos aside for the sake of the country, we have teacher unions fighting politicians and poor districts facing even deeper cuts.
In other words, we're closer to the Bad News Bears than any Dream Team when it comes to education.

Why Finland is important to U.S. education

No easy fix for U.S. schools

Falling behind in education

How teachers would reform schools
In my state of Michigan, we have districts where less than 10% of the students tested were deemed proficient in math.
In the city where I live, less than 45% of the students passed reading.
What do we think is going to happen to our economy as the jobs of tomorrow become more technical and a large chunk of our work force can barely read?
I have one idea -- Detroit.
The National Institute for Literacy found that nearly 47% of the Motor City's adults are functionally illiterate. Not surprisingly, Detroit's unemployment is near 12%, and the city is the country's poorest metropolis according to the census.
And this correlation between academic achievement and poverty can be seen nationwide.
Four of our poorest states had four of the lowest ACT composite scores -- Mississippi, Tennessee, Kentucky and Arkansas.
Conversely four of our richest states had four of the highest test results -- Massachusetts, Connecticut, New Hampshire and New Jersey.
Programs such as No Child Left Behind started in a good place but when school funding, bonuses and jobs hinge on scores, of course there's going to be a temptation to cheat.
President Barack Obama's Race to the Top tried to address some of NCLB's problems but its success is tripped up by the poverty line as well.
In May Obama gave the commencement speech at RTTT winner Booker T. Washington High School in Memphis, Tennessee. Two months later, the city's school board voted to delay starting school indefinitely because it didn't have enough money to open doors. Memphis, like Detroit , is one of our poorest cities.
And this is not just an inner-city problem; not when 80% of the country is sharing less than 20% of the wealth. The less money people are making, the less tax revenue that's available to help fund schools.
What we need is an aggressive, multipronged strategy geared toward closing the education gap between the rich and everyone else because everyone else -- in the spirit of the Wall Street bailouts -- is too big to fail.
Instead of dangling federal dollars like a carrot that some disadvantaged educators feel they must falsify test scores to obtain, how about the Education Department uses that money to work with some of the Wall Street companies we bailed out to establish paid internships for promising high school students? It would be better to use money from the Education Department to subsidize a tax break for professionals in careers such as engineering who tutor a certain number of hours a school year.
When U.S. basketball won bronze in 1988, you would've thought the world used the American flag to wipe mud off its shoe by the way we responded.
Yet our education system continues to slip in the world ranking, and I don't see a Teachers-of-the Year Dream Team or a Super Committee made of top business leaders to help address this very real crisis.
When the world was less competitive, we could afford to let the rich send their kids to private school and allow the rest of us to scramble the best we could. But technology has made the world smaller and college admission and job hiring is more cutthroat. Today the education of our youth is no longer somebody else's problem -- because kids who lag behind grow into adults and a work force that lags behind. And an inferior work force competing against the best in the world is everybody's problem.
So if less than gold wasn't acceptable for us in basketball, why do we continue to accept less than bronze with our kids' education?
The opinions expressed in this commentary are solely those of LZ Granderson.
FOLLOW THIS TOPIC