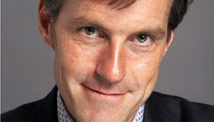 STORY HIGHLIGHTS
Brian Flynn says he feels satisfaction, revenge watching advance on Gadhafi stronghold
His brother was killed in Flight 103 bombing; many say Gadhafi responsible
Despite efforts by victims' families, world community failed to bring him to justice, he says
Flynn voices pride in U.S. and allies helping rebels -- who are freeing themselves
Editor's note: Brian Flynn is the brother of Lockerbie victim J.P. Flynn and vice president of Pan Am 103, an advocacy organization. He is a business adviser.
(CNN) -- As we watch what could well be the fall of one of history's most murderous dictators, Moammar Gadhafi, unfolding, I am overwhelmed by a range of emotions. Like many of us, I feel like a sports fan cheering the rebels to victory. But I also feel a deep, visceral, personal (and morally suspect, I must admit) sense of revenge and schadenfreude.
Even before the defected Libyan justice minister, Mustafa Abdel-Jalil, told a Swedish newspaper reporter in February that Gadhafi was behind the murder of my brother and 269 other innocents in the bombing of Pan Am Flight 103 over Lockerbie, many believed it to be true.
The feeling now is bittersweet, but sweet nonetheless.
I've begun to reflect on all we can learn from this revolution. First, justice can be done. It may not take the path we expect, and it often takes longer than anyone likes, but the imbalance can be corrected and we can hold people accountable.
Justice, however, can also be corrupted. For more than 20 years, the families of the victims of Pan Am 103 have fought against special interests, including foreign and domestic industries, that only wanted Libya's oil. As recently as two years ago, we had the ultimate betrayal when Ali Mohmed Al-Megrahi, a Libyan intelligence official convicted of the bombing, was released by the Scottish government, after lobbying pressure from BP and others.
We said at the time that such a move was not only a betrayal of the Lockerbie victims, but also a betrayal of the Libyan people, as it elevated and legitimized the tyrannical Gadhafi regime. It was a great irony that 18 months later, the UK was sending warships to Tripoli to rescue BP executives when Gadhafi started attacking his own people after the rebellion started.

Lockerbie families: Prosecute Gadhafi

2010: Is Lockerbie bomber innocent?

Will Libya's oil industry recover?

Gadhafi's army 'not human beings'
We could have done more and we should have done it sooner. Gadhafi committed the largest terrorist attack on U.S. civilians prior to the September 11 attacks. But there was never the political will to remove him. Therefore, the families used whatever means they had to hold Libya accountable. We found allies, including Sens. Edward Kennedy, Frank Lautenberg, Hillary Clinton, Robert Menendez, Charles Schumer and, most recently, Kirsten Gillibrand. They helped us pass the 1996 Iran-Libya Sanctions Act and other legislation that isolated Libya. This would ultimately lead to the handover of Al-Megrahi and the end of Libya's support of terrorism.
Related: Dispute over Lockerbie bomber revived
Nevertheless, it was always obvious that Gadhafi and others were behind the attack. We wanted them all held accountable, but ran into resistance at every turn. Thousands of civilians would be alive today if the U.S. had taken a stronger position against Gadhafi sooner. As we watched thousands of lives and trillions of dollars lost in Iraq, we felt our country had missed the real target by miles. Saddam Hussein had never committed a terrorist attack against Americans prior to 2003, yet Gadhafi was continuing his reign of terror.
We have also learned that the enemy of my enemy is not my friend. For years, we were told that Gadhafi was helping fight back Islamic fundamentalism, including al Qaeda. I didn't buy the argument and thought it was shortsighted and cynical. Any moves by the West to embrace Gadhafi would lead to a continuation of his regime of fear and oppression. This approach by our government made it more difficult for the Libyan people to free themselves.
Although the rebels' advances in Tripoli represent a great day for justice and the Libyan people, our work is not done. We believe that Al-Megrahi needs to be put back in prison, and we need to understand who else was behind Lockerbie. We also need to support the efforts to hold Gadhafi and his allies accountable. Finally, we need to provide whatever assistance is necessary to help the Libyan people establish a free and just society, which will be difficult considering Libya's fractured history.
On a human level, I think we have all learned that being victimized does not mean you have to act like a victim. The families of the people murdered in the Pan Am bombing came together from early on to seek the truth and justice. We have all learned that individuals working together can accomplish extraordinary things.
Today, we can take some comfort and even pride that when it mattered most, the United States and its allies chose to vigorously support the cause of freedom. There are those who say we should have done more to help the rebels. But as a group that has been at this game for 20 years, the families are grateful to the Obama administration, our allies and the courageous men and women in uniform for all they have done.
The NATO attacks were critical in the battle, and in many ways, we believe the Libyan people are better for their efforts to free themselves with our help, not the other way around. This evolving moment is for the Libyan people and all those who sacrificed their lives for their freedom, but I hope my brother knows I did my small part in trying to bring his murderer to justice.
The opinions expressed in this commentary are solely those of Brian Flynn.