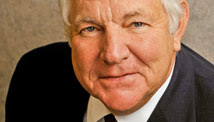 STORY HIGHLIGHTS
William Bennett: Rick Perry has energized the GOP race
He says voters were lukewarm about the candidates
Bennett says Perry needs to balance his Texas style with a national campaign
Bennett: The strength of the Texas economy is genuine
Editor's note: William J. Bennett is the Washington fellow of the Claremont Institute. He was U.S. secretary of education from 1985 to 1988 and was director of the Office of National Drug Control Policy under President George H.W. Bush.
(CNN) -- Texas Gov. Rick Perry's entrance into the 2012 sweepstakes has shaken up both the Republican Party and the media interest in the upcoming election. And, as is his style, Perry entered the race with a bang, not a whimper.
Until Perry's entrance, there had been a lot of support for the various declared candidates, but there had also been a lot of unhappiness, a sense that none of the candidates was quite up to the task of beating President Obama, that none of the candidates was lighting the party's fire as someone that could appeal to the base, bridge the establishment's interests with the tea party interests, and -- at the same time -- occupy a position of national leadership. Indeed, one recent poll revealed less than half (45%) of registered Republican primary voters were satisfied with the field that included most of the candidates we've seen thus far.
Yes, some of the candidates have ignited a lot of intense support for themselves, especially House members Michele Bachmann and Ron Paul, but Americans have not elected a member of the House of Representatives to the presidency -- or even run a member from the House of Representatives on the Republican or Democratic ticket -- since the 1800s.
There is a general consensus in the party that unless House Budget Chairman Paul Ryan were to enter the race, there's little chance that historical pattern would be broken. House members are simply too unknown or not quite "big enough" to run on behalf of the entire country.
Opinion: Who's the real Rick Perry?
All eyes and ears are on Perry now. And his entrance into the race has already shown something quite telling, if quite unnoticed. On the day he announced, he bested the national front-runner, former Massachusetts Gov. Mitt Romney, in the Ames, Iowa, straw poll as a write-in candidate. Yes, it is true Romney did not invest in the Ames straw poll, but he did participate in the debate two days prior, and his name was on the ballot. Neither was the case for Perry, and, more importantly, Perry did not invest in Ames either.

Gov. Perry responds to Obama's 'advice'

Rick Perry hits back at critics

Is Perry right on job creation?
To repeat, he was a write-in candidate. Now, the most recent poll we have of likely Republican voters puts Perry in first place, beating both Romney and Bachmann by double digits. And this, with merely an announcement to run.
Yes, Perry has a lot to overcome to continue his first place position, and he will have a lot to defend -- especially several past statements about states' rights. His recent line about Federal Reserve Chairman Ben Bernanke, that "we would treat him pretty ugly down in Texas," were he to "print more money," and that such a policy would be "almost treacherous, or treasonous," has raised eyebrows,as well.
As many others have put it in different ways, the kind of language that has worked in Texas will need to be tempered for a national stage and candidacy. In full disclosure, I am friendly with Perry and have spoken with him both about his policies and candidacy, and he realizes all of this. I especially believe he illustrated that with what was perhaps the most telling line in his campaign announcement last weekend: "I'm a Texan and proud of it. But first, and foremost, I'm an incredibly proud American."
There will be a balancing needed between Texas style and accent and national acceptability. But, before he tilts too strongly toward the latter, it is important to recognize the Texas part should not be fully disowned. It is not only a big state with a lot of votes, it still captures a big part of the American imagination -- even if it is a punching bag for much of the cultural left.
Opinion: Perry's angry rhetoric hides record
It's important to recall, as the comparisons are now being made, President George W. Bush was criticized for being "too Texas," as well, and yet he was still only one of four presidents since President Eisenhower to be elected to a second term, and by large numbers.
For the next several weeks, as has already begun, there will be a lot of analysis of Perry's strongest calling card to the race, his record of job creation in Texas. Indeed, prominent liberals and conservatives have already started to cast doubts on that record, a record generally touted as responsible for "37% of all the net new jobs in America."
But as the scrutiny of that jobs record commences in earnest for the political season, it is important to realize nonpartisan analyses were on to what was happening in Texas long before Perry considered running for president. In 2009, one nonpartisan poll of business executives ranked Texas as "the No. 1 state to do business" for the fourth year in a row. And, the Economist magazine highlighted Texas in 2009 as "Lone Star Rising" with a subtitle to its special report: "Thanks to low taxes and light regulation, Texas is booming." This was in addition to several favorable data points comparing Texas to California in a separate piece in the magazine.
For the next several weeks, the Republican race will be a Perry-Bachmann-Romney race. Romney has many advantages, including having gone through much of this before (i.e., in 2007 and 2008). And while Perry and Romney will slug it out for establishment credibility and support, Perry and Bachmann will slug it out for the base and the tea party.
That's harder work for Perry -- trying to take support away from two candidates with two different and important constituencies. But if his political record in Texas is any indication -- elected governor three times in a big and diverse state, and against "establishment" insurgents within the GOP (e.g., Sen. Kay Bailey Hutchison) -- it looks like the new front-runner within the GOP will be a Texas governor once again.
The opinions expressed in this commentary are solely those of William Bennett.
FOLLOW THIS TOPIC