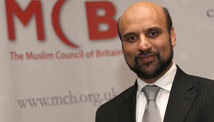 STORY HIGHLIGHTS
Murad: Important we do not apport blame to any part of our wider community
I have seen solidarity between Muslims, Sikhs, Christians and Hindus, says Murad
Murad: Faith communities have clubbed together to defy the rioters
Editor's note: Farooq Murad is the Secretary General of the Muslim Council of Britain, an umbrella body representing over 500 local and national organizations. A management and training consultant by profession, he is a former president of the Islamic Society of Britain.
London (CNN) -- Birmingham has suffered tragedy not only being the victims of the recent riots, but also as the victims of the murder that ensued. If we need advice on how to prevent further troubles in our community, it should surely come from the very people who have been blighted by these terrible events.
The first among these would be Tariq Jahan, the father of Haroon, 21, who died while trying to peacefully defend his community from rioting.
He did not ask for retribution. He did not engage in recriminations. He has not put his lot into the endless and polarized discussions currently taking place, passing judgment on why these riots took place and who, or what, is responsible.
Instead he said: "I don't blame the police, I don't blame the government. I'm a Muslim: I believe in divine fate and destiny. It was his fate, his destiny, and now he's gone, and may Allah forgive him and bless him. Step forward if you want to lose your sons. Otherwise calm down and go home -- please."

Will communities change after UK riots?

London to hold night court sessions

The defining image of London riots

Who are the angry youth behind UK riots?
His words we believe, we hope, has spurred on the people of Birmingham to defy some irresponsible voices to avenge his death and the deaths of brothers Shazad Ali, 30 and Abdul Musavir, 31 who were also killed on Tuesday.
I have just returned from the city and have seen moving displays of solidarity between Muslims, Sikhs, Christians and Hindus. This is not about race, and there is a revulsion on the ground that some in the media are going out of their way to stoke racial tensions.
There is a determination in the belief that those who mindlessly murdered represent no one but themselves. And it is important we do not descend into apportioning blame to any part of our wider community.
We must work hard to avoid treating this incident as one pitching community against community and remember this as it should be -- community against criminals, right against wrong.
We uphold this belief in the face of a deep anxiety about the safety of our homes, businesses and our institutions. The majority of young people not involved in the riots are now worried that the absence of law and order will lead to far-right extremists to attack. We all have a responsibility to ensure cooler heads prevail.
Amid the riots, the police have the onerous task to take such matters seriously. Having just visited Birmingham, I came back with a pervading sense that the police needs to show leadership and a more visible presence of senior officers to reassure young and old. While we must not descend into recriminations, the local community require urgent answers to questions on the police response following the murders.
Many will note how these murders took place in the holy month of Ramadan. Muslims everywhere are currently observing the month of Ramadan: a time for families to sit together and for communities to unite. But today two families are without their sons; one family mourning the loss of two sons.
Up and down the country we have witnessed moving scenes where faith communities have clubbed together to defy the rioters: peacefully, but determinedly. At the same time, we hear in London and elsewhere of Imams urging their young worshippers not to take the law into their own hands, and to be vigilant against false rumors designed to provoke unwise reactions. In addition we have seen Muslim institutions raising money and taking part in the clean-up effort following these riots.
We must use times like these to reaffirm our commitment to the priceless gift of multiculturalism that binds our diverse communities together and what makes us strong. That is what we saw as people defied the rioters, and this is what is happening as the diverse community of Birmingham is expending effort to prevent conflict between ethnic groups.
I call on all in our community and others, in the true spirit of Ramadan; to unite collectively in working towards restoring peace, trust and mutual respect between all sections of the society -- that this huge tragedy must not become a source of division within the communities on the margins, already neglected and suffering.
The opinions expressed in this commentary are solely those of Farooq Murad.
FOLLOW THIS TOPIC